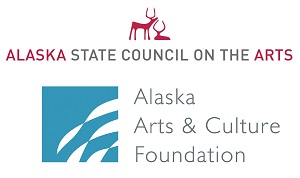 2019 Alaska Literary Awards
Contact Email:
andrea.noble@alaska.gov
Call Type:
Award
Eligibility:
Regional
State:
Alaska
Entry Deadline:
10/31/19
Application Closed
REQUIREMENTS:
Media Images:0


GUIDELINES
About the Alaska Literary Awards
The Alaska Literary Awards were established in 2014 by the Alaska Arts and Culture Foundation, through a generous gift from Peggy Shumaker and Joe Usibelli. The Alaska State Council on the Arts administers the program.
The Alaska Literary Awards recognize and suppprt writers of poetry, fiction, creative nonfiction, playwriting, screenwriting, and mixed genres. Any Alaska writer over the age of 18 who is not a full-time student is eligible to apply. Quality of the work submitted is the primary consideration in determining who receives the awards. There are no restrictions on the writer's use of the award and no formal report is required.
A select number of $5,000 awards will be awarded annually.
The Application Deadline is Thursday, October 31, 2019 at 9:59 p.m. AKDT
Eligibility
Participation is limited to literary artists living in Alaska and pursuing their art form on an ongoing basis.
Applicants must:
Be a legal resident of Alaska
Be 18 years of age or older
Not be a full-time student or enrolled in any art-related degree or certification program
Apply as an individual artist, not a collaborative group or team
To Apply
Read the program guidelines carefully. Incomplete applications will not be considered. Applicants must complete and submit the application using the CaFE system, including uploading a resume and work samples (see below for specific work sample requirements).
Review Criteria
A panel will review applications using the following criteria:
1) Literary quality of the applicant's work, as demonstrated in the submitted work samples
2) The level of demonstrated artistic activity and focus as described in the applicant's resume
3) The extent to which the award will further the development of the applicant's literary career
Review Process
Staff will review applications for completeness. A panel comprised of writers in the disciplines being awarded will review the qualified applications. The decision of the panel will be final. Award recipients will be notified by November 22, 2019.
Fellowship Requirements
Recipients must:
Expend the fellowship funds by June 30, 2020.
Maintain Alaska residency throughout the fellowship year.
Provide a letter to the Alaska Arts and Culture Foundation at the end of the award year, with a brief description of how the award supported your work.
Application Details
Applicants will need to provide:
A brief description of how the Alaska Literary Award will advance your writing
Your current resume or brief CV
An indication of genre for your writing sample
Work Samples
Work Sample Requirements:
Work samples should reflect work completed within the last two years. All work samples must be uploaded through CaFE. Written work samples will be uploaded directly within the 2019 Alaska Literary Awards application, not through the "My Portfolio" section of CaFE. You do not need to upload images for this application.
Applicants can submit published or unpublished work samples.
All work samples must be combined into one Word document or PDF file.
Applicants must include their name on the first page of their work sample document.
Poets: Submit up to 10 poems.
Prose Writers: Submit up to 15 pages of fiction or creative nonfiction.
Playwrights/Screenwriters: Submit up to 15 pages of one script or multiple brief scripts.
Mixed Genre Writers: Submit up to 15 pages of literary writing.
Questions?
If you have questions regarding your eligibility or preparing your application, contact the Alaska Arts and Culture Foundation administrator at andrea.noble@alaska.gov
Please note: The IRS allows some fellowships to be excluded from taxation under certain circumstances. If you receive an award, you should contact your local IRS office for detailed information on tax implications.
Print this Page
View Legal Agreement