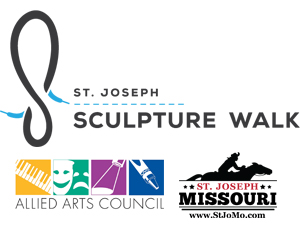 St. Joseph Sculpture Walk 2020
Allied Arts Council
118 South 8 Street
St. Joseph, MO 64501
Contact Email:
teresa.fankhauser@stjoearts.org
Call Type:
Public Art
Eligibility:
Unspecified
State:
Missouri
Entry Deadline:
2/15/20
Application ClosedNumber of Applications Allowed:
4
REQUIREMENTS:
Media
Images - Minimum: 3, Maximum: 3
Total Media - Minimum: 3, Maximum: 3
Entry Fee (St. Joseph Sculpture Walk 2020): $15.00

The Allied Arts Council and the City of Saint Joseph, Missouri seek sculptures for a temporary exhibition in Downtown Saint Joseph. The Council invites regional, national, and international sculpture artists to submit work for this one-year sculpture exhibition scheduled for June 2020-May 2021. Selected sculptures/sculptors will receive a $500 honorarium and all sculptures selected will compete for up to $13,000 in cash prize awards.
This year, the five-person judging panel will include two of the participating sculptors. The Council will randomly select two of the artists attending the opening reception to serve on the panel. Each judge independently scores each sculpture and the artists selected to judge may not vote for their own sculpture.

The Allied Arts Council will purchase one sculpture to add to Saint Joseph's public art collection. Only pieces priced $15,000 or less are eligible for consideration.

DEADLINE FOR SUBMISSION: February 10, 2020.
Submission details: Artists must own the rights to the artwork and the sculpture must be available for the duration of the one-year contract. Acceptable sculptures are professionally constructed of durable materials that withstand the elements. All durable outdoor media are encouraged.
There are no restrictions on size; however, artists should be aware that sculptures are located within well-traveled streetscapes. The installation method for each sculpture should be welded tabs or similar easy-install method. Artists are responsible for transportation of the artwork to and from the installation site. The Allied Arts Council is responsible for all costs for materials and workmanship for the initial installation of the artwork, including site preparation, plinth, and clean up. It is preferred that the artist installs their work when possible.
The Allied Arts Council will provide up to $5,000 in liability and inland marine (collision and comprehensive) insurance coverage on all sculptures for the duration of the exhibition.
Please attach three images per submission that clearly show a front and back view, and one detail shot. Artists may submit up to four (4) sculptures for consideration, but each submission must have three images attached.
The artists' reception and awards ceremony is Friday, June 12, 2020. Following the reception, patrons are invited to take the first official sculpture walk.


ARTIST REQUIREMENTS:
1. St. Joseph Sculpture Walk is open to professional and amateur sculptors of all backgrounds. The entry fee is $15.00 per sculpture and you may submit up to four (4) sculptures.
2. Artist must be at least 18 years of age.
3. Entry requires submission of a brief biography, concise CV/resume, artist's statement/description of the sculpture submitted, and directions for installation and removal.
ENTRY CRITERIA:
1. All entries must be fully completed and submitted for this exhibition by February 10, 2020.
2. Proposals and computer renderings are acceptable; however, submissions should be as specific as possible and include a narrative and additional support materials that provide a strong indication of the appearance of the final work proposed. Entry must be similar to the proposal and finished product submitted for approval. If work arrives and isn't as proposed, AAC has the right to reject sculpture.
3. No entries identical to sculptures already placed or to be placed in other similar public sculpture programs within 200 miles of St. Joseph will be considered.
4. Work must be suitable for outdoor installation as follows:
• Able to be structurally secured to a concrete pad with anchor bolts or welded to a metal base.
• Capable of withstanding adverse weather conditions (high winds, below zero temperatures, heavy rains, ice, snow, storms, etc.)
• Fabricated and finished with non-hazardous materials.
• Maintenance free for the duration of the exhibition.
• Appropriate for an active pedestrian environment, with proper consideration given to the safety of the audience. (i.e. no sharp edges, no points, no breakable or bendable components, no climbing hazards, etc.) Height shall not create a balance hazard.
5. The selected works are exhibited throughout downtown Saint Joseph, Missouri from June 12, 2020, until May 16, 2021, and the sculptures are loaned to AAC for the duration of the exhibition as specified and may not be removed or returned until the conclusion of the exhibition.

CALENDAR:
Deadline for entry: February 10, 2020
Jury dates: February 17 – 19, 2020
Notification of acceptance on or before: March 3, 2020
Contracts returned to Allied Arts Council: March 31, 2020
Artwork Installation: June 1 – June 12, 2020.
Sculptures must be installed by noon on June 12. (If you need assistance installing your sculpture, we will have specific dates and times when this service will be available.)
Judging for Best of Show: June 12, 2020
Opening reception and Awards Announcement: June 12, 2020
|People's Choice Award Voting Period: June 2020 - January 2021
People's Choice Award Announcement: February 2021
Exhibition closes: May 16, 2021
De-installation: May 17- 28, 2021 (If you need assistance removing your sculpture contact us at least one month in advance.)
Print this Page
View Legal Agreement