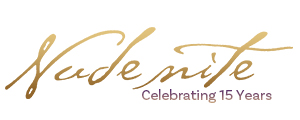 Nude Nite - Tampa 2020
Contact Email:
info@nudenite.com
Call Type:
Exhibitions
Eligibility:
National
State:
Florida
Entry Deadline:
1/25/20
Application Closed
REQUIREMENTS:
Media
Images - Minimum: 1, Maximum: 2
Total Media - Minimum: 1, Maximum: 2
Entry Fee (Nude Nite - Tampa): $40.00

NUDE NITE - Tampa
http://www.nudenite.com
@nudenite on FB, IG and Twitter
Event Dates: February 27, 28, 29, 2020
Submission Deadline: Jan 23 - Midnight MST (2AM Eastern)
Fees: $40 per Application to include up to 2 images.
Location: Columbus Plaza 5050 E 10th Ave. Tampa, FL 33619
Nude Nite is America's largest nude art exhibition showing over 200 works by artists from 52 states. Held annually in Orlando and Tampa, the 3-nite destination event is held in a 20,000 SF pop-up gallery setting, where thousands of art enthusiasts view and purchase artists' works. We all want to be accepted for who we are. Nude art is no different. Nude Nite was created 15 years ago because galleries wouldn't and still won't show it. Like us, it doesn't belong in a back room. It belongs in the light. Adding world class body-themed entertainment, DJ music and interactive installations gives Nude Nite its sexy, fun, empowered vibe. Nude Nite is a groundbreaking gallery experience built for contemporary culture.
REPUTATION
Celebrating 15th years, NN is focused on selling your artwork. It is not an erotic or lifestyle show but a show with a national reputation for exhibiting artists breaking boundaries through figurative works.
SIZE MATTERS
Nude Nite is America's largest nude art exhibition showing over 200 works by artists from 52 states. Held in a 20,000 SF pop up gallery setting, thousands attend to view and purchase works.
OPEN DOORS
Connections lead to opportunities and collaborations. Network with fellow artists, collectors, and thousands of enthusiasts who view and may potentially purchase your work or commission future works.
ALWAYS SELLING
Nude Nite provides a fully equipped sales desk and dedicated gallery sales team working for ou. It's a great feeling to join the Red Dot Club (this means your work sold)!
**Performance artists and vendors, please email info@nudenite.com for consideration.
EVENT PROSPECTUS and RULES OF ENTRY/SUBMISSION PROCESS
1. A non-refundable application fee of $40 is required. Art work submission to this event (whether invited or not) includes your complimentary, non-transferable entrance to the event on the night of your choice. One application per artist, please.
2. All works must be for sale and represent the nude theme. Abstract representations or conceptual representations welcome.
3. Limit TWO works of art per artist.
4. Please upload jpg format files through the Cafe system at www.callforentry.org.
5. All submissions must be of completed original works of art. Submissions representing incomplete works of art will not be accepted.
6. Previously submitted works to the same city-call cannot be resubmitted.
7. All entries must contain copyright-free material or material released with consent from the original source. Unauthorized use of any copyrighted images, text, or other material will not be accepted.
8. No substitutions of works of art selected will be accepted (i.e. works of art selected are not to be replaced by different works of art upon bringing works of art to the event).
9. Submissions received after the deadline WILL NOT be accepted.
10. All works of art will be curated after the entry deadline.
11. All works of art must be original and created after December 31, 2014.
12. While Nude Nite promotes a broad interpretation of the nude, the show tends not to display works depicting arousal or graphic sexual genitalia. If you have a question about the content or suitability of your work, please email the director at info@nudenite.com for guidance.
ACCEPTED WORK
13. Submission of works of art by the artist and acceptance of such by the curating body for Nude Nite is an agreement to show the submitted works of art at the Nude Nite event.
14. Accepted works of art will be in the possession of Nude Nite and remain in the Nude Nite event facility during the duration of the event (all show dates) unless otherwise allowed by the event director. This is for both sold and unsold works during the event.
15. Decisions by the curating body for Nude Nite are final.
16. Artists are responsible for providing their own insurance. While Nude Nite takes precautions against theft and damage, Nude Nite bears no responsibility for loss or damage to works before, during or after the event.
17. Gallery split commission is 60/40 artist/gallery and is detailed in the legal agreement.
LOGISTICS
18. Notification and Drop Off/Ship: Artists will be notified by an e-mail of acceptance or rejection within 7 days after deadline. E-mail will indicate when to bring accepted artwork to event or shipping procedures. Invited artists receive 3-nite entry, plus a total of three guest passes. Drop off will be Tuesday, Feb. 25 and Ship Receive by date: Friday, Feb 21. Artists selected and invited to exhibit will be responsible for the cost of producing and transporting their works. Pick Up: Delivered work must be picked up on Sunday March 1 or Saturday evening directly after close of show. The gallery accepts no responsibility for work not retrieved on pick-up date. After 30 days the gallery may dispose of the work.
THIS SECTION IS TO BE READ VERY CAREFULLY
All accepted works of art must be "GALLERY READY" when brought to the event facility (i.e. all hanging works must include an installed horizontal wire). Artists with work requiring a pedestal(s) MUST provide one (them) before show opening. Pedestal(s) must be white/black and tall enough for the work to be near eye level. Pedestal must be sturdy, and all parts must be connectable. This is to ensure the safety of your work. If work is not "gallery ready" or deemed unsafe for hanging, mounting or standing (whichever is applicable) risking possible damage to the event facility and/or the art itself, then the work will not be presented in the event during any of its dates. **If your work requires special handling, or has a unique hanging method or assembly please communicate this to the director so that proper planning and attention can be allocated (info@nudenite.com)

Technical Support: Please call 303-629-1166 Mountain time (8:30-5pm) for help uploading.

Acceptable Media File Types for Images:
File format: JPEG or JPG only

File dimensions: 1200 pixels or greater on the longest dimension

File size: under 5 MB
Print this Page
View Legal Agreement