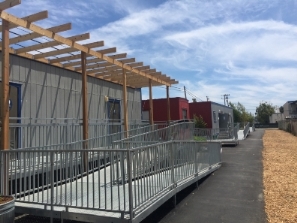 City of Fremont: Mural for Temporary Housing Navigation Center
39550 Liberty Street
Contact Email:
lutorres@fremont.gov
Call Type:
Public Art
Eligibility:
Unspecified
State:
California
Entry Deadline:
4/1/20
Application ClosedNumber of Applications Allowed:
3
REQUIREMENTS:
Media
Images - Minimum: 2, Maximum: 6
Total Media - Minimum: 2, Maximum: 6
Introduction
The City of Fremont, California is seeking artist proposals for the commission of a temporary mural for Fremont's new Housing Navigation Center (HNC) in Downtown Fremont, located at 3300 Capitol Avenue. The artist will design, fabricate, and install the artwork. There are three preferred areas for artwork within the site ranging in size that the artist can select from:
Option A: Wood fence, 15 ft. x 5 ft.
Option B: Wood fence, set of 3 panels

Panel 1: 12 ft. x 5 ft.
Panel 2: 8 ft. x 5 ft.
Panel 3: Approx. 7 ft. x 5 ft.

Option C: Path of travel on asphalt, 5 ft. x 293 ft.
Artist has discretion to select which area within the site they utilize for their mural including number and size of installations, depending on funding availability.
Option A and B would be on the interior of the wood perimeter fence. If artist selects Option B, they are encouraged to use all three panels. Option C would require the artist to paint the mural on the asphalt indicating the ADA compliant path of travel throughout the site.
There are additional art opportunities within the site that are less preferred, but are optional if the artist would like to submit a mural concept for an alternative location. Please refer to the site details included in this call for additional site information.
Eligibility
This opportunity is open to all professional artists at least 18 years of age with experience painting murals. It is preferred that the artist also have experience engaging community members and leading a community mural project.
Budget
Artist is required to submit a budget indicating costs of supplies and price per square foot for the proposed mural.
Background
The artwork will be located within the site of the temporary Housing Navigation Center (HNC), located in Downtown Fremont in the rear parking lot of City Hall, located at 3300 Capitol Avenue. The HNC is an innovative shelter model providing a clean, safe, calm, and flexible environment allowing homeless persons to rebuild their lives and intensely focus on finding stable permanent housing. The HNC will accommodate 45 homeless community members who can stay up to six months while they receive rigorous case management services and support in securing housing. Currently, the HNC is funded for three years with an option to extend for two additional years pending funding availability.
The mural installed within the HNC should be positive in nature, inspire hope, and reflect the participants' journey out of homelessness. The HNC has limited public access, and the intention of the mural is to create a welcoming environment. The artist is encouraged to include community participation in the creation of the mural through population specific focus groups or community volunteering for painting the mural. After the conclusion of the HNC program, the mural could potentially be reintegrated into another area within Fremont.
For more information about the Housing Navigation Center, please visit
www.Fremont.gov/NavigationCenter
Selection Process
Responses to this call for artists will be evaluated by Fremont's Art Review Board. The Art Review Board shall select a first choice and second choice proposal. The Art Review Board consists of community members and art experts that serve to advise the City in artistic matters and selection of art in public places.
Selection criteria to be used for consideration shall include, but not limited to, the following:
1. Strength of artist's conceptual art proposal and descriptive narrative.
2. Strength of artist's resume and letter of interest.
3. Artist's demonstrated ability to complete public art projects of similar scale.
4. Proposed artwork's ease of maintenance.
5. Proposed artwork's adherence to public safety standards.
Timeline
The tentative timeline is as follows:
March 4, 2020: Issue call for artists
April 1, 2020: Deadline for call for artists; 11:59 p.m. MST
April 15, 2020: Art Review Board reviews artist proposals and selects their first and second choice
April 2020: Fremont City staff awards contract to selected artist
May 2020: Execute contract
June 2020: Artist completes artwork and installation
July 2020: HNC opens for operation
Application Process
All interested artists are asked to submit their proposals electronically via the CaFÉ website. Applicants must submit the following materials:
1. Letter of Interest:
Describes the artist's interest in this specific project, what they bring to the project as an artist, experience with other projects of similar scope, and how, if any, they would include community input in the design and installation of the mural.
2. Updated Resume:
Professional resume not to exceed three pages.
3. Images of Past Works:
At least two (2) and no more than six (6) images of the artist's previously installed work. The title, medium, dimensions, and value should be included with each image.
4. Conceptual Art Proposal, Narrative, and Budget:
One conceptual art proposal (preferably an annotated sketch) and a descriptive narrative including vision, approach, size, and possible materials. Artist should also include material costs and price per square foot.
A conceptual art proposal, narrative, and budget should be included for each site where the artist is proposing a mural.
5. References:
Two (2) professional references from past projects with contact information.
Deadline for Submissions
Wednesday, April 1, 2020 at 11:59 p.m. MST
Contact Information
For questions, please contact:
Luciana Torres
Communications/Management Analyst
City of Fremont
lutorres@fremont.gov
510-494-4553
Print this Page
View Legal Agreement