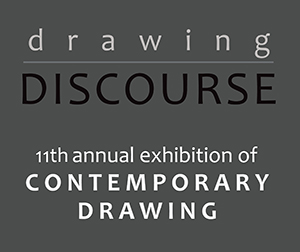 11th Annual Drawing Discourse Exhibition
University of North Carolina Asheville
Asheville, North Carolina
Contact Email:
tbeldue@unca.edu
Call Type:
Exhibitions
Eligibility:
International
State:
North Carolina
Event Dates:
1/17/20 - 2/21/20
Entry Deadline:
12/1/19
Application Closed
REQUIREMENTS:
Media
Images - Minimum: 1, Maximum: 6
Audio - Minimum: 0, Maximum: 5
Video - Minimum: 0, Maximum: 5
Total Media - Minimum: 1, Maximum: 6
Entry Fee (11th Annual Drawing Discourse Exhibition): $30.00

Media Fee (per sample over minimum):$5.00

EXHIBITION: As part of an ongoing commitment to promote drawing practices in the visual arts, the University of North Carolina Asheville (UNC Asheville) invites artists to submit entries to a Juried International Exhibition of contemporary drawing. UNC Asheville seeks to examine drawing as it is practiced and defined by today's artists. Such an exhibition will demonstrate the continued significance of drawing through both conventional and innovative methods. Accepted work will be exhibited in the Holden Gallery on the campus of Warren Wilson College (while the UNC Asheville Tucker Cooke Gallery is under renovation) from January 17, 2020 through February 21, 2020.
EXAMINING THE SIGNIFICANCE OF CONTEMPORARY DRAWING THROUGH CONVENTIONAL & INNOVATIVE METHODS.
LECTURE: Esteemed juror, artist William Beckman, will be present and open the exhibition with a lecture about his drawing practice on January 17, 2020 from 5:00-6:00 p.m. in the Kittredge Theatre on the campus of Warren Wilson College. An opening reception for the Drawing Discourse exhibition will immediately follow the lecture in the Holden Gallery.
CONVERSATIONS & COFFEE: Join us for discussion, Discourse of Drawing; at the Kittredge Theater on the campus of Warren Wilson College on January 18, 2020. Coffee & pastries at 9:30 a.m outside the Holden Gallery with discussion from 10-11:00 a.m in the Kittredge Theater. Artist(s) to be announced.

CATALOGUE: A full-color catalogue of the exhibition will be printed. Each accepted artist will receive one complimentary copy, additional copies will be available for purchase. View previous catalogues at Blurb.com using search words "Drawing Discourse"
AWARDS: $2000 in cash prizes, as chosen in person by the Juror, will be awarded during the exhibition opening reception. This award amount has doubled this year due to the generous contribution from UNC Asheville Professor Emeritus, S. Tucker Cooke.
ELIGIBILITY: Open to all artists who are 18 years of age or older. All work must be original, completed in the past two years and cannot have been exhibited at The University of North Carolina Asheville before. It is at the Juror's discretion to choose single or multiple works from each artist's submission.
JUROR: Born in Minnesota, William Beckman earned his B.A from Cloud State University and his M.F.A. from University of Iowa. Beckman has an extended list of publications, most recently; William Beckman: Drawings, 1967-2013 where C. Butler states; "As one of the leading realists working in the United States, William Beckman is celebrated for the intimacy and emotional power of his figurative drawings". Beckman is represented by Forum Gallery, NY and has had solo exhibitions at the National Portrait Gallery in Washington, DC; Frye Art Museum, WA; Indiana University Art Museum, IN; Hudson River Museum, NY; and Allan Stone and Forum Gallery, NY. He has received numerous purchase awards for the American Academy of Arts and Letters as well as the Thomas R. Proctor Prize from the National Academy of Design. Beckman's work is in the collections of the Whitney Museum of American Art, NY; Smithsonian American Art Museum, Washington, DC; New Britain Museum of American Art, CT; National Portrait Gallery, Washington, DC; Hirshhorn Museum and Sculpture Garden, Washington, DC; and the Museum Moderne Kunst, Vienna, Austria to name a few.

MEDIA: In effort to support the breadth in contemporary drawing, media is open to anytraditional or experimental drawing media welcoming both two or three-dimensional works, video and/or installation. Size is open to works that can fit through a standard set of double doors, 10'3" ceiling height and up to 42' for both floor and wall space.
ONLINE IMAGE SUBMISSIONS: Submissions are accepted only via CaFÉ (Call for Entry) at http://www.callforentry.org/ All entries must be uploaded using this online system. Please do not upload digital images that contain borders or text info that is not part of the original work
Applications must be received by Midnight, December 1, 2019 (Mountain DaylightTime)
ENTRY FEE: Each artist may submit one image for a non-refundable fee of $30. Each additional image, including detail images, are a additional non-refundable fee of $5 each, limit 6 images total, example the fee for 3 images is $40, fee for 6 images is $55). The entry fee does not cover shipping expenses. Credit cards are accepted forms of payment via CaFÉ online submission.
NOTIFICATION: All entries will recieve a CaFÉ email notification of juror's results no later than Dec. 17, 2019. Please check your spam folder if you do not recieve an email or check status on the CaFÉ website under My CaFÉ Entries.
AGREEMENT: Submission of an entry to UNC Asheville constitutes an agreement on the part of the entrant to all the conditions set forth in this prospectus. UNC Asheville reserves the right to reproduce accepted entries for publicity purposes. Accepted work that differs from the digital juried image may be excluded from the exhibition.
ACCEPTED WORKS: Accepted works must arrive ready to install between January 6-10, 2020. Works received outside of this time frame may not be exhibited. Work should not exceed 100lbs and should be able to fit through a standard set of double doors. The University reserves the right to exclude any work that is not professionally presented. Please note: this does not infer that works have to be framed and under glass (especially larger works). All works must remain on display for the entire exhibition. Shipped works should be packed in reusable containers. DO NOT use styrofoam peanuts when packing artwork. Artwork should be shipped prepaid via UPS, USPS, DHL or Fed Ex, and must be accompained with a prepaid return shipping label. COD deliveries will not be accepted. Artwork may be hand delivered to the Holden Gallery between January 6-10, 2020 during normal operating hours; Monday-Friday 9:00 am - 4:00 pm. Hand delivered entries may be picked up between Feb. 24 & 28, 2020. Accepted work left for 30 days after the designated return dates will be disposed, at the discretion of the Director.
SALES: Sales will be encouraged and a 30% commission will be retained by UNC Asheville from the retail price listed on entry form. All work will be available for purchase unless indicated NFS on the entry form.
PROSPECTUS: May be downloaded at https://art.unca.edu/

QUESTIONS: May be sent to Professor & Dept. Chair, and Drawing Discourse Director, Tamie Beldue at tbeldue@unca.edu
Print this Page
View Legal Agreement