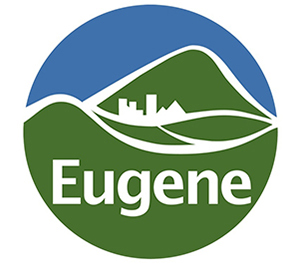 Percent for Art: RFQ Campbell Community Center, City of Eugene
99 W 10th Ave
Eugene, OR
97401
Contact Email:
kali@eugene-or.gov
Call Type:
Public Art
Eligibility:
Regional
State:
Oregon
Entry Deadline:
12/31/19
Application Closed
REQUIREMENTS:
Media
Images - Minimum: 8, Maximum: 8
Video - Minimum: 0, Maximum: 1
Total Media - Minimum: 8, Maximum: 9
Campbell Community Center, Call to Artists
Budget
A total of $66,000 is available for the purchase of site-specific art for Campbell Community Center in Eugene, Oregon. This includes, but is not limited to, artist fees, fabrication, insurance, shipping, travel, installation, documentation, and all other project costs.
Deadline
Submissions must be received through Café (www.callforentry.org) by 11:59PM (MST) on December 31st, 2019. Submissions will only be accepted via Café.
Background and Project Description
Campbell Community Center opened in 1964, making it one of the oldest senior centers on the West Coast. Campbell has between 250-300 people come through its doors every day, and Eugene Rec offers classes, activities, weekly social groups, presentations, support groups and special events for area adults and seniors. The lobby is a popular meeting place along the beautiful Ruth Bascom Riverbank Path System in Skinner Butte Park.
The scope of work for renovations at the CCC includes increasing the square footage of the building from 8,000 to 14,500 sq feet, which will include a new addition with a great room, enclosed courtyard with security fence, fitness classrooms, renovated lobby area, and increased light in the interior of the building.
Strategic Goals of the Building
To support and enhance a welcoming, accessible and inclusive environment that allows patrons to feel connected to a larger community.
To create an inspiring and fun environment that provides patrons more opportunities to enjoy a variety of programs that promote physical, mental, emotional and social wellness.
To create an environment that can adapt to new and future needs, while honoring the history of the center and its patrons.
To connect to the surrounding outdoor environment and the sense of adventure it inspires.
To create a positive environment for staff that supports them in their daily tasks and allows them to be efficient and effective
Suggested Goals and themes for artwork
Creating a visual draw from street to entryway
Fostering a welcoming, accessible and inclusive environment
Reflecting on the history of the site
Celebrating oral traditions and narratives
Responding to the natural environment
Celebrating life and aging
Potential Art Locations
Exterior
Main entry way into the courtyard
Courtyard
Exterior walls facing the river bike path
Fence application
Storm water run off
Interior
Acoustic tiles applications
Entryway
Selection Criteria
Artists may apply individually or as a team for this opportunity. Applicants must demonstrate the ability to create a permanent, public artwork. This commission is open to all professional artists, who are located and working within Oregon. Applicants should have previous experience serving as a principle artist on a public commission with an art budget of at least $10,000. The successful applicant will specifically and succinctly address the application requirements below. The City of Eugene encourages artists from all cultural traditions to apply.
Submissions will be considered from all artists meeting the aforementioned criteria, regardless of race, religion, national origin, gender identification, military status, sexual orientation, marital status, or physical ability.
How to Apply
All materials must be submitted via Café (www.callforentry.org) by the stated deadline. Applicants are encouraged to apply early to mitigate any delays due to technical difficulties.
Images- 8 JPEG images of recent work. Images must be no larger than 1200 x1200, under 5MB each.Each image filename must be named as follows: artist's last name, first initial, number corresponding to the number on the image list (doej01.jpg).
Optional: Artists may submit one video, up to 3 minutes in length: WMV, MOV, MP4, under 100MB with a minimum resolution of 640x480; minimum 12fps
Letter of Interest (Maximum 2,000 characters) - as a PDF file named with "artist's last name, first initial, cover" (doejcover.pdf) addressing;
Why you are interested in this specific project
Your past experience with large-scale interior installations
Your availability to meet the schedule.
Artist Resume - as a PDF file named with "artist's last name, first initial, resume" (doejresume.pdf). Please limit to 2 pages per person and include a daytime telephone number, email and address. Artists submitting as teams must submit individual resumes.
Corresponding Image Identification List - as a PDF file named with "artist's last name, first initial, image list" (doejimagelist.pdf). Include:
Commissioning agency
Brief project description
Title of work
Date of completion
Materials
Budget
3 professional references -with whom you have worked or collaborated on site-specific projects. References will be contacted for artists invited to develop site-specific proposals.
Evaluation Process and Criteria
Artists' submissions will be evaluated by the Campbell Community Center Art Selection Committee. After reviewing all submissions, the Selection Committee will invite 3 Finalists to create site-specific proposals. Initial submissions will be evaluated based on the following criteria:
Artistry: aesthetic appeal based on submitted project images/video; ability to respond to specific site-considerations; placemaking skills
Technique: mastery of materials; site integration; scope and scale of previous projects and settings
Materials: Suitability of artists' preferred materials for site; innovation in the use of materials
Artist's Statement: Philosophical approach to placemaking within a diverse public space
Notifications
Notifications will be posted through Café by February 15th, 2020. Finalists will be notified via telephone and/or email by Art Selection Committee members.
Finalists will be invited to attend an optional site tour where they may view the space, ask questions and gather information for their proposals. Attendance is highly encouraged.
Finalists' Responsibilities
The three finalists chosen to create site-specific proposals will each be issued a formal Request for Proposals containing additional project details and proposal requirements.
Proposals must include concept, materials, dimensions, estimated weight, installation and hardware requirements, and a detailed budget. Proposals must also include maquettes or digital renderings illustrating multiple perspectives of artwork within the space. All proposal materials, including maquettes and sample materials, will become the property of the CoE.
Finalists' $1000 stipend is inclusive of all proposal development costs, including travel, maquettes, et al. Stipends will be issued at the completion of in-person presentations and are contingent upon artists' completion of proposal requirements as stated in the Request for Proposals.
Artists will be given 6 weeks to prepare proposals.
Awardee's Responsibilities
The artist or artist-team awarded the project will perform work under a Personal Services Contract through the City of Eugene for the duration of the project (a sample contract will be made available for review to artists at the formal issuance of a Request for Proposals).
The awardee will be responsible for design modification (if necessary), fabrication, engineering, and installation of new artwork. Sub-contractors enlisted for fabrication or installation are the sole responsibility of the artist(s).
Timeline
Applicants should be available for the following project benchmarks:
Deadline for submissions: December 31st, 2019
Finalists Notification: February 15th, 2020
Site Tour: February 2020
Proposal Presentation: April 2020
Installation Target: March 2021
The City is interested in products and services that have a reduced impact on human health and the environment and that more fully support communities and economies when compared to competing products and services serving the same purpose. For more information regarding sustainability in procurement and related City policy and plans, please refer to the City's Sustainable Purchasing website at http://www.eugene-or.gov/sustainpurch. The awardee will be expected to support the City's goals by implementing the following strategies where applicable.
WASTE REDUCTION
Pursuant to City Zero Waste efforts, the City aims to prevent waste where possible. In order to increase efficient use of resources, the awarded bidder shall adhere to the following items as applicable.
Unnecessary packaging for goods, beyond packaging compliance or practical safe shipping methods, shall be reduced. Bidder to ship goods utilizing one or more of the following methods:
a. Ship products in reusable, refillable, or returnable containers. For example, reusable trays or totes, which can be stored and returned;
b. Minimal packaging material used inside containers. This includes eliminating or reducing the amount of non-recyclable bubble wrap, foam pellets or other like material;
c. Eliminate non-essential parts of packaging, such as individual wrapping of components;
d. Use packaging made with recycled content, biodegradable, and/or non-toxic materials.
e. No point of purchase material or promotional literature.
The awarded bidder is to duplex all paper materials that are prepared for the City under the contract, whether such materials are printed or copied, except when impracticable to do so due to the nature of the product being produced.
Contractor is expected to prevent, reduce, recycle or otherwise divert waste generated from the provision of services procured by the City. City may request information about diversion tactics utilized and quantities of waste materials diverted.
IDLING REDUCTION
In the interest of reducing air and noise pollution and promoting energy conservation, all gasoline and diesel powered vehicles and equipment shall be idled only as necessary to perform the required duties, including delivery, and for the essential function(s) of the equipment. A driver of a vehicle must turn off the engine upon stopping at the destination, and must not cause or allow an engine to idle at any location for more than 20 seconds. This idling policy applies except in the following situations:
a. The health and safety of employees, sub-contractors or public is compromised in turning off the vehicle.
b. The engine is required to power auxiliary equipment (e.g. hoist, lift platforms, hydraulic tools, inverters, compactors, medical equipment, specialized public safety radio communication and computer systems, etc.)
c. Vehicle/equipment manufacturer requires additional idle time for warm up or cool down for efficient and proper mechanical or functional operation of the unit.
ENVIRONMENTALLY PREFERRED PRODUCTS
To promote and encourage environmentally sustainable practices for companies doing business with the City, the City requests vendors under City contract use environmentally preferable products in production of City work products.
The awarded bidder should use environmentally preferable materials that meet performance requirements wherever practical in the fulfillment of this agreement. Environmentally preferable products and services have characteristics that include but are not limited to the following:
Energy Efficient
Reusable or upgradeable
Recyclable
Contain post-consumer recycled materials
Produce fewer polluting by-products and/or safety hazards during manufacture, use or disposal, and/or
Are certified by an independent accredited third-party program such as EcoLogo or ENERGY STAR.
The City desires the use of post-consumer recycled content, chlorine-free paper to encourage environmentally preferable practices for City business wherever practical in the fulfillment of the scope of work.
SOCIAL EQUITY
Economic prosperity through diversity and collaboration is fundamental to the Equity in Contracting program. Part of Eugene's City Council Vision states that we will "Encourage a strong, sustainable and vibrant economy, fully utilizing our educational and cultural assets, so that every person has an opportunity to achieve financial security." The program aims to reduce barriers for local, small, minority and women-owned businesses to leverage all that our community has to offer, strengthening the business community as a whole.
The City supports the utilization of Minority, Women, Emerging Small Businesses (M/W/ESB), local businesses, Disadvantaged Business Enterprises and Qualified Rehabilitation Facilities (QRF) at both a prime and subcontracting and/or supply chain level. The City encourages eligible suppliers to gain certification and encourages the awarded proposer to use the following voluntary practices to promote open competitive opportunities for disadvantaged businesses in the fulfillment of the scope of work:
a. Access lists of certified minority, women, emerging small business or disadvantaged business enterprises from the Certification Office of Business Inclusion and Diversity (COBID) by visiting their website at: https://oregon4biz.diversitysoftware.com/FrontEnd/VendorSearchPublic.aspto find certified businesses from whom to procure products or services.
b. Visit the Oregon State Qualified Rehabilitation Facilities Program website at http://dasapp.oregon.gov/qrf/index.aspxto search for Qualified Rehabilitation Facilities from whom to procure products or services.
Print this Page
View Legal Agreement