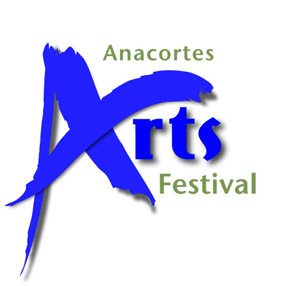 Anacortes Arts Festival Juried Fine Art Show 2020
Anacortes Arts Festival
505 O Ave.
Anacortes, WA 98221
Contact Email:
pr@anacortesartsfestival.com
Call Type:
Competitions
Eligibility:
Regional
State:
Washington
Event Dates:
7/25/20 - 8/2/20
Entry Deadline:
4/14/20
Application Closed
REQUIREMENTS:
Media
Images - Minimum: 2, Maximum: 6
Total Media - Minimum: 2, Maximum: 6
Entry Fee (Anacortes Arts Festival Juried Fine Art Show 2020): $35.00

The annual Juried Fine Art Exhibition, Arts at the Port, is the crown jewel of the Anacortes Arts Festival, July 31 - August 2, 2020. The mission of this exhibition is to showcase regional fine art to the Festival audience (estimated at 90,000). The exhibition shows 1 – 6 pieces from selected artists, working in both 2D and 3D. The exhibition is housed in the Port of Anacortes Transit Shed Event Center; a rustic waterfront setting at the north end of the Festival. Arts at the Port also includes the Allen Family Invitational Gallery.

Juror Carie Collver is the Gallery Director and Chief Curator of the Schack Art Center in Everett, Washington. After studying at Pilchuck, she started an arts career in glass - owning a stained glass business for 17 years. Prior to her current position, Collver was the Director of the Arts Council of Snohomish County and instrumental in its transition through building acquisition and into the Schack Art Center. The Schack includes two large galleries, a glass hot shop, retail store, and numerous studios for artist and student use. She has curated well over 200 exhibits including Chuck Close and Dale Chihuly. Collver has recently received the Mayor of Everett's 2020 Legacy of Honor Award for her outstanding work in the arts.
No Juried theme in 2019
Awards: Artists will be eligible for up to $11,000 in awards, including:
$2,500 Best of Show – selected by Juror

$2,000, 2 @ $1,000 each - Excellence Award selected by Juror

$2,000, 2 @ $1,000 each - Festival Awards selected by Festival Curatorial Team

$2,000 "Anacortes Collects" Festival Public Art Purchase Award (commission applies)

$1,000 Eve Deisher Creative Excellence Award

$1,000 People's Choice Award

$ 500 T Bailey Corporate Award
Festival information
: In its 59th year, the Anacortes Arts Festival is one of the largest and oldest arts festivals in the Northwest. It has been named one of the top 100 fine craft fairs in the U.S. and has garnered the Grand Pinnacle Award from the International Festival and Events Associations. Also included in Festival activities are 280 juried booth artisans, a large demonstrating artist area, 3 music stages, 3 beer & wine gardens, regional and ethnic food trucks and vendors - and youth activities. Info at www.AnacortesArtsFestival.com

Exhibition dates: The Juried Show Opening is Saturday, July 25 at 6 pm. It is open July 27 – 30 from 9 am to 5 pm, and Festival weekend hours July 31 - Aug 2.
Application Dates: Deadline: April 14, 2020 (extended) 
notification by May 12, 2020 (extended)
Categories: Encouraging both 2D and 3D work, artists working in the following categories are invited to enter the Arts at the Port Juried Fine Art Exhibition:
2-Dimensional - Drawing & Painting (including mixed media), Monoprints, Photography, Digitally Generated Art and Video
3-Dimensional - Sculpture, Fine Crafts including fiber, ceramics, metals, glass, wood, basketry, jewelry
Installation (including site specific) Note: Installation and video artists must complete an application using images relating to work; but also submit separately a written or drawn proposal documenting what they propose to create. Please call the Festival office at 360-293-6211 or email Rita James pr@anacortesartsfestival.com for more information relating to work that is outside the application format.

Basic Requirements
No reproduced work (except photography or digitally created) will be accepted.

No work displayed, or for sale elsewhere in the Festival will be accepted.

No work that has been previously shown in the Juried Exhibition will be accepted.

Artists may not substitute, alter, change the price, nor withdraw a work after it has been accepted.

The Festival reserves the right to refuse any work it deems unsuitable or misrepresented
Presentation: Accepted work must be ready for display upon arrival. Wall-mounted pieces must have adequate hangers and/or wire. Three-dimensional work needs adequate installation instruction if it requires more than a standard pedestal. More complicated installation work must be done by the artist with prior arrangements.
Art Availability: Artwork must be available from July 19, 2020 through August 2, 2020. Artwork mailed to the office must arrive before July 16, 2020. Mailed work will require a credit card for actual return costs (acquired after the Festival) - and a $20 handling fee that will be added to the total.
Sales: All accepted and hung work must be for sale. AAF will handle sales and retain a 50% commission. An exception of 40% commission will be retained for bronze sculpture. Artists will receive payment within two weeks after the Festival for any work sold at the show.
Security: The Festival will insure accepted work up to $2,500 per piece while on exhibition at Art at the Port - any additional insurance must be covered by the individual artist.
Print this Page
View Legal Agreement