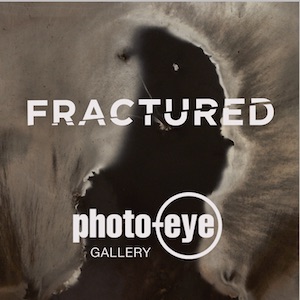 Fractured: photo-eye Gallery 2020 Juried Exhibition
photo-eye Gallery
541 South Guadalupe Street
Santa Fe, NM 87501
Contact Email:
lucas@photoeye.com
Call Type:
Photography
Eligibility:
International
State:
New Mexico
Event Dates:
2/28/20 - 5/23/20
Entry Deadline:
1/12/20
Application Closed
REQUIREMENTS:
Media
Images - Minimum: 3, Maximum: 20
Total Media - Minimum: 3, Maximum: 20
Entry Fee (Fractured: photo-eye Gallery 2020 Juried Exhibition): $35.00

Media Fee (per sample over minimum):$5.00

(Image Above: © Christopher Colville, Citizen 13 [cropped], from the series Beyond Reckoning.)

photo-eye is celebrating 40 Years in business with our first-ever Open Call. photo-eye Gallery invites the submission of photographic works exploring the concept of "Fractured." Artists are encouraged to be creative in their interpretation of the theme. Photographic works" may include any light-based images, or works created using any photographic process or materials.
Today, our world can seem divided in a multitude of ways. Between debates over the climate emergency, corporations literally breaking our earth with fracking, families split at national borders and our divided political systems, concepts like societal unity and harmony feel like a distant hope. Even on a personal level, humans have the capacity to feel fissured, split, and incomplete in our thoughts and emotions. Shifts in perspective, breaks from tradition, and experiencing loss can all encompass the idea of the fracture. This concept can have both positive and negative connotations. However, acknowledging that something is broken is the first step in working toward healing. How can art be a platform for expressing, and ultimately bridging these personal and social divides? What role does the photographer play in observing, documenting, and healing the fractured landscapes around and within us all?
This exhibition will be juried by the photo-eye Gallery staff. The gallery is looking for new work, and submissions to the open call are also considered for future representation. Standard artist contract applies.
Jurors: photo-eye Gallery Staff, including:
Rixon Reed, Founder & Director

Anne Kelly, Gallery Director

Alexandra Jo, Gallery Assistant

Lucas Shaffer, Artist Relationships

Vicki Bohannon, Preparator

About photo-eye Gallery:
Founded in 1979, photo-eye, located in Santa Fe, NM is one of the world's foremost resources for fine-art photography.

photo-eye Gallery represents internationally acclaimed contemporary artists such as Nick Brandt, Julie Blackmon, Keith Carter, Mitch Dobrowner, Cig Harvey, and Michael Kenna along with exciting emerging talent including Thomas Jackson, David Emitt Adams, Reuben Wu, and David Trautrimas among many others. – www.photoeye.com/gallery

Overview:
Fractured is an international call for entries open to all artists making photographic work that has not been previously exhibited by photo-eye or appeared on our website. Fractured is a physical exhibition to be installed at photo-eye Gallery, 541 South Guadalupe Street, Santa Fe, MN, 87501 with digital representation online at photoeye.com/gallery.
Fee for Entry:
Fractured requires a $35 non-refundable application fee that permits 3 submissions. Additional submissions cost $5 each, with a maximum of 20 submissions per application. Applications will be evaluated and accepted on a per-artwork basis, not on a per-project or per-artist basis.
Application Process:
Applications are only being accepted online through CaFÉ. Applicants are responsible for monitoring their CaFÉ account for updates regarding application status and jury results. A valid email address must be provided through CaFÉ for correspondence. Notifications regarding the Jury's decisions will be sent Monday, January 20th, 2020.
Shipping & Receiving Accepted Artworks:
All artwork must be received at photo-eye Gallery between February 14th and 20th, 2020. Artwork may be dropped off at photo-eye Gallery during regular business hours, Tues–Sat 10 am to 5:30 pm. Accepted Artists shipping artworks, will pay to have the work shipped to and from the Gallery; a return shipping label must be included with the artwork when it is received. The container used to ship the artwork will be used to return it as well and must be durable enough to make both trips. Artwork will be returned, or become available for pick up, in the first week of June 2020.
Artwork:
Artwork must arrive at photo-eye Gallery "exhibition ready" and prepped for installation. Framed photographs must be ready to hang with hanging wire or D rings, images mounted on metal or acrylic may use a cleat for hanging. Sawtooth hangers are not permitted. For safety reasons, glass may not be used; frames requiring glazing must have Plexiglas or a similar type of shatterproof glazing.
Size Limitation: Maximum overall dimensions may not exceed 30 x 30 inches including framing/finishing.
Photographs must be printed and framed with archival materials & processes to professional standards.
photo-eye Gallery reserves the right to reject any artwork that does not meet our professional printing and framing standards or is damaged upon receipt.
Use & Permissions:
Artists accepted to participate in Fractured grant photo-eye non-exclusive rights to use the image submitted in all online and physical advertising to promote the exhibition online, in social media, and in print. Artists retain the copyright to their images and will be credited in any promotional material.
Sales:
Accepted artworks will be for sale at photo-eye Gallery, on our website (photoeye.com/gallery), as well as third party platforms Artsy.net and 1stdibs.com. photo-eye Gallery will retain a 50% commission from the sale of any artwork during the exhibition. Artists will receive payment by check to the address listed in their CaFÉ account 30-40 days after the artwork has been delivered to the client.
Contract:
Selected artists must sign a standard gallery contract prior to being fully accepted to be included in the Fractured exhibition. To preview the contract prior to applying, please contact Lucas Shaffer: lucas@photoeye.com or (505) 988-5152 x114.

Open Call & Exhibition Timeline:
Artworks accepted into Fractured must be available for the duration of the exhibition and will not be returned early.
Entry Deadline: January 12, 2020

Notification of Results: Monday, January 20th, 2020

by email and posted to CaFÉ accounts

Artwork Received at photo-eye Gallery: Feb 14th – 20th, 2020

Exhibition Opening: Friday, Feb 28, 2020

Artwork returned the first week of June
Waiver:
All artwork is insured while it is installed or stored at photo-eye Gallery. photo-eye Gallery is not responsible for damage to, or loss of, the artwork during shipping.
Print this Page
View Legal Agreement