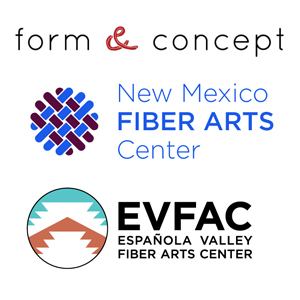 Live Wire
Contact Email:
events@evfac.org
Call Type:
Exhibitions
Eligibility:
National
State:
New Mexico
Entry Deadline:
3/1/20
Application ClosedNumber of Applications Allowed:
3
REQUIREMENTS:
Media
Images - Minimum: 1, Maximum: 2
Total Media - Minimum: 1, Maximum: 2
Entry Fee (Live Wire): $25.00

CALL FOR ARTISTS
The New Mexico Fiber Arts Center is sponsoring the New Mexico Fiber Crawl each weekend in May, 2020, at participating cities in New Mexico. This Call for Artists is for an invitational and juried show organized in collaboration with Form & Concept, (435 S. Guadalupe St., Santa Fe, NM, 87501).

The exhibit will open at Form & Concept on Friday, May 1, 2020, at 5:00 pm with a public reception. This opening will also be the kick-off party for the Fiber Crawl in Santa Fe.
The exhibit will close on June 13, 2020.

THEME
The exhibit titled Live Wire will showcase the best in fiber work in the country and will be nationally advertised.
Fiber is the material of revolution. Think of Betsy Ross stitching an early version of the American flag or Eugène Delacroix's Liberty holding colors aloft to usher in the French Revolution. Consider the banners, blindfolds, gags, bandanas, and sashes used in protests through the ages. In the late 17th century, Pueblo people in New Mexico untied knots in cords to count down the days until their successful uprising against Spanish colonists. In recent decades, fiber artists from Judy Chicago to Faith Ringgold have provided potent kindling for social and political movements. Live Wire will explore fiber's remarkable ability to conduct world-changing ideological currents.

JURY
The jury will be composed of representatives of Form & Concept.
At least a third of the work in the exhibit will be created by New Mexican artists. All decisions of the jury are final.

ELIGIBILITY
Fiber Artists from around the United States are eligible to submit their work.
· Work must be original fiber art created within the past three years.
· Work must not have been previously exhibited in Santa Fe.
· Work must be for sale.
· Work sold during the exhibit must remain on display until the exhibit closes on June 13, 2020, unless otherwise agreed with Form & Concept.

ENTRY PROCEDURE
All submissions are to be made through CaFÉ, https://admin.callforentry.org.
· Up to three entries may be accepted, and two images per entry (please submit one full image, and one detail/close-up of the piece). Photographs must be in high resolution (300dpi) and of print quality. A printed catalog may accompany the exhibit. If photographs are not print quality, the work may be omitted from the catalog.
· Images in jpg or pdf format must be labeled with the artist's last name, title of work, and year of creation.
· Also submit:
· Bio—200 words maximum.
· Artist statement concerning how the work responds to the theme—200 words maximum. The statement will be excerpted for the catalog.
· Sale price: Form & Concept's commission is 50 percent of the sale price.
· Permission to reproduce work for publicity: a form will be sent with the acceptance notification.

ACCEPTANCE
The Jury will announce which works were accepted for the exhibit on April 1, 2020.

SHIPPING & INSURANCE
Form & Concept will insure the work under its fine arts policy during the exhibit. Artists are responsible for insuring the work in transit to and from Form & Concept.
Artists are responsible for the cost of shipping to Form & Concept on or before April 24, 2020. Work may be hand-delivered Tuesday through Saturday, 10am-5pm. Shipments should be sent to:
Form & Concept
Attn: Fiber Crawl 2020 – Live Wire
435 S. Guadalupe St., Floor 1
Santa Fe, NM 87501
Work will be returned in the same manner delivered. Artists will be expected to provide a return shipping label with their work.
PACKAGING & PREPARATION
Work must be shipped in sturdy reusable crates, cartons, or containers and adequately protected against normal stresses encountered in transit. All crates, cartons, or containers must be clearly marked with the artist's name and address. Shipping containers should be strong enough to survive at least 2 shipments. Bubble wrap expands at 7,000 feet and might expand enough to break a cardboard carton. To avoid this, allow a bit of expansion space in your shipping container and don't completely seal the box on one of the edges. A space of 2 inches unsealed should suffice. Work must be received in ready-to-exhibit condition. Multi-unit pieces must be submitted with detailed installation instructions. Wall pieces may not weigh more than 50 pounds. Neither Form & Concept nor the Center will be responsible for framing, mounting, or otherwise preparing work for the exhibition.

TIMELINE
DEADLINE FOR ENTRIES March 1, 2020
NOTIFICATION OF ACCEPTANCE April 1, 2020
DELIVERY OF WORK April 21 through 24, 2020
OPENING RECEPTION IN SANTA FE, NM May 1, 2020, 5:00-7pm
EXHIBIT CLOSES June 13, 2020
WORK RETURNED TO THE ARTIST June 16 through July 15, 2020
Print this Page
View Legal Agreement