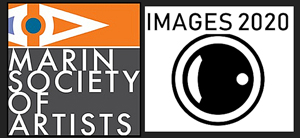 IMAGES 2020
Marin Society of Artists
attn: Bookkeeper
1515 Third Street
San Rafael, CA 94901.
Contact Email:
shows@msartists.org
Call Type:
Photography
Eligibility:
National
State:
California
Entry Deadline:
2/27/20
Application Closed
REQUIREMENTS:
Media
Images - Minimum: 3, Maximum: 20
Total Media - Minimum: 3, Maximum: 20
Entry Fee (3 entries, non MSA members): $35.00
Entry Fee (3 entries, MSA members): $30.00

Media Fee (per sample over minimum):$7.00

IMAGES 2020: A photography exhibition presented by the Marin Society of Artists (MSA), a non-profit artist organization dedicated since 1927 to promoting the arts and providing a broad array of arts opportunities. MSA presents a full schedule of exhibitions in its main gallery highlighting a variety of artistic expression – painting, sculpture, photography and more. See our website at http://www.marinsocietyofartists.org/
IMAGES 2020 is open to all artists residing in the United States, age 18 and over. All styles of photography, all subjects, and all types of photographic manipulation are invited.
JUROR. The juror, Germán Herrera, is an influential photograper with an interest in perception and our potential as human beings. http://www.germanherrera.com/about.html
The Marin Society of Artists Art Centre is located at 1515 Third St, San Rafael. IMAGES 2020 will open April 2 and will close April 25, 2020. There will be a reception on Friday, April 10 between 5 and 8pm, which coincides with the Second Friday San Rafael Art Walk.

Entry Details:
$35 for 3 entries, $7 for each additional entry.
$30 for 3 entries, $7 for each additional entry. (MSA members)
Payments to be made by credit card, debit (VISA or MC) or PayPal through the CaFE application.
Your entries must first be uploaded to "My Portfolio" on the CaFE application. You then choose images from your "Portfolio" to be entered in IMAGES 2020. Images must be JPG or JPEG, under 5MP with a minimum of 1200 pixels on the longest side.
Questions? Email shows@msartists.org.
Prizes:
First Prize: $500. Second Prize: $300. Third Prize: $100. Three, non-monetary Honorable Mention Prizes.
Schedule:
Entry Deadline: February 27, 2020, 10pm (PST).
Accepted Artwork Confirmations: March 11. (Accepted artwork will also be posted on MSA website at https://www.marinsocietyofartists.org/images-2020.
Ship-In delivery deadline: March 29, 4pm.
Walk in delivery: Sunday, March 29, 12pm to 4pm, OR Monday, March 30, 10am to 1pm.
Reception: Friday, April 10, 5pm to 8pm.
Pick up hand-delivered artwork: Sunday April 26, 10am to 4pm OR Monday, April 27, 10am to 1pm.
Return shipped-in artwork: Week of April 27.
Shipped-in Artwork:
Our shipping address is: Marin Society of Artists, 1515 Third St, San Rafael, CA 94901. Artwork must be received by MSA before 4pm on Friday, March 27. No Monday or Tuesday deliveries as the gallery is closed.
The cost of round trip shipping and insurance is the responsibility of the artist. The artist should safely package their work in a reusable crate or shippable box/carton and include a prepaid return shipping label. Artwork should be shipped framed, or otherwise ready for display. If not framed, artwork should be ready for display in a professional manner.
Hand Delivered Artwork:
MSA will accept hand delivery of accepted art work on Sunday, March 29 from 12pm to 4pm, or Monday, March 30, from 10am to 1pm.
Artwork Specifications:
Accepted artwork should be clean and ready to exhibit. If your work is misrepresented, we reserve the right to refuse to hang the artwork. No changes to title, price, etc. will be permitted after jurying. All artwork must be identified on the back with the artist's name, address, phone or email and the artwork title. All artwork must be for sale.
Artwork should not exceed 60" high and 60" wide, including frame. Total weight should not exceed 25 pounds. Artwork should be provided with a hanging wire attached with flat devices such as D-Rings, mirror hangers, or interior-mounted screw-eyes. If some aspect of the artwork prohibits use of wire, a similar hanging device must be provided on the artwork that can be used with the Gallery's STAS picture hanging system. NOTE: Marin Society of Artists will not fasten nails, screws or similar hardware to the gallery walls or partitions. Artwork glazed with glass must be framed. Glazing materials with a dimension greater than 26" in either direction must be plastic such as Plexiglas or acrylic.
NOTE: Marin Society of Artists has no prohibition against displaying art depicting nudity or political issues. However, it reserves the right to refuse to show artwork which, in the opinion of the Board of Directors, will be offensive to visitors or any of its members.
Sales:
MSA will reimburse the exhibitor an amount equal to the sale price less 40% commission; 30% commission for MSA members.
Show Chairs:
The MSA show chairs are John Henry (john.henry@msartists), Charles Mize, and Sheri Langer.
Print this Page
View Legal Agreement