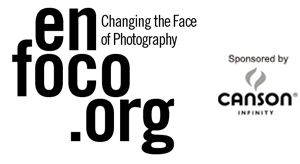 En Foco: New Works Photography Fellowship Awards No. 15
En Foco, Inc.
1738 Hone Avenue
Bronx, NY 10461
Contact Email:
info@enfoco.org
Call Type:
Unspecified
Eligibility:
Unspecified
State:
Unspecified
Entry Deadline:
8/4/11
Application Closed
REQUIREMENTS:
Media Images:20


DEADLINE EXTENDED: Thursday, August 4, 2011, at 11:59pm PST, 12:59am MST, 1:59am CST, 2:59am EST.

En Foco, Inc. invites U.S. based photographers of Latino, African and Asian heritage, and Native Peoples of the Americas and Pacific, to submit work to the New Works Photography Fellowship Awards #15. The program encourages artists to create or continue an in-depth photographic series, in any photo-based fine art or documentary style/genre.

Our aim is to identify and promote talented emerging and mid-career artists, creating a cross-cultural dialogue and providing artists with exposure and growth opportunities. There is no fee to apply.


GUEST JUROR: Michael Mazzeo, Michael Mazzeo Gallery, NYC

PRIZES:
While the products awarded varies from year to year, New Works fellows usually receive:
- a $1,000 honorarium ($100 for Honorable
Mentions)
- a $500 product gift certificate from Canson
Infinity ($100 for Honorable Mentions)
- professional tripods from Manfrotto
- camera bags from Lowepro
- a feature article in Nueva Luz

- an exhibition in New York
- a photographer's page on enfoco.org
- a one-year En Foco membership
($100 value)

SELECTION PROCESS:
All submissions will be vetted (pre-reviewed) by a Committee comprised of En Foco's curatorial staff. This gives us an opportunity to identify potential artists for our other programs as well. Then, the top 40 entries are submitted to and juried by well-known photographer, educator, and gallery owner, Michael Mazzeo of Michael Mazzeo Gallery, NYC. Fellows will then have have about eight months to continue their proposed series for an En Foco exhibition in New York.

REQUIREMENTS:
1. Your work should address issues that are relevant to your personal experience. Photographic imagery should contain a cultural consciousness that is grounded in identity and the search for a personal statement. This is completely open to your interpretation. Visit www.enfoco.org to view works by prior winners.
2. You may propose a new project idea, or propose to continue an existing body of work. Decisions will be based upon quality of images submitted.
3. If selected, your new work must consist of 15-20 exhibition-quality images. The group exhibition will be curated by En Foco staff in 2012, at which time the honorarium is paid.
4. Although not required, applicants are encouraged to become En Foco members. Basic membership includes a subscription to Nueva Luz photographic journal, a 1/2 hour in-house Portfolio Review, free admission at photo museums, discounts to En Foco workshops, and invitations to all En Foco events. Additional membership levels include more extensive benefits and substantial discounts.


SUBMISSION REQUIREMENTS:
1. Register at CallforEntry.org, and follow the directions for sizing and uploading your images.
2. A written project proposal/description (no more than 500 words). Describe specific aspects of your work such as subject matter, context, content, location, and personal relevance.
3. A one-page biography and/or resume.
4. A statement about your work as an artist.
5. Twenty tightly edited images from the same series. CaFÉ image preparation tips can be found at: https://www.callforentry.org/image_prep.phtml
6. For more submission tips, go to: http://www.enfoco.org/index.php/programs/submissions/ (scroll down for New Works FAQs).


This exhibition is supported in part by the New York State Council of the Arts, the NYC Department of Cultural Affairs, the Bronx Council of the Arts, and Canson Infinity.

ABOUT EN FOCO:
En Foco is a non-profit organization that nurtures and supports contemporary fine art and documentary photographers of diverse cultures, primarily U.S. residents of Latino, African and Asian heritage, and Native Peoples of the Americas and the Pacific. Founded in 1974, it makes their work visible to the art world, yet remains accessible to under-serviced communities. Through exhibitions, workshops, events and publications, En Foco provides professional recognition, honoraria and assistance to photographers as they grow into different stages of their careers.
Print this Page
View Legal Agreement