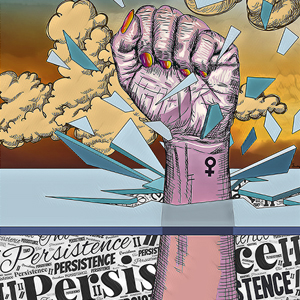 Persistence II: A National All Women's Exhibition Celebrating 2020, the Year of the Woman
d'Art Center
ATTN: Amanda Bradley
740 Duke St.
STE 150
Norfolk VA 23510
Contact Email:
abradley@d-artcenter.org
Call Type:
Exhibitions
Eligibility:
National
State:
Virginia
Entry Deadline:
2/9/20
Application Closed
REQUIREMENTS:
Media
Images - Minimum: 1, Maximum: 3
Total Media - Minimum: 1, Maximum: 3
Entry Fee (Persistence II: A National All Women's Exhibition Celebrating 2020, the Year of the Woman): $35.00

Persistence II is a second annual exhibition that features work from female artists from across the country. This exhibition is open to functional, non-functional, 2D, 3D, fine art, and fine craft in all mediums. In honor of Women's History Month and 2020, The Year of the Woman, this exhibition is open to all female artists living in the United States and is held at the d'Art Center in Norfolk, Virginia. The d'Art Center is Norfolk's thirty-year-old art center and includes working professional artist studios and provides a wide variety of exhibitions and programming open to the public. The d'Art Center is located in the NEON district of Norfolk. The exhibition will be co-curated by gallery manager Amanda Bradley, and exhibition juror, Lori Pratico. Last year's exhibition was fantastically sucessfull, and d'Art Center is excited to make Persistence an annual national show.

Juror Biography: Lori Pratico is the founder of the Girl Noticed Community Mural Project. Girl Noticed is a community-based arts outreach program that through self discovery uncovers and showcases the unique strengths, contributions and abilities of females, illuminating their greatness and its value in society. Nominations cover a wide spectrum, from overcoming personal struggles to momentous achievements. The individual chosen represents many others like them and has brought attention to subjects such as Asperger's Syndrome, racism, poor body image, domestic violence, education, breast cancer awareness, and LGBTQ rights to name a few. The murals are done in charcoal, which will fade off the wall, adding a sense of urgency to "notice." Notice the girl and what she values in herself, what makes her feel good about herself, before those things change or fade away. It is a temporary mural with a positive and permanent message. For Lori, her artwork is not only her passion but also her voice. She is driven to inspire people to recognize that no matter what, there is always something about them extraordinary and worth noticing. As a teenager Lori's life was greatly affected when a teacher nominated her for The National Honor Society and let her read the nomination letter. The small act of someone taking notice had a great impact on her life. "Most girls and women compare themselves to unrealistic norms society has put into place. We strive for perfection, and live in a constant state of I'm not good enough", says Pratico. Girl Noticed reminds us to pause, acknowledge and appreciate others and ourselves.
Exhibition dates: Monday, March 9th 2020 - Tuesday. March 31st 2020
Reception: Thursday, March 12th 2020, 5:30-7:30pm
Call Open: Wednesday, January 15th 2020 - Sunday, February 9th 2020
Notifications (by email): By 5pm, Friday February 21st, 2020
Accepted works arrive by: March 3rd, 2020
Submission fee: $35.00 for up to 3 works
Awards:
1st Place: $500.00
2nd Place: $300.00
3rd Place: $150.00
Eligibility: This exhibition is open to female artists, 18 or older, residing in the United States. All work must be original and created without the aid of an instructor or kit. Work needs to have been produced within the last five years. All styles and aesthetics are considered. The d'Art Center is a public non-profit art center open to everyone; as such, the content of submissions should be appropriate for all viewers.
Submissions: All entries and payments must be submitted via Call for Entries (Cafe). Please follow the directions on Cafe. If you have exhibition questions, please contact abradley@d-artcenter.org; questions related to submitting through the Cafe platform should be directed to Cafe.
*** Please also make sure that your mailing address is accurate on CaFe (in case you win so we can send you your check!), and that your artwork prices are listed accurately on CaFe for sales in our gallery.
Limitations: Works cannot exceed a weight of 40 pounds. Work can not be longer/larger than 48 inches in its longest dimension. All 2D works must be equipped with hanging hardware for installation. All 3D works that require presentation other than standard pedestals must include those displays with the works. Works that require special installation must come with clear instructions. Any works that require complicated specialized installation must be installed by the artist. We reserve the right to reject work for the exhibition that differs significantly from the submitted images and/ or for craft issues.
Liability: The gallery staff will take great care handling artworks for exhibition. However, the d'Art Center, its staff, and gallery are not responsible for any damage that may occur, nor are Downtown Norfolk Properties. We strongly recommend artists insure the works themselves, and also purchase insurance from the shipping company used. Shipping your work means you agree to this.
Shipping:
The artist is responsible for shipping costs to and from the gallery.
All accepted works must arrive by Tuesday, March 3rd, 2020 without exception.

Ship works to:

d'Art Center
ATTN: Amanda Bradley
740 Duke St.
STE 150
Norfolk VA, 23510
Hand delivered works are accepted through pre-arrangement; please contact
abradley@d-artcenter.org.
Artists must issue pre-paid return labels for their works through UPS or FedEx. We do not arrange shipping in any other manner. Works must have pre-paid return labels through FedEx or UPS to be returned which allows us to call for pick up as the Center's insurance does not cover transporting work offsite to local shipping companies or the United States Postal Service, which is why the postal service is not an option for shipping.
Works should be shipped in reusable containers for return. PLEASE MAKE YOUR RETURN LABEL EASY TO FIND UPON UNPACKING. Clearly indicate any packing directions for return of works. Works that do not include a return label, and/or works that are not picked up within one month of the end of the exhibition become property of the d'Art Center.
NO PACKING PEANUTS. Works packaged with packing peanuts will be returned immediately and not included in the exhibition.
Entry Fees and Materials: Artists may submit up to 3 artworks for consideration and the entry fee is $35.00. Commission for works is 60% (artist)/ 40% (d'Art), not including awards.
Print this Page
View Legal Agreement