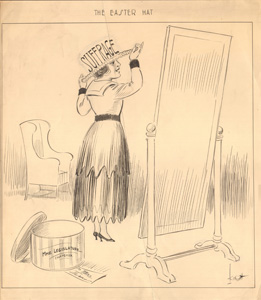 Purple, Gold and White: Reflections on Women's Suffrage
DALLAS HERITAGE VILLAGE
1515 S HARWOOD ST
Dallas TX 75215
Contact Email:
mprycer@dallasheritagevillage.org
Call Type:
Exhibitions
Eligibility:
Regional
State:
Texas
Entry Deadline:
2/9/20
Application Closed
REQUIREMENTS:
Media
Images - Minimum: 1, Maximum: 5
Audio - Minimum: 0, Maximum: 3
Video - Minimum: 0, Maximum: 3
Total Media - Minimum: 1, Maximum: 11
Entry Fee (Purple, Gold and White: Reflections on Women's Suffrage): $20.00

This year marks the centennial of an important moment in women's history: the passage of the 19th amendment, giving women the right to vote. As is so often the case for historically marginalized groups, the number of artifacts left behind to tell this story is limited. But this absence also provides a unique opportunity to tell stories in different ways.
Dallas Heritage Village seeks artwork in all media that will explore issues or tell stories relating to at least one of the following subjects:
· The women's suffrage movement
· Voting rights throughout history
· Women's political participation today
Dallas Heritage Village is an immersive history museum located in the historic Cedars neighborhood, just south of downtown. Home to over 20 relocated historic buildings, art will be exhibited inside selected historic structures. All are climate controlled. These buildings include:
· Pilot Grove Church
· Renner School
· Doctor's Office
· Saloon
· Bank/Dentist's Office
· Worth Hotel
· Browder Springs Hall
· Section House
· Shotgun House
DHV holds a number of stories relating to women's history and preference will be given to work that connects to these stories or local Dallas history. Examples include:
· Barry Miller, state legislatures, changed his mind about women's suffrage after being presented with a petition of 10,000 names—gathered in just one week. He later became chairman of the men's campaign for the 19th amendment. His former home, Millermore, is one of the signature buildings at DHV. For more information: http://dallasheritagevillage.blueervay.com/suffrage-war-and-dallas-women-in-1918
· In 1904, Hansell Moles built the Worth Hotel and gave it to his two daughters, Eula and Mary. Their only brother David had died in a train accident the year before, and Hansell was likely worried about how his unmarried daughters (in their early 30s) would be supported in the absence of male relatives. This was considered one of the few acceptable professions at the time.
· Public spaces where a woman's presence was limited, such as the Bank or Saloon.
Work will be selected by a jury that will include DHV Executive Director Melissa Prycer, a local artist and a representative from the community.


Art Specifications
Art in all media will be considered. All two-dimensional art must be properly wired and suitable for hanging on a wall. Three-dimensional art must be fully stable to stand on its own or be attached to a stable base that can sit securely on top of our pedestals (pedestals are limited). Artists whose work requires the use of electronic equipment (video players, projectors, audio devices, computers, etc.) must provide their own equipment.
All art must be able to fit through a door that is 30 in x 70 in.
If you have a building preference, please let us know. Final placement of artwork will be determined by DHV curator.
If you'd like to visit DHV on your own as you consider your application, our operating hours are:
Tuesday-Saturday, 10 a.m. – 4 p.m. and Sunday 12 p.m. – 4:00 p.m. We can make other arrangements if absolutely necessary.
Submission Requirements
You are welcome to submit completed work or submit a proposed idea or sketch. If submitting a proposal, please submit at least one example of other work. Artists may submit a maximum of three works of art for consideration. Files should be named with the following convention: lastname_1.jpg
Sales
Dallas Heritage Village employees are not allowed to accept payments from prospective art buyers, but they can collect contact information from them. Transactions for the purchase of artwork shall be directly between the purchaser and the artist or his/her official agent. Dallas Heritage Village would gladly accept a 10% donation on all art sold during the exhibition.
Calendar
Artist Open House: Sunday, January 19 Noon – 3 p.m.
Entry Deadline: February 9, 2020.
Selection Notification: February 17, 2020
Delivery of accepted artwork:
In-person art deliveries: Monday, March 16 4 -7 p.m.
Shipping artwork: shipments from outside of Dallas must arrive any time between March 11-18.
Exhibition Dates: March 29, 2020-July 4, 2020
Reception: Thursday, March 26
Artwork pickup: Thursday, July 9 4-7 p.m.
Return of shipped artwork: Artwork that comes from outside of Dallas will be shipped back to the artists the week of July 27.
Print this Page
View Legal Agreement