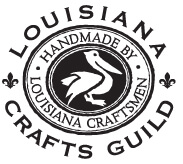 2020 - Louisiana Crafts Guild Membership
219 E Vermilion St
Lafayette, LA 70501
Contact Email:
gene@louisianacrafts.org
Call Type:
Member
Eligibility:
Regional
State:
Louisiana
Event Dates:
0/0/00 - 0/0/00
Entry Deadline:
12/31/20
Application ClosedNumber of Applications Allowed:
20
REQUIREMENTS:
Media Images:5


Entry Fee ( Louisiana Crafts Guild Membership): $30.00

The Louisiana Crafts Guild is a juried organization of Fine Crafts Artisans located throughout the state of Louisiana and the southern region of the United States. The Louisiana Crafts Guild accepts applicants in the following categories:

FOLK CRAFTSMEN
Maintain traditional crafts learned within their own community. Their skills are passed down orally or by example rather than in the context of a classroom or workshop.
Ritual & Festive Crafts
Voodoo dolls, Mardi Gras mask, etc.
Native American Crafts
Palmetto weaving, moss dolls, woodcarvings, etc.
Domestic Crafts
Quilting, weaving, soap making, broom making, etc.
Folk Instruments
Fiddle making, triangle (tee fer), wash boards (frottoirs) etc.
Rural Occupational Crafts
Blacksmithing, rope making, boat building, etc.
CONTEMPORARY & REVIVALIST CRAFTSMEN
Craftsmen who have acquired knowledge of his craft through books, workshops, or education.
Clay
Thrown or hand built forms. If a mold is used it must have been designed by the artist. No mass-produced ware.
Fiber
Spinning, weaving, weaving baskets, cane bottom chairs, pine needle baskets and hand-woven cottons, Painted and dyed fabric, Needlework including stitchery, knitting, crochet, embroidery, Quilting Leatherwork
Glass
Flat "cold" and "hot" glass processes (stained glass, blown glass, torch or flame work glass, laminated glass, etc.)
Metal
Enameling, casting, granulation, repousse, engraving, metal spinning, inlay, cutlery, sculpture, decorative and utilitarian ironwork, etc.
Wood
Furniture, carving, sculpting, etc. (If a clock is made, the mechanism can be purchased, but not the housing – must be hand made.)
Mixed Media
Drawing and painting are allowed if part of an original piece of art in 3D. Example: Decorative gourds. Other examples of mixed media would be collages, decoupage on an original 3D item, and architectural salvage, altered or assembled in an aesthetic creative manner. Beading: if commercial beads are used they must be used in a creative manner and not just strung with the use of commercial clasps . Papercraft includes paper mache', cast paper, marbling,book making. Fabric dyeing – silk and batiking are eligible. Block printing is eligible only if the original block is submitted for review with the printed pieces.
LOUISIANA LIFE
Painting
Original watercolors, oils, and acrylics and works on paper that represent and evoke the urban and rural cultures and traditions of Louisiana.
Photography
Color and Black & White photography that represent and evoke the urban and rural cultures and traditions of Louisiana. Prints must be limited edition (up to 100) and signed and numbered.
Print this Page
View Legal Agreement