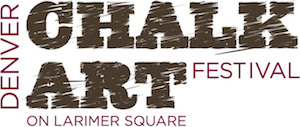 Denver Chalk Art Festival 2020
On Larimer Square.
Denver Colorado
Contact Email:
michael@lapisarts.com
Call Type:
Festivals
Eligibility:
International
State:
Colorado
Entry Deadline:
4/25/20
Application Closed
REQUIREMENTS:
Media Images:4


The Event:
The
Denver Chalk Art Festival is an award-winning event that transforms historical Larimer Square into a colorful street museum. Over the course of three days, over 200 professional, amateur, and student artists captivate audiences as they take to the pavement armed with vivid pastel chalks and spend hours drawing on their hands and knees. 175,000 festival attendees enjoy food and live music as they watch beautiful chalk pieces come to life. The event is produced by the Lower Downtown Denver Arts Association (dba Larimer Arts Association) which was established in 1996 as a nonprofit organization dedicated to promoting arts awareness and education in metro Denver.
Deadline to enter is March 15, 2020
When: June 5 through June 7, 2020
Friday, June 5, 5pm to 10pm
Saturday, June 6, 10 am to 10 pm
Sunday, June 7, 10 am to 7 pm
Awards Ceremony at 5 p.m. on Sunday
The chalk festival has two levels:
Master level
(for
artists age 18
and up).
Youth Challenge
(for high school aged students). Please see our website to enter a student team.
http://www.larimerarts.org/youth-challenge/​
Application requirements:
NO artist (new or returning) will be considered without a sketch and brief description of their proposed chalk drawing. Please submit one image of the art you wish to create and three images of your past art work in any medium.
Artwork for the festival must be appropriate for public viewing. No words, symbols or logos intended as advertising may appear within the chalk drawing image.
Artists that plan to reproduce another living artists work MUST get written permission in the form of email or letter.
Artists are not allowed to sub-advertise their square/space in any way. Official sponsors and artists only.
Chalk will be provided; however, if you are using a predominant color in your design you may want to purchase that color before the festival. Only non-oil-based soft chalk/pastels in a solid form may be used for the street painting. Acrylic paints, spray can pastels, oil-based pastels, hard pastels, etc. are not acceptable.
All squares are 8'x8'. If your proposed artwork is not a square it must hit 8 feet in one direction.
There will be a limited number of 8'x12' vertical spaces reserved for the 3-D challenge.
Artists can apply to be considered for a mural team and create an image that is 8'x12' horizontal. Mural teams require 2-3 artists.
Chalk artists at the festival are not paid and there is no reimbursement for travel or lodging.
Denver Chalk Art Festival provide one set of 24 soft pastels, water, and breakfast and lunch on Satuday and Sunday. All artists are invited to attend our VIP party Saturday night.
Artists are required to work on their chalk drawings both Saturday and Sunday of the festival.
Artists must be at least 18 years old.
Deadline to enter is March 15, 2020. We will let you now the jury results by early April 2020.
​
The Tradition
The event follows street painting traditions that originated in 16th century Renaissance Italy when artists began transforming pavement into canvas using chalk. The artists were called "madonnari," after their customary practice of creating chalk paintings of the Madonna. Historically, madonnari were known for their life of travel and freedom, making their living from coins received from passers-by. With World War II came many hardships, greatly reducing the number of these artists. The art form was not officially brought back to life until 1972 when the small town of Grazie di Curtatone in Italy started the first International street painting competition. Today, artists worldwide are taking to the streets, bringing with them new ideas, techniques, and excitement for this ancient form of expression.
Question / info call:
Michael Rieger, Art Director 720-331-6402 michael@lapisarts.com
Print this Page
View Legal Agreement