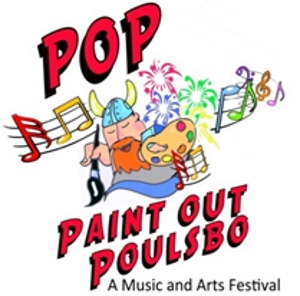 Paint Out Poulsbo (POP) 2d Juried Traditional Art/Digital Art Competition
PO Box 1542
Poulsbo, WA 98370
Contact Email:
penmusicarts@gmail.com
Call Type:
Competitions
Eligibility:
Regional
State:
Washington
Entry Deadline:
5/24/20
Application Closed
REQUIREMENTS:
Media
Images - Minimum: 1, Maximum: 3
Total Media - Minimum: 1, Maximum: 3
Entry Fee (JURIED 2D COMPETITION POULSBO WA : TRADITIONAL ART/DIGITAL ART--POP-Paint Out Poulsbo): $35.00
Entry Fee (Student - JURIED 2D COMPETITION POULSBO WA : TRADITIONAL ART/DIGITAL ART--POP-Paint Out Poulsbo): $5.00

CANCELLATION DUE TO COVID 19

The Peninsula Music and Arts Society Board and Paint Out Poulsbo - POP co-chairs have been in discussion about POP 2020, and with the Governor's announcement to extend our at-home time until May 4th, we regretfully decided to cancel POP for 2020. We just didn't feel we would have enough time to personally connect with artists and the public to keep this event as vibrant as we have in the past. We've spoken to our contact at Sons of Norway, and we will be able to carry forward our deposit to 2021. So....POP 2021 is already scheduled for June 5th, 2021!

Competition: Paint Out Poulsbo – POP Art and Music Festival is a one day event in downtown Poulsbo at the Sons of Norway located at 18891 Front St NE. 2D digital and traditional art will compete and be on display and for sale.
Additional art and photography exhibitors will also be present and have pieces available for sale. In addition to art sales, there will be a fundraising raffle offering airfare to Hawaii or $1,000 cash. Musical entertainment by local musicians/performers and Peninsula Music and Arts Society scholarship winners will be scheduled throughout the day. The festival is open to the public. Cash prizes and awards, will be given out between 5:00 – 5:30 pm, and raffle winners will be announced.

Eligibility & Entry Fees: 2D artists over age 18 paying non-refundable entry fee of $35; Student division artists ages 5-18 paying non-refundable entry fee of $5. You may enter up to three pieces. As you upload your individual jpg or jpeg file, be sure to choose the category that applies. Work must have been completed on or after June 3rd 2019.
Application Requirements: Artists can only apply to one of two categories per CaFE™ profile. Categories: (1) Traditional Art – Painting; Watercolor; Drawing; Mixed media. (2) Digital Art – Fractal/Algorithmic; 2D Computer Graphics; Photo-painting; Digital Collage; 2D Digital Painting; Manual Vector Drawing; Integrated Art/Mixed Media and Hybrid Painting; Raster Painting; Computer-Generated Painting.
CaFE™ will charge a $35 entry fee for professional or amateur adults and $5 for Students ages 5-18, which covers 1-3 pieces. You may submit up to 3 digital images per entry – JPEG only. To be entered, each artist must accept the entry fee. If "Pay by Check" is selected, the entry is valid only when payment is received prior to May 24th, at Peninsula Music and Arts Society, PO Box 1542, Poulsbo, WA 98370.

The artwork will be juried by a panel of local and regional professional artists during the qualification process beginning on May 24, 2020. Work cannot be based on copyrighted or previously published materials. Artists will be notified via CaFE™ email by May 28th of accepted entries.
Artwork will be displayed and awards determined at the June 6th POP Festival.
Image Guidelines: Artists are strongly encouraged to submit images that present your work to best advantage. Your images should give a sense of how your piece "hangs". Artworks accepted in the competition must be available June 6th to be photographed individually for advertising and publicity.
Presentation and size requirements: Accepted work must be ready for display upon arrival at Sons of Norway located at 18891 Front St NE, downtown Poulsbo. Finished artwork must not exceed 18"x24" or 432 sq inches. Framed pieces must fall within these specifications. Artwork must be wired for hanging. Saw tooth picture hangers are not accepted. Hanging wire may be visible only if it is part of the overall design of the piece. Check-in time at Sons of Norway is 8:30-9:30 AM on Saturday, June 6th.
Sales: All accepted and hung work must be for sale unless specifically indicated not for sale in the application. If the piece is specified as not for sale, you must still include value of work for insurance purposes. Please note the price (and/or value of work not for sale) of an accepted entry may not be changed. All artwork must remain on display until the end of the exhibition at 5:00 PM June 6th and then picked up by the buyer or artist if not sold. Peninsula Music and Arts Society will handle sales and retain a 20% commission to go toward future music and arts scholarships. Payments to the artists for all sold pieces will be mailed within two weeks after the Festival.
Important Dates and Times:
· March 15, 2020-May 24, 2020 Entries submitted through CaFE™
· May 28, 2020 Notification of acceptance by email and/or CaFE™
· June 6, 2020 8:30-9:30 am: Drop off artwork at Sons of Norway, 18891 Front St NE, Poulsbo
· June 6, 2020 9:30 am to 1:00 pm: Judges determine winning entries
· June 6, 2020 1:00-5:00 pm: Festival open to public with artwork on display and for sale.
· June 6, 2020 5:00 – 5:30 pm: Cash Prizes awarddc
· June 6, 2020 5:30-6:00 pm: Pick-Up of unsold pieces – ALL pieces must be picked up
Awards: Artists will be eligible for the following awards ($2,475 total awards):
Traditional Art

$400 Professional 1st Place

$200 Professional 2nd Place

$300 Amateur 1st Place

$150 Amateur 2nd Place

$100 Student, 12-18 yrs., 1st Place

$ 50 Student, 12-18 yrs., 2nd Place

$ 50 Student, 5-11 yrs., 1st Place

$ 25 Student, 5-11 yrs., 2nd Place

Digital Art

$400 Professional Digital Art 1st Place

$200 Professional Digital Art 2nd Place

$300 Amateur Digital Art 1st Place

$150 Amateur Digital Art 2nd Place

$100 Student, up to 18 years, Digital Art 1st Place

$ 50 Student, up to 18 years, Digital Art 2nd Place
Print this Page
View Legal Agreement