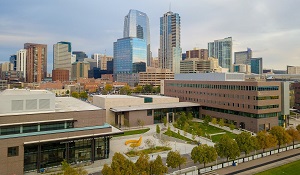 University of Colorado Denver - Benson Terrace Sculpture
Contact Email:
ruth.bruno@state.co.us
Call Type:
Public Art
Eligibility:
National
State:
Colorado
Entry Deadline:
4/5/20
Application Closed
REQUIREMENTS:
Media
Images - Minimum: 6, Maximum: 8
Total Media - Minimum: 6, Maximum: 8
Qualifications are requested from artists interested in creating a public sculpture for the new Benson Terrace on the University of Colorado Denver's campus in downtown Denver, Colorado. The budget for this opportunity is $100,000. Full RFQ, with references images, is available here. Deadline has been extended until April 5, 2020.
ABOUT UNIVERSITY OF COLORADO DENVER
The University of Colorado Denver
(CU Denver)
is a diverse teaching and learning community that creates, discovers and applies knowledge to improve the health and well-being of Colorado and the world.
CU Denver is located on the edge of downtown Denver, with buildings both in the central business district and on the Auraria Higher Education Center, a 150-acre campus shared with two other institutions of higher learning: the Community College of Denver and the Metropolitan State University of Denver. For more, please visit
http://www.ucdenver.edu/
.
PROJECT DESCRIPTION – BENSON TERRACE
In 2019, Bruce Benson stepped down as the President of the University of Colorado, ending a distinguished 11 year tenure that stands as the longest in the past 65 years for the University. In the spring of 2019, CU Denver announced that it would rename the landscaped Plaza adjacent to Student Commons as "Benson Terrace," to honor the significant contributions of Bruce and Marcy Benson to the University.
As part of the terrace's new design,
CU Denver is looking to incorporate a
signature art piece honoring the Bensons. The terrace will be redesigned to be more welcoming to visitors and passersby, particularly from the 12th
Street side to encourage gathering, contemplation, exploration and the viewing of and interaction with the art piece.
The redesign also has the goal of making
Benson Terrace more symbiotic with the courtyard and diagonal plaza being created as part of the new City Heights Residence Hall and Learning Commons project, a first-year residence hall located on Larimer Street between 11th and 12th streets that is currently under construction.
BUDGET: $100,000
The contract amounts are inclusive of all costs associated with the project including, but not limited to, the artist's design fee, other consultation fees such as structural engineering, insurance, materials, fabrication, transportation and installation, including any building or site modification required, travel to and from the site, per diem expense, project documentation, contingency to cover unexpected expense and any other costs of any kind.
Semi-finalist artists will receive $1,000 as an honorarium for the creation of a design proposal.
OPPORUNITIES
FOR PUBLIC ART
To honor the legacy of the Bensons, the Selection Committee is looking to select a public sculpture for installation in the completed Benson Terrace. The committee would like to commission an artist to create a larger than life size sculpture of a lynx, to celebrate CU Denver's mascot, Milo the lynx. The committee is looking for a more realistic expression of the animal, but is open to more abstract/creative uses of form, such as a head only, variety of movement, etc. The committee would like the sculpture to be made of materials that have proven longevity and can capture the essence of the lynx, such as bronze or metal. The goals for the artwork are to serve as a statement piece and photo opportunity for the University, celebrate the Bensons, and draw people into or near the Benson Terrace to view and/or interact with the art piece.
The committee is interested in viewing past examples of the artist's works in person, so please note in the Statement of Interest if they have any examples of artwork located in Colorado.
The Selection Committee will consider the following:
·
Artistic excellence
·
Demonstrated experience with this type of sculpture
·
Scale, material, form and content
·
Appropriate relationship to the function of the site
·
Resistance to general wear, vandalism, or theft
·
Ease of maintenance, minimal and low cost maintenance
APPLICATION PROCESS
All applications for this project are being accepted through the online platform, CaFÉ™ (
www.callforentry.org
)
. No hard copy or emailed submissions will be accepted. The applicant will be asked to submit digital images of art (see below for more information), a resume, and a brief statement of interest. There is no application fee to apply or to use the CaFÉ™ online application system. Assistance in using the CaFÉ™ system is available during regular business hours by calling 303-629-1166, 1-888-562-7232 or email
cafe@westaf.org
.
Digital Images
. In order to be considered for this project, the applicant must electronically submit, via the CaFÉ™ system, no less than six (6) and no more than eight (8) digital images of previously completed artworks. Instructions on how to use CaFÉ™ and format images can be found at
www.callforentry.org/image_prep.phtml
.
Resume
: Submit a current résumé, via CaFÉ™, that outlines professional accomplishments as an artists.
Statement of Interest
: A statement of interest of 250 words or less must be submitted via CaFÉ™. It should briefly outline the interest in the specific opportunity and applicable experience. Artist should note if they have any work examples in public locations in Colorado and where they are located.
SELECTION PROCESS AND SCHEDULE
The Art Selection Committee will review all complete submittals. A short list of semifinalists will be invited to prepare and present a final proposal in person and be paid an honorarium of $1,000. Final selection(s) will be made from the semifinalists' proposals. The schedule is as follows:
Friday, April 3, 2020 11:59 pm MST
- Deadline for receipt of submittal via CaFÉ™ system
April 2020 –
Selection Committee meets to select Semi-Finalists
April/May 2020 -
Artist presentations to the Selection Committee in Denver, CO
June/July 2020 –
Benson Terrace scheduled for completion
QUESTIONS
If you require more information or clarification, please contact Ruth Bruno, Colorado Creative Industries, at 303-892-3813 or
ruth.bruno@state.co.us.
ADDITIONAL SOURCES OF INFORMATION
About CU Denver
Campus Map
Bruce Benson retirement and legacy
Print this Page
View Legal Agreement