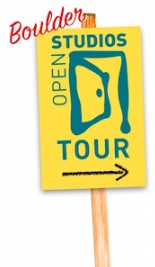 2020 Boulder Open Studios Tour (Virtual) & Membership Application
OPEN STUDIOS
P.O. Box 45
Boulder CO 80306
APPLY NOW
Contact Email:
mary@openstudios.org
Call Type:
Exhibitions
Eligibility:
Local
State:
Colorado
Event Dates:
6/13/20 - 5/31/21
Entry Deadline:
6/8/20
Days remaining to deadline: 2
REQUIREMENTS:
Media
Images - Minimum: 6, Maximum: 10
Total Media - Minimum: 6, Maximum: 10
Entry Fee (2020 Boulder Open Studios Tour ): $37.00

Traditionally, The Boulder OPEN STUDIOS TOUR takes place the first 3 weekends in October when over 100 artists host the public in their working studios in and around the city of Boulder, Colorado.
This year, out of concern for the safety of artists and the public, in light of the global pandemic, the Boulder Open Studios Tour is going virtual (online). Sadly, the traditional Tour that welcomes the general public into artists' homes and studio spaces, has been cancelled.
This application has been changed to reflect creation of the online Tour and in addition, an extensive package of benefits for artists to build their businesses and brands has been created for artists. Artists must still apply to this call and be reviewed by our jurors. If accepted, you will be invited to participate in a full year program that includes the virtual tour, a special event arts event in October, participation in physical retail and online sales galleries, teaching opportunities and more. We are continuing to expand the list of benefits for our invited artists. Participation fees have been significantly reduced to support artists in this unprecedented time. The 2020 Boulder Open Studios Virtual Tour and Membership Program is now open to All Artists whose studios are in Boulder County, Colorado.
A $37 NON-REFUNDABLE application fee is required with the online application. This call closes at 11:59 pm on Monday, June 8th. Artists will be notified of acceptance on or before June 13, 2020.
If accepted, an $85 participation fee must be paid by June 20, 2020. After July 10, your participation fee is non-refundable.
Benefits provided for accepted Open Studios Tour Artists:
· A new, more fun, functional and comprehensive website - openstudios.org. Please check it out to see how we will be representing and promoting our 2020 artists,
· A mobile adaptation of the website for Apple and Android mobile phones,
· Your own Artist Page in the Studio Tour Artists Online Catalog with images, artist statement, location and links to your email and website,
· Optional placement of a Virtual Video Tour of your studio on your Artist Page. We'll provide directions for you to produce your own video. If unable to create a video, we will assist you for an additional fee. Please see the virtual tour that Bill Stoehr created with his phone: https://www.openstudios.org/artists2/Stoehr
The opportunity to sell art through the new Open Studios online store,
· The social media, and other sales and marketing training you've asked for,
· First-in-line opportunity to participate in Pop Galleries when retail space opens up,
· A listing in our website Art Class Search with a link to the teaching page on your website,
· The opportunity to do paid teaching residencies ($35/hour) in area public schools, and to teach on-line as we develop these programs,
· The opportunity to do paid outreach residencies ($35/hour) in Boulder Housing Partners and Thistle Housing communities and to offer these services on-line as we develop these programs,
· A $10 discount on the cost of each Boulder Plein Air Festival paint out you register for as a Community Artist. BPAF 2021 will be held in June, 2021.
· Special October Event TBD We are working toward creation of a special online event for October, 2020.
· Ongoing Social Media, Email and additional Marketing Campaigns throughout the year to promote all the activities listed here.
· AND MORE as we continue to develop new concepts and programs.
VOLUNTEER REQUEST: While Open Studios' traditional in-person Tour offers artists the opportunity to pay reduced fees in exchange for volunteer service, with the deeply reduced fees for this year's virtual tour an benefits package, no discount can be extended off the $85 fee. We hope that artists will volunteer in the spirit of promoting our artist community and help the Open Studios Director and the Board provide a fulfilling year of promotion and career advancement for themselves and their peers.
Referrals: For each NEW artist you refer to us who applies for the 2020 Boulder Open Studios Virtual Tour and benefits, you will receive a $10 discount on your participation fee. "New" artists include those who have not participated in the Boulder Open Studios Tour in the last 5 years or more. New artists MUST indicate YOUR name as the referral source on their CaFE application.
REQUIREMENTS FOR APPLICATION, ACCEPTANCE AND PARTICIPATION:
(Please read these requirements through carefully)
• Applications are due by 11:59pm on Sunday, June 8, 2020. All applicants must be juried and must apply online through CallForEntry.org (CaFE).
• The images of your art submitted in your CaFE application, will be used on your Artist Page in our online Studio Tour catalog. Please put the image you would like to be in the all-artist gallery in first position on your application.
• Submit images showing the entire piece of each of 6 different pieces of art you have completed since 2017 and that are representative of art that you will show during the Open Studios Tour. You may submit up to 10 images, 4 of which may be detail images of the other 6 pieces presented, or you may show 4 additional pieces of art.
JURY PROCESS

Open Studios jurors will review all applications. We will inform you whether or not you have been accepted by June 13, 2020. If accepted, artists must return completed agreements and their participation fees by June 20, 2020.

The decisions of the Jury and Open Studios are final.

There are two-parts to the adjudication process: Part 1-The jury will consist of art consultants, museum administrators and gallery owners from the art community. Each juror will complete a scoring sheet for each artist. The Open Studios staff will total the scores, rank all artists by "Total Score", and determine a "cut-off" such that all artists above that score will be accepted. Part 2-The staff will also review all applications below that score and may add up to 4 more artists based on:

Substantial contribution to the community by the artist

Major benefit to Open Studios provided by the artist's participation

Exceptional emerging talent
JUROR SCORING CRITERIA - each of the following accounts for 25% of total score.
Does the work indicate a technical proficiency with the medium? (Skillfulness in handling the medium and ability in composition and design)

Does the work reflect an individual style and personal vision? (Unique works reflecting originality, visual interest, impact, emotional response)

How do you rate the overall quality of the work?

Do the images show a consistency in the body of work (do all images look like they were created by the same artist)?
Deadline to Apply: 11:59pm, June 8, 2020
Notification: All artists will be notified of acceptance on or before June 13, 2020. The $37 application fee is non-refundable. If accepted, you will receive your participation agreement to complete and return to Open Studios with your check for $85. Please make checks out to Open Studios and mail to Open Studios, P.O. Box 45 Boulder, CO 80306. Agreements and fees are due June 20, 2020. Fees are not refundable after June 30, 2020.
• Accepted artists' year-round studio must be located in Boulder County, Colorado. Call or email Open Studios (303-444-1862, info@openstudios.org) before applying if you have questions about your eligibility.
• Accepted artists must derive a portion of their annual income from their art.
• Accepted artists must have the required City, County and State Sales Tax Licenses and collect and pay Sales Taxes if they handle art sales themselves. Artists may choose to sell art through the Open Studios online store (currently under development). Open Studios will retain a commission not less than 25% and not greater than 35% on art sold through this online store. Artists will be responsible for delivery, patron pick-up, or shipping of art sold.
• Accepted artists agree to read and sign receipt of the 2020 Open Studios Artist Handbook, which will outline participation requirements and deadlines for Tour marketing needs.
• Accepted artists agree to read and respond to all email communication in a timely manner.
• If concerns for public health and safety allow, there will be an exhibit held at the Museum of Boulder in early October featuring one piece of each artist's work. No opening reception is planned for this exhibit, however, it is hoped that the Museum will be open to the public with safe attendance and social distancing practices observed according to state and county guidelines in place at the time. This exhibit will coincide with a special virtual event we hope to arrange for juried artists during October.
• Absolutely no artwork will be accepted for the Museum of Boulder exhibit after the drop off time. If you miss the drop off, your work will NOT be represented in the exhibit. No exceptions.
• All artwork on display at the Museum exhibit MUST be for sale. Open Studios will retain a 35% commission from work sold at the Preview Exhibit.
• Artwork PICK UP from the Museum exhibit will be announced not less than two weeks prior to art drop off. Each artist will receive a specific time "window" to pick up their art. Open Studios and the Museum of Boulder are not responsible for artwork not picked up from the Preview Exhibit.
• Each artist must apply to this call for entries separately. There are no reduced fees other than the $10 credit for referrals of new artists. Each participating artist will have their own separate listing, with accompanying image(s), contact information and studio location information on the Open Studios website. Each participating artist will be listed separately in the online catalog, along with information unique to their specific studio practice and product.
IMPORTANT DATES – Some dates may necessarily change over the course of the year. Participating Tour artists may check for updated information at www.OpenStudios.org or contact info@OpenStudios.org with questions.
June 8, 2020, 11:59 pm: Application deadline. All applications must be made through CallforEntry.org.
June 13: Notification of acceptance/rejection/waitlist
June 20: Participation Fee and Signed Contract Due to Open Studios
June 30: Artist participation fees are now non-refundable.
July 30: Artists' review of website
Sept 28, 29, 30: IF an Exhibit at the Museum of Boulder is allowed, art drop-off will take place with artists given specific time "windows" to drop off art.
October, Dates and times TBD: A special virtual EVENT will be celebrate and bring focus to the Virtual Tour and its artists.
Print this Page
View Legal Agreement