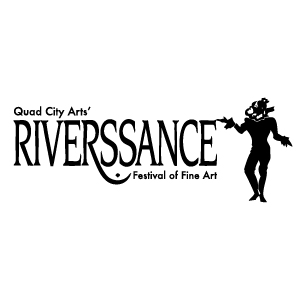 Riverssance Festival of Fine Art
Mailing Address for Jury and Booth checks:
Riverssance Festival of Fine Arts
c/o Jodean Meleski
1112 30th Street
Rock Island, IL 61201
Contact Email:
jmeleski@quadcityarts.com
Call Type:
Festivals
Eligibility:
National
State:
Iowa
Entry Deadline:
3/9/20
Application ClosedNumber of Applications Allowed:
20
REQUIREMENTS:
Media Images:5


Entry Fee (Riverssance - Entry/Jury Fee): $25.00
Admin (Riverssance - Entry/Booth Fee): $175.00

QUAD CITY ARTS' 33rd ANNUAL RIVERSSANCE FESTIVAL OF FINE ART
Quad City Arts' Riverssance Festival of Fine Art is celebrating its 33rd year as the premier fine arts festival of the Quad Cities, showcasing nearly 100 of the top artists throughout the greater Midwest —artists like you!
We're proud of our reputation of treating artists like friends. We provide easy access onto the park for booth set up, "art angels" for booth breaks, lunch order delivery, complimentary water, and a commemorative festival t-shirt.
Organized and run by art enthusiasts, Riverssance continues to be recognized for its careful attention to artists' success, community partnerships, great buyers, beautiful location, and a fun weekend.
Your artwork sales will be complemented by regional stage entertainment, a children's art tent, quality food vendors, and regional wine tasting.
DATES
Saturday, Sept. 19, 2020, 10 a.m. - 5 p.m.
Sunday, Sept. 20, 2020, 10 a.m. - 4 p.m.
LOCATION
Lindsay Park in the Village of East Davenport, Iowa, on a scenic bluff overlooking the mighty Mississippi.
ELIGIBILITY
All artwork must be original and created by the artist. Limited edition prints are permitted but must be clearly marked as a reproduction. Commercial exhibits, buy-and-sell items, items made from kits and commercially molded articles are not permitted. Any commercially produced materials used to complete exhibited work MUST be subordinate to the original artistic interpretation and technique of the exhibited art.
Artists may apply in additional categories, with a separate application, jury fee and images for each one (e.g. jewelry and sculpture or painting and wood).
Duo artists will be considered for one booth if the artwork is a cooperative effort. Two or three artists working in the same medium will be considered for one booth. Group tents of mixed mediums will not be considered.
The Riverssance committee reserves the right to request the removal of any work that differs from these criteria or from the images submitted. Failure to comply will result in the removal of the booth from the festival, without a refund.
CATEGORIES
o Ceramics: Original shaped and fired clay (including earthenware, porcelain, stoneware and terracotta).
o Fiber: Original work created by the artist from fibers/fabric or leather including batik, basketry, weaving, and quilt-making. No factory produced items are permitted.
o Glass: Original work created in glass by the artist including blown glass, fused glass or stained glass.
o Jewelry: Original work created through fabrication and/or original casting by the artist.
o Mixed Media: Includes collage and handmade paper; incorporates more than one type of material.
o Pastels: Dry pigments applied to a surface.
o Photography: Black & white, color, black and white & color, hand color, digital.
o Oils: Applied to a surface in any way.
o Acrylics: Applied to a surface in any way
o Sculpture: Three-dimensional art that serves an aesthetic or functional purpose.
o Watercolor: Applied in any way
o Wood: Original hand-tooled, machine worked, built-up, turned or carved work.
o Other: If your category is not represented, you may add your own.
EXHIBITION AND SPACE
Artists must supply all necessary display equipment. All canopies are required to be white and able to withstand winds and rain and be properly weighted. Each exhibitor will be assigned a 12-x12-foot area. Displays must conform to space allotted. All artists are responsible for paying Iowa sales tax. Artists are required to display during all public event hours on both days. There is no rain date. Come prepared for inclement weather.
Riverssance, Quad City Arts, or any community partners or sponsors are not responsible or liable for the loss or damage of property or display.
The Riverssance committee will make every effort to give accepted artists requested spaces, contingent on the layout of the festival. There are a limited number of corner booths. These and other requests will be given to the earliest emailed or postmarked requests.
Artists may set up after 1 p.m. on Friday, September 18, and must be set up by 10 a.m. on Saturday, September 19. No electricity is supplied to artists' booths.
AWARDS
• one $600 Best of Show award
• ten $225 Merit awards
• one $150 People's Choice award
Checks and a special set of trophies designed by one of our regional master artisans will be awarded Saturday evening during the Harley award reception.
A reception for participating artists (and their supporting booth attendants) will take place directly after public hours Saturday evening. The annual Harley Award for Outstanding Community Art Support will be presented during the reception for the selected recipient.
JURYING
Jurying for acceptance will be made from five digital images uploaded by the artist to CaFE. Each artist will supply four images of work executed in the last three years and one image of the display. The work will be juried based upon originality, technical skill/mastery of materials, design/vision, and cohesiveness.
Acceptance will be based on total jury scores; however, additional consideration will be given to categories that would otherwise exceed 20% of the booth allocations.
JURY AND BOOTH FEES
$25 Jury Fee (non-refundable)
$175 Booth Fee
APPLICATION PROCEDURE
1. Include four images of your work and one of your booth. Your artist statement should describe the process and materials. Artists should not include their name in the artist statement or booth image.
2. The recommended image format is JPEG/.jpg format and no larger than 5 MB. Dimensions 1,200 pixels or greater on the longest side.
3. Pay the application fee through CaFE.
4. After completing the application and paying the application fee, either pay your booth fee through CaFE or by mailing a check payable to Quad City Arts for $175 (booth fee). Applicants who have not sent the booth fee will not be included in the jury. Checks will not be cashed until you have been accepted as an exhibitor. Mail the booth fee to Riverssance c/o Jodean Meleski, 1112 30th St., Rock Island, IL 61201.
Artists not selected by the jury for this year's Riverssance will have their booth fee refunded after April 6, 2020.
ARTIST STATEMENT
An artist statement describing the technique, materials, and processes used in the creation of your entire body of work must be included with your application.
CANCELLATIONS
For any cancellation sent in writing or by email prior to August 3, booth fees will be refunded (less $25 administration fee). After that date, there are no refunds.
CALENDAR
March 9 - Postmark deadline for applications
April 6 - Notifications sent
August 3 - Deadline for cancellations
September 18 - Friday booth setup AFTER 1 p.m.
September 19 – 33rd Annual Riverssance 10 a.m. to 5 p.m.
September 20 – 33rd Annual Riverssance 10 a.m. to 4 p.m.
SECURITY
Artists may leave displays overnight Friday and Saturday at their own risk. Security will be provided both nights, but loss and damage are the responsibility of the artist.
CONTACT
Jodean Meleski, (309) 737-8910, jmeleski@quadcityarts.com
ABOUT QUAD CITY ARTS
Quad City Arts Council, founded in 1970 as an arts advocacy organization that operated a visual arts gallery and re-granting program for local artists, launched Visiting Artists, Inc. in 1974 as an educational residency program presenting multi-disciplinary performing arts through residencies in schools and at community sites.
The organization's dual role of presenting the arts and humanities, as well as serving as an arts resource, allows us to serve more than 350,000 people annually in the Arts Center in Rock Island and at over 200 rural and urban community sites.
Print this Page
View Legal Agreement