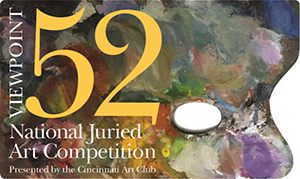 ViewPoint 52 Cincinnati Art Club
Make checks payable to:
Cincinnati Art Club
1021 Parkside Place
Cincinnati, OH 45202
Attn: ViewPoint
Contact Email:
viewpoint@cincinnatiartclub.com
Call Type:
Competitions
Eligibility:
National
State:
Ohio
Event Dates:
9/11/20 - 9/24/20
Entry Deadline:
7/14/20
Application Closed
REQUIREMENTS:
Media
Images - Minimum: 1, Maximum: 4
Total Media - Minimum: 1, Maximum: 4
Entry Fee (Cincinnati Art Club): $50.00

Media Fee (per sample over minimum):$25.00

The second oldest art club in the nation, the Cincinnati Art Club is excited to host this year's prestigious event! Celebrating 52 years, ViewPoint is our open juried exhibition for fine art in all media, except photography. With plans for increased marketing efforts, this year's competition promises to be the best in the event's 52-year history. The exhibit will be hosted by Art Design Consultants and will be open on a daily basis from September 12th through September 24, 2020, with the opening reception and awards on Friday, September 11, 2020.
AWARDS
1st Place $3,000.00
2nd Place $1,000.00
3rd Place $750.00
Additional cash and in-kind awards to be announced
ENTRY
$50.00 single entry
$25.00 second entry
$25.00 third entry
Use Coupon Code VP52 to get the 4th Entry FREE!
Pay online or by check payable to: Cincinnati Art Club
Mail to:
Cincinnati Art Club, ViewPoint 52 Entry
1021 Parkside Place
Cincinnati, OH 45202
THE HOST
Located in Cincinnati just minutes from the downtown area, Art Design Consultants is Cincinnati's premier fine art gallery. With a gorgeous 5,000 sq. ft. gallery and event space, ADC Fine Art provides an ideal space for ViewPoint 52. https://adcfineart.com/
ELGIBILITY
This exhibition is open to all artists 18 years of age and older. All work must be original in concept and executed by the entrant after January 1, 2017. All artwork must be for sale. A 50 percent commission is payable from each sale. "Price on Request" is not acceptable. A top award winner from 2018 or 2019 (1st, 2nd, 3rd Place or Gallery Representation) is acceptable, but will be ineligible to win one of those awards in 2020. Entrants are eligible for one award only. The following media are EXCLUDED: photography, crafts, fiber, computer-generated art, painting on photos and jewelry. Paintings created in workshops or classes also are not accepted.
ARTWORK
Framed Dimensions are crucial and shall not exceed a size of 48" wide (frame excluded). Each piece must be suitably framed and ready for hanging, using strong screw eyes, D-rings, or mirror hangers and wire. Gallery-wrapped canvas finished and/or painted on all sides is acceptable. Artwork requiring glazing should use Plexiglas™ or other plastic glazing. Shipped artwork using standard glass poses the risk of damaged artwork and is not advisable. Glass is acceptable for hand delivered work. However, plastic glazing is preferred on all artwork.

Free Standing Sculpture must not exceed 36" x 36" x 60" high and must be stable or attached to a stable base. Wall Sculpture must adhere to the same dimensions and framing as paintings and is limited to a depth of 15".
Your Supplied Images
Any digital manipulation of supplied photographs must be limited to making the digital file look more like the original art, otherwise risking disqualification. If you need to show multiple views of Sculpture or 3D Artwork, combine views in one image for online submission.
SHIPPING
Detailed shipping instructions will be mailed to all artists whose work is selected for ViewPoint 2020. Shipped work will be returned following the show closing.
ViewPoint 52, 2020 Calendar
Online submission: Closes Tuesday, July 14, 2020.
Mail-in entries must be mailed & postmarked by Friday, July 10, 2020
to ensure meeting the CaFE online submission closing date.

Selection Results: emailed Tuesday, August 4th, 2020.
Publicized on the CAC Website Monday, August 10th, 2020.
Shipped Works due to be delivered to Art Design Consultant by Wednesday September 2nd, 2020 (shipping instructions will be sent)
Hand-delivered works to:
Art Design Consultants
2124Madison Rd
Cincinnati, Ohio 45208
513.723.1222
Thursday September 3rd, 2020; 9 AM to 5PM


Artist's Reception & Awards
Friday, September 11th, 2020; 6:00 - 9:00pm
Open to the Public, September 12th through September 24, 2020,
Monday - Friday, 9:00 AM - 5:00 PM; Saturday, 11 AM to 5 PM or by appointment
Hand-delivered pick up:
Art Design Consultants
Friday, September 25th, 2020; 9 AM to 5 PM
Return shipment of works after exhibition closing
Print this Page
View Legal Agreement