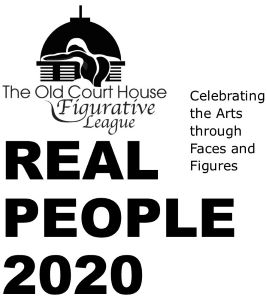 Real People 2020 - 20th Anniversary Show
Northwest Area Arts Council
Attn: Real People
PO Box 597
Crystal Lake, IL 60039-0597
Contact Email:
john@naac4art.org
Call Type:
Exhibitions
Eligibility:
International
State:
Illinois
Entry Deadline:
7/19/20
Application Closed
REQUIREMENTS:
Media
Images - Minimum: 1, Maximum: 3
Total Media - Minimum: 1, Maximum: 3
Entry Fee (Real People 2020 - 20th Anniversary Show): $40.00

Real People is open to all artists and media; submitted work must depict the human form or face in some manner that is recognizable. Works previously shown at the Old Court House Arts Center are not eligible for entry, so any works previously accepted for Real People or Women's Works are also ineligible. The exhibit will be held at the Old Court House Arts Center in Woodstock, IL, (located northwest of Chicago). The exhibit will run from Thursday, September 3rd to Saturday, October 31st. Please visit: www.oldcourthouseartscenter.com for more information on this historic gallery and building. If you have any questions please contact us at realpeople2020@naac4art.org.

JUDGE: We are very excited by our pick for judge this year, local Chicago artist Joyce Owens. Joyce has an MFA from Yale and a BFA from Howard University. She creates 2D and 3D objects, paintings, and drawings. Her award-winning art has been shown in countries in Europe, Africa, the Middle East, and North America. Her art has been featured on the covers of books, textbooks, and scholarly magazines. Joyce taught at Chicago State University and became their Curator of their Galleries program before retiring in 2015 to pursue art full time. Please check out her work at www.JoyceOwens.com and her blog at http://joyceowenscreativejuice.blogspot.com/

ONLINE GALLERY: This year we will also be adding an online gallery with work for sale online as well. We will be building and advertising this gallery in partnership with the online art services firm Biafarin (www.biafarin.com). For a sample of how this will look, we invite you to view our current online gallery for the 2020 Women's Works show: www.biafarin.com/ww2020.html In addition to their own site, Biafarin will have the show available on 2 other online art sites as well for more exposure.

AWARDS: For First, Second, Third Place, Three Artistic Merit Awards, and other cash prizes totaling $1,500.00 will be awarded. In addition, we are very pleased to announce that the online artist management platform Biafarin, has donated 3 Gold one-year memberships and 3 Blue one-year memberships as awards. For more information on Biafarin and the services that come with these awards, please visit www.biafarin.com.

SUBMITTING TO THE SHOW: Artists 18 years and older may submit up to 3 recently completed pieces for jurying. All artwork must be original. Submitted work must depict the human form or face in some manner that is recognizable. Prints are allowed only if this is common practice for the media, such as photography, lithography, block-printing, bronze casting, etc. However, gicleés or other reproductions of original paintings, etc. are not acceptable. Each image is evaluated by the jurors as a separate piece of art. Each piece should be represented by only one image, do not submit any detail images of a piece. If you would like to submit a detail shot or shots from multiple angles, you will need to create a single composite image to submit. Artwork made up of multiple pieces - i.e. diptychs, triptychs etc. - should also be represented by only one image (Do not submit an image of each part separately.).

SUBMISSION LIMITATIONS: Gallery size limitation of work is six (6) feet in any single dimension and 60 lbs. (this should include packaging). If your artwork is outside of these parameters, please contact us before submitting your work for consideration. If your artwork requires special installation instructions, please tell us about the requirements.

SALES and COMMISSION: All work must be for sale and there is a 30% sales commission for any works which are sold. (Please price accordingly. The price you submit is the one we use in the gallery, so it should include the commission.)

JURYING FEE: $40.00 for up to three images. Payment can be made through CaFÉ, or by check. All checks must be made out to 'NAAC', do not make checks out to "Real People," "the Old Court House Arts Center" or any other designation other than "NAAC." Checks must be mailed to:
Northwest Area Arts Council
Attn: Real People
PO BOX 597
Crystal Lake, IL 60039-0597
A $10.00 discount is available for artists who applied to Women's Works 2020 or Real People 2019 or the Heaven & Hell show. If you are eligible for this discount, contact us at: realpeople2020@naac4art.org for your discount code. There are no additional fees upon acceptance of your work to Real People.

ARTWORK SHIPPING: Accepted artwork can be dropped off at the gallery (for those artists who live close to the gallery) during regular gallery hours. For artwork that is to be shipped to the show, the artist is responsible for the cost of shipping artwork to the show and also for the return of unsold artwork. (Detailed instructions for shipping will be sent to accepted artists.)

ENTRY DEADLINE and JURY DATES: Final entry deadline is 11:59pm CDT, Sunday, July 19th. NAAC is not responsible for incomplete entries and/or payments not received by the due date, so we encourage artists to enter early. Jury Notifications will be emailed to artists by Saturday, July 25th using the CaFÉ system. If you do not hear from us by the 5th please contact us at realpeople2020@naac4art.org. Accepted artists will receive shipping and drop-off instructions soon after they are notified.

IMPORTANT DATES for Real People 2020:
Sunday, July 19: Application Deadline (11:59pm CDT)
Sunday, July 25: Jury notification will be emailed.

Sunday, August 30: All accepted artwork must be at the gallery
Thursday, September 3: 20th Anniversary Real People opens.
TBD (depending on Illinois progress in curbing COVID-19): Gala Reception 7p -9p CDT (6pm for artists and their family).
Saturday, October 31: Exhibition Closes.
Unsold artwork will be packaged and shipped back to artists within four weeks of the close of the show.
Print this Page
View Legal Agreement