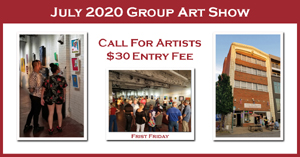 July Group Art Show
1717 Walnut
Kansas City, MO
64108
Contact Email:
jonesgallerykc@gmail.com
Call Type:
Exhibitions
Eligibility:
National
State:
Missouri
Entry Deadline:
6/1/20
Application Closed
REQUIREMENTS:
Media
Images - Minimum: 3, Maximum: 5
Total Media - Minimum: 3, Maximum: 5
Entry Fee (July Group Art Show): $30.00

The Jones Gallery, located in the nationally recognized Kansas City Crossroads Arts District, invites you to apply for our July Group Art Show.

The Jones Gallery is in a 100 year old historically registered warehouse, having 9000 sq. ft. of display space, with original exposed brick. In business 10 years, and open full time six day a week.

This group art show is only open to 2D artists and photographers. No reproductions of original paintings or drawings are allowed. Gallery may select up to a maximum of 3 originals to exhibit during the group art show.
Group Art Show Dates
Wednesday, July 1st to Thursday, July 30th, 2020

First Friday Artist Reception
July 3rd. 5:00 pm to 9:00 pm
Commission on Sales
75% of sales go to the artist
25% of sales go to the gallery
Maximum Size Artwork
48" width x 72" height
Jones Gallery
1717 Walnut
Kansas City, MO 64108

JULY 2020 GROUP ART SHOW DETAILS

Entry Fee
$30 for 5 entries
Entry Deadline
Monday, June 1st

COMMISSION ON SALES
75% of sales go to the artist. Patrons purchasing art during the month long art show will pay the gallery. The gallery will pay the artists by Saturday, August 1st.
Art purchased through the gallery may be taken by the patron at the time of payment.
Artists are notified by email of the sale and should have art ready to replace the sold piece at their earliest convenience. Out-of-state artists are not required to replace any sold art.

ARTWORK REQUIREMENTS
Artists must make up two tags for each piece, one to put on the back of the artwork and one to put up on the wall.
Both tags need to be no larger than 3.5" x 5" and labeled with the following:
Artist's Name

Title

Medium

Price

City

State
NOTE: Art MUST be wired on the back ready to hang.

LOCAL ARTWORK DELIVERY & PICK-UP
We request that only local artists be present during the First Friday's artist's reception. If you are unable to do so we understand but try your best to be present.

Delivery Dates & Times
Friday, June 26th - (11:00 am to 5:00 pm)

Saturday, June 27th - (11:00 am to 5:00 pm)
Pick-Up Dates & Times
Friday, July 31st - (11:00 am to 5:00 pm)

Saturday, August 1st - (11:00 am to 5:00 pm)

NATIONAL ARTWORK SHIPPING AND RETURN
Shipping Artwork
Artists shipping in their work may do it anytime after being selected up to the Saturday, August 1st due date.
Artists are responsible for round-trip shipping and insurance (during shipping) of artworks.

NOTE: ALL SHIPPED ARTWORK MUST INCLUDE A RETURN SHIPPING LABEL

NOTE: FedEx is the gallery preferred courier although UPS and USPS will be accepted, all with included return labels.
We do not accept any wooden crates or boxes that can not be reused to return back the artwork. Artwork must be shipped in strong, reusable cartons or crates with no free-floating Styrofoam or popcorn packing. Packing material must be reusable for return shipping.
NOTE: Any artwork not wired on back and ready for installation WILL NOT be accepted.

Returning Artwork
Unsold artwork will be returned by the Jones Gallery to the artist within two weeks following the closing date of the exhibition in accordance with prepaid labels.
Jones Gallery will not accept postage stamps, credit card numbers, or shipping accounts for return of artwork, nor will Jones Gallery staff take artwork to the post office or anywhere else to be weighed, measured, or pay for shipping.

Jones Gallery is not responsible for return of any artwork if shipping label is not prepaid.
Print this Page
View Legal Agreement