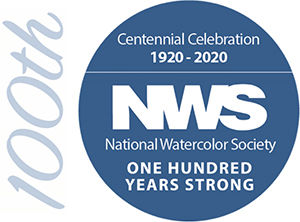 National Watercolor Society International Open Exhibition est. $45000 in Awards
Contact Email:
NWSAnnualExhib@gmail.com
Call Type:
Exhibitions
Eligibility:
International
State:
California
Entry Deadline:
5/22/20
Application Closed
REQUIREMENTS:
Media
Images - Minimum: 1, Maximum: 1
Total Media - Minimum: 1, Maximum: 1
Entry Fee (National Watercolor Society): $60.00

NATIONAL WATERCOLOR SOCIETY (NWS)
100th INTERNATIONAL OPEN EXHIBITION

Exhibition Dates: October 1, 2020 – January 30, 2021
April 13-May 22, 2020 Entries accepted at www.callforentry.org
May 22, 2020 Entry deadline – 12:00 Noon, MDT
June 15, 2020 List of accepted artists posted to NWS website
October 1, 2020-Jan 30, 2021 Exhibition Dates
AWARDS: Estimate $45,000 in cash and merchandise.
Entry Fee: $30 NWS Members (with Coupon Code) / $60 Non Members

JURORS OF SELECTION:
Juror: Katherine Chang Liu https://www.katherinechangliu.com
Katherine Chang Liu is an internationally renowned painter, teacher, curator and juror. Her work has been featured in 26 books and over 70 magazine articles. Katherine has been an invited juror for 88 national, regional and statewide exhibitions and competitions. Katherine Chang Liu's work encourages us to pace life, to return to introspection, examine the past, and in general, to slow down.

Juror: Dean Mitchell https://deanmitchellstudio.com
Dean Mitchell, a national and internationally acclaimed artist whose work can be found in corporate and museum collections across the country. He is celebrated for his figurative works, landscapes and still life paintings. Dean's technical skill is unsurpassed, and the emotional impact of his work is unforgettable. Dean has won over 600 awards during his career as a professional artist. His artwork is featured in museums, corporate and private collections. Dean is one of the important living artists in the US today.

Juror: John Salminen https://johnsalminen.com
John Salminen has served as juror and/or judge of over 90 national and international exhibitions. John's work has been featured in numerous articles, national/international magazines and 42 books. His expert eye and numerous art accolades make him an ideal juror. John has won more than 250 awards in national and international exhibitions, and he has been an invited artist in numerous international watercolor exhibitions in China, Singapore, Taiwan, Thailand, Russia, Turkey, Mexico, Italy, Belgium and Australia. John's work is included in many private and public collections in the US, Asia and Europe.

JUDGE OF AWARDS: Mary Whyte https://www.marywhyte.com
Mary Whyte is an American watercolor artist, receiving international recognition for her watercolor paintings of contemporary realism and portraiture. In 2016, the Portrait Society of America chose Mary Whyte as the recipient of the Society's Gold Medal. Mary is the author of numerous published books, illustrated children's books, an avid teacher, writer and art juror. Mary has conducted workshops across the country for the past 20 years; featured in American Artist and Watercolor magazines. Recently, "We the People" exhibition has been featured on CBS.
General Questions about the exhibition and entry:
Penny Hill, NWS Director of Exhibitions at NWSAnnualExhib@gmail.com
Judy Saltzman, NWS Exhibition Co-Chair at NWS4Entries@gmail.com
ARTWORK REQUIREMENT:
Artists must be 18 years or older.

Each artist may enter only one (1) painting.

Work must have been completed in the last 2 years.

Work previously exhibited in any National or International Open Exhibit is ineligible.

Painting must be primarily water-based media on any appropriate water media surface.

Other media, if used, must be in conjunction with the water media, which must be dominant.

No digital media, photography, prints or reproductions may be used in the painting.

Originality: Your entry must be an original work of art, painted only by you, and not produced in a class or workshop. Photo reference material must have been taken by you.

Artwork image size: Minimum size is 5" x 7"; Maximum size is 40" on the longest dimension.

Original artwork must match submitted image.

Café Specs / file type jpeg or jpg / 1200 pixels or greater on longest side / max 5 MB.
SIGNATURE STATUS INFORMATION:
Following the Jury of Selection's viewing and selection of paintings from images submitted to the NWS 100th International Open Exhibition, accepted Associates and Non-Members shall be invited to apply for Signature membership.
Associates and Non-members shall submit a signed application for Signature Member status providing evidence that he or she has had three (3) paintings accepted and exhibited in NWS International Open Exhibitions. Acceptance in Membership Exhibitions and any other Society Exhibitions (other than Annual Exhibitions) shall not be considered for such application.

Associate and Non-members shall submit three additional paintings, to be viewed by the members of the Jury of Selections; at a time to be set by the Board of Directors. The jury of selection will make the decision regarding granting Signature Membership.

Due to COVID-19, the NWS Board of Directors have delayed this process.

NWS regrets the delay, but it is essential that the jury of selection personally view the artwork for signature status. Artist will be notified

at a later date

when it is safe to ship artwork. The accepted painting with three (3) additional works

will be

required to be shipped for the signature jurying process.
NWSEXHIBITION.COM
NWS On-Line Gallery and Sales:
All artwork accepted will be displayed on the

NWSExhibition.com

website with NWS watermark.

Artwork will be submitted with a for sale price as per prospectus rules. Artwork inquiries made to NWS will be forwarded to the artist. All sales will take place privately between the ARTIST and the BUYER. NWS is an artist run non-profit 501c3 organization; a 20-30% donation to NWS from any sale is greatly appreciated.
FEES, SALES AND LIABILITY:
The Exhibition non-refundable entry fee is $30 for members and $60 for non-members

(Coupon code

on the NWS website in the

Members Only Section

). Payment is by paypal or credit card only.

A Non-Member may join as an Associate Member by paying the $50 annual dues BEFORE entering. Current members must renew BEFORE online entry. Join or pay dues at

https://nationalwatercolorsociety.org

All work must be for sale and there will be no price changes after acceptance.

Attention International Artists: NWS wants to make sure you receive all proceeds, including awards. To do this we will provide all documents and tax forms necessary.

NWS and its representatives will take the utmost care, but are not responsible for damage, misrepresentation or loss, whatever the cause.

Purchase award recipients must ship framed artwork to donor (price accordingly). Artwork must match submitted entry image.
LEGAL AGREEMENT / CONDITIONS AND RULES:
PLEASE READ CAREFULLY: Failure to meet ANY of the conditions may result in the disqualification of your entry and may result in ineligibility to enter future NWS exhibitions for a minimum of two (2) years.
Submission of this image, if accepted by the Juror of Selection, shall constitute an Agreement on the part of the artist to comply with the conditions set forth in this Prospectus, including the following:
Permission is granted to

reproduce the painting in promotion of the exhibition and to use this image for educational and publicity purposes.

I realize if my work is selected and I withdraw, or it does not meet eligibility requirements set forth in the prospectus

- I will be disqualified immediately and will not be permitted to enter again for two (2) years.

Purchase award recipients must ship framed artwork to donor. Artwork must match submitted entry image. If does not match, the recipient has the right of refusal
ALL COMMUNICATIONS TO:
Penny Hill, NWS Director-Exhibitions at NWSAnnualExhib@gmail.com
Artists are responsible for monitoring their emails and the website for postings.
Print this Page
View Legal Agreement