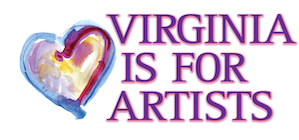 Virginia is for Artists (was Practice What You Teach)
532 Virginia Beach Blvd. Suite A Virginia Beach, VA 23451
Contact Email:
create@artcentervb.org
Call Type:
Exhibitions
Eligibility:
Regional
State:
Virginia
Event Dates:
10/2/20 - 11/1/20
Entry Deadline:
9/8/20
Application Closed
REQUIREMENTS:
Media
Images - Minimum: 1, Maximum: 3
Total Media - Minimum: 1, Maximum: 3
Entry Fee (for up to 3 artworks): $35.00

Virginia is for Artists 2020
(formerly titled Practice What You Teach 2020)
October 2nd - November 1st.
This state-wide call features a showcase of artwork from artists all over the Commonweath. This was formerly an exhibit for art educators that is being delayed. Teachers are still welcome to enter! (And you should--there is a special Art Educator award category!)
ALL MEDIA WELCOME!
The exhibition is juried by Anne Garnett Wolcott, PhD - Adjunct Professor, Old Dominion University. Prize money totals $675. The opening reception is October 2nd, 6 pm. - 8 pm.
The Virginia Beach Art Center is a popular venue for local and regional art, with a loyal following of patrons as well as a high daily visitor count. We invite you to join our art family for the month of October and help us celebrate artists throughout Virginia.
This exhibition will be both hung in the Gallery and also featured as an online exhibition on our website.
NOTE: Due to the pandemic we also created a second submisison process. This summision through CAFE (deadline 9/8) is recommended for artists who need to ship their artwork. The deadline will allow for notifications to go out in time. Artists who are local to the Va Beach area may submit at https://www.artcentervb.org/virginiaisforartists.html and any works submitted this way will be expected to be delivered in person on Sept. 29.
Exhibition: October 2 - November 1, 2020

Submission Deadline: September 8, 2020
Notifications Sent: September 12th, 2020
Delivery: Shipped works received Sept. 23-28, Hand-delivered works received Sept. 26, 27, (28 by appointment) or 29.
Awards Presentation: October 2, 6:30 - 8 pm.
Awards Presentation Livestream: Oct 2
, 7 pm. on "The Artists Gallery at the Virginia Beach Art Center--VBAC" Facebook page
Exhibition ends: November 1, 4 pm.
Artists Talks (optional):
November 1, 2-4 pm.
Pick up in person:
November 3, 10 am. to 5 pm.
Return Shipping:
VBAC staff will repack and ship no later than November 3rd. Artists who participate in the art talks may take their works with them Nov. 1 at 4 pm.
Submission Fee:
$35 for up to three works (non-refundable)

Juror: Anne Garnett Wolcott, PhD

Anne Wolcott is both an accomplished artist and art educator. Her many degrees include a PhD in Art Education at The Pennsylvania State University, and a BA in Art at Stratford College. She is currently an adjunct professor at Old Dominion University, and has also been the Fine Arts Coordinator at Virginia Beach City Public Schools, Assistant Professor of Art Education at East Carolina University and Research Assistant/Evaluator at The Getty Center for Education in the Arts.

Her awards include the Rufus Beamer Excellence Award in education presented by the Virginia Board of Education and the VAEA Art Educator of the Year Award.

Anne's art has been exhibited in the Annual Virginia Artists Juried Exhibition at Charles Taylor Arts Center, Annual New Waves Art Exhibition at the Virginia Museum of Contemporary Art, Virginia Beach Education Foundation Art Exhibit/Auction, Annual Teaching Artists Exhibit at VBCPS Art Exhibition, Tidewater Virginia Art Education Association Annual Regional Art Exhibit, NAEA Membership Show and The East Carolina University Faculty Exhibit.

AWARDS:
A total of $675 in cash awards will be given.
Best in Show: $200
Award of Excellence: $100
Award of Merit: $75
Art Educator Special Award: $100
4 Honorable Mentions: $50 each
Eligibility:
Artists who reside in Virginia. All media welcome. Please advise of any special installation instructions in the description of your artwork (when you add the artwork to your CAFE portfolio).
All work must be original. Work needs to have been produced within the last five years and not previously exhibited at VBAC. The Artist certifies that he/she created the works of art entered, has not infringed on any copyrights, possesses unencumbered title to them and has the right to loan and/or sell these works.
All styles and aesthetics will be considered. All artworks must be for sale and must remain on the premises for the duration of the exhibition. The Virginia Beach Art Center is a public non-profit facility open to patrons of all ages. The content of submissions should be appropriate for all viewers.
Artists must include an interpretative statement (limit 700 characters) that will be displayed with the artwork. This should be entered in the "Description" field when the artwork is uploaded to your CaFe portfolio.
Submission process:
All entries and payments must be submitted via CAFE (callforentry.org). Please FIRST set up your artist profile in CAFE and then submit to this call. If you have exhibition questions, please contact create@artcentervb.org. Questions relating to the online submission process should be directed to CAFE.
Artists may submit up to three artworks for consideration. A maximum of three photos may be uploaded. If multiple views of a single artwork are uploaded, clearly label the photos as "Title-VIEW 1," "Title-VIEW 2," etc.
The non-refundable entry fee is $35.00. Commission for works is 65% (to the artist) and 35% to the Artists Gallery. Payment for sales will be made within 30 days of the closing of the exhibition. The artist will be contacted if a W-9 is required.
Limitations:
Works cannot exceed a weight of 40 pounds.
Hanging works (2D) may not protrude more than 12" from the wall. Works must be wired for hanging (no claw hooks), and the wire should be very tight and no more than of 4 inches from the top of the frame. Gallery wraps are accepted only if the image is continued onto all four sides of the canvas. Free-standing (3D) works may not exceed 24" in length or width (height may be taller). Those that require presentation other than a standard pedestal must include those displays with the works. (Exceptions will be handled on a case by case basis--please contact us before submitting.)
Works that require special installation must come with clear instructions. Any works that require complicated specialized installation must be installed by the artist. We reserve the right to reject work for the exhibition that differs significantly from the submitted images and/or for craft issues.
Liability:
The art center staff will take great care handling artworks for exhibition. However, the Virginia Beach Art Center, its staff, volunteers and gallery are not responsible for any damage that may occur. We strongly recommend artists insure the works themselves and purchase insurance from the shipping company used. Shipping your work means that you agree to this.
Shipping:
The artist is responsible for shipping costs to and from the art center. All shipped works must arrive between September 23-28, 2020 without exception. Hand-delivered works are accepted September 26,27,(28 by appointment) or 29. Artists must issue pre-paid return labels for their works through UPS or FedEx to be returned. We do not arrange return shipping in any other manner. Please, NO packing peanuts. Works should be shipped in reusable packaging and containers for return. Clearly indicate your unpacking and re-packing instructions for return of works. Works that do not include a return label and works that are not picked up within one month of the end of the exhibition become property of the Virginia Beach Art Center.

Legal Agreement: (also listed in the separate "Legal AGreement" section that requires notation before application can be completed)
The Artist certifies that he/she created the works of art entered, has not infringed on any copyrights, possesses unencumbered title to them and has the right to loan and/or sell these works. All decisions made by the exhibition's juror are final.

The Artist shall be responsible for arranging to have accepted works shipped or delivered to the Virginia Beach Art Center. Costs of delivery and pick-up of art (including insurance and transportation) shall be paid by the Artist. The Virginia Beach Art Center and its employees and volunteers are not liable for any loss or damage while the artwork is in transit or while artworks are on the premises.

All artworks must be for sale and must remain on the premises for the duration of the exhibition. Virginia Beach Art Center retains a 35% commission on the sale of artwork. The Artist will be sent by mail a check for the remaining 65% of total sale within 30 days of the close of the exhibition.

The Artist reserves all rights to their works. The Artist gives Virginia Beach Art Center permission to reproduce the works for promotion of the exhibition and agrees that an image of the work may be used on a postcard, flyer, in a catalog or advertising announcing the exhibit, and on the Virginia Beach Art Center website, email list-serve and social media. Virginia Beach Art Center allows video and photography in all areas of the building for private, noncommercial use.
Questions/Contacts:
Call 757-425-6671 or email artistsgallery@artcentervb.org
Virginia Beach Art Center
532 Virginia Beach Blvd.
Virginia Beach, VA 23451
Print this Page
View Legal Agreement