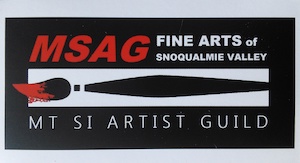 MSAG Virtual Art Show 2020
APPLY NOW
Contact Email:
leslie@mtsiartistguild.org
Call Type:
Exhibitions
Eligibility:
Regional
State:
Washington
Event Dates:
0/0/00 - 0/0/00
Entry Deadline:
9/30/20
Days remaining to deadline: 9
REQUIREMENTS:
Media
Images - Minimum: 1, Maximum: 2
Total Media - Minimum: 1, Maximum: 2
Entry Fee (1 image MSAG Virtual Art Show 2020): $20.00

Media Fee (per sample over minimum):$10.00

Mt. Si Artist Guild's 2020 Juried Virtual No Commission Art Show
2020 Show Prospectus

DATES:
Online Entry Sat.,Aug 15- Wed.,Sept. 30
Deadline for entry Sept 30, 10:59pm PST
Notification of acceptance October 24, by e-mail only
Virtual Exhibition Nov 1 through Dec. 19
AWARDS:
First Place: $300
Second Place: $200
Third Place: $100
Two Honorable Mention Awards: Gift Card $50
THIS IS A NO COMMISSION VIRTUAL ART SHOW. EACH ARTWORK WILL BE TAGGED WITH THE ARTIST'S EMAIL ADDRESS OR WEBSITE CONTACT INFORMATION. SALES WILL BE TRANSACTED BETWEEN BUYER AND ARTIST DIRECTLY.
Award winners will lead the show lineup on opening site pages for maximum visibility. ENTRIES LIMITED TO 200 ARTISTS.
ENTRY FEES: One piece $20 or two pieces $30. Entry fees are non-refundable.
RULES OF ENTRY:
All registration for this show is done online. After reviewing the prospectus thoroughly, artists should submit entries to the 2020 MSAG Virtual Art Show at: "Cafe website". No mail-in registration is available. MSAG must receive all entries no later than September 30 at 10:59pm PST.
NO THEME OR SIZE REQUIREMENTS FOR THIS SHOW! ANYTHING GOES IF RULES BELOW ARE FOLLOWED.
1. Entries juried into the show are based on images submitted with online registration. Artists should ensure that images of artwork are of good quality and are representative of the original. (Tip: If photographing your own work, avoid background clutter, glare, reflections on glass or skewing the proportions of the artwork. Be sure that the piece is in focus and properly lit.)
2. Images submitted must be in .jpg format and must have a minimum 1000 pixels on the shortest side. If two images are submitted they must be labeled "A" and "B" for juror's convenience.
3. All works must be 2D originals and must be for sale.
THIS IS A NO COMMISSION SHOW. ALL SALES WILL BE DIRECTLY THROUGH ARTIST CONTACT WITH BUYER.
4. Only original 2D works created by the artist will be accepted. No work produced in a workshop or class can be accepted. Entries must not be copies, derivatives of, nor be based on the work of another artist or of copyrighted or trademarked material. No photographic or computer generated or modified images can be accepted. Entries must have been created in the past two (2) years.
5. MSAG reserves the right to refuse any entry that does not meet the above specifications or that may be offensive to patrons of the venue.
6. Artists' submitted images may be used to promote the show to the public via print and online publications, social media, postcards and posters. MSAG will use artists' images for promotional purposes only. Artists retain rights to their work.
Liability:
By submitting an entry to the 2020 MSAG Virtual Art Show the artist agrees to accept the terms of this prospectus.
Under no circumstance shall the Mt. Si Artist Guild have any liability to any artist for any loss from the personal sales of art displayed on the "display site". The site intends to direct clients to you, and sales of your art are solely at your own risk and are between you and the client/buyer. The Mt. Si Artist Guild is not a party to any sales.
Print this Page
View Legal Agreement