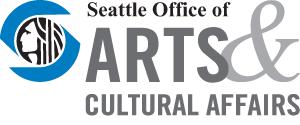 City of Seattle: Prequalified Artists Roster
Contact Email:
Ruri.yampolsky@seattle.gov
Call Type:
Unspecified
Eligibility:
Unspecified
State:
Unspecified
Entry Deadline:
8/29/12
Application Closed
REQUIREMENTS:
Media Images:16


INTRODUCTION
The Office of Arts & Cultural Affairs will establish a roster of approximately 50-75 pre-qualified artists for future art projects at city utility facilities, in the parks, in the street right of way and other locations. The roster will be one of the means of selecting artists to develop permanent, free-standing or site-integrated artwork projects in a variety of sizes and complexities, with budgets ranging from $30,000 to $150,000.
BACKGROUND
The Office of Arts & Culture Affairs commissions a variety of public artworks through its 1% for Art program. The public art program works with several city departments engaged in capital construction projects. With a number of projects launching through the city's utilities, parks and transportation departments, a pre-qualified artist roster for select projects will streamline the selection process and will be used when appropriate.
SCOPE OF WORK
The roster will be a juried listing of pre-qualified artists who can create free-standing or integrated site-specific artwork for locations managed by Seattle City Light, Seattle Public Utilities, Parks and Recreation and other Seattle city departments. The Office of Arts & Cultural Affairs will use the roster as a resource for public art selection panels as they identify artists to design and fabricate site-specific artwork for projects throughout the city. The roster will be used to select artists for select 1% for Art projects with budgets ranging from $30,000 to $150,000. Artists who apply for the roster should have specific skills in designing and fabricating public artwork that addresses the specific conditions or characteristics posed by each project. In order to be considered for the roster, artists must have successfully completed at least two permanent or temporary, site-specific commissions. This roster will be active from Fall 2011 through December 2013.
ELIGIBILITY
This call is open to professional artists residing in the United States. To be eligible to apply, applicants must have successfully completed two permanent or temporary site-specific commissions. The Office of Arts & Cultural Affairs encourages diversity in its collection. Artists whose work is well represented in the city's collection are eligible to apply, but the artist selection panel will consider artistic diversity as one factor in the selection process. Students are not eligible to apply.
BUDGET
Roster-based project budgets will range from approximately $30,000 to $150,000, depending upon project complexity.
APPLICATION DEADLINE
11 pm (Pacific Daylight Time), August 29, 2011
APPLICATION REQUIREMENTS
Letter of interest (not to exceed 2,000 characters). Please read the prompt in CaFÉ before uploading your letter of interest.
Résumé
Three references
Up to 16 images
.
Image Identification List (not to exceed 500 characters for each image). If you completed a project as a team member, the image identification should indicate your role for each image submitted. Do not omit the Image Identification List or your application will be incomplete.
SELECTION CRITERIA
Artists will be selected for pre-qualification on the basis of the following criteria:
strength of past artworks
experience working in public settings
experience fabricating and installing permanent or temporary artwork
references
The selection panel will also seek to identify artists who have a demonstrated interest in and commitment to sustainability. The Office of Arts & Cultural Affairs is committed to reflecting the diversity and cultural richness of our city in the selection of artists and artworks.
SELECTION PROCESS
The selection of a Projects Roster is a one-step process. In late summer 2011, a panel of art and design professionals and departmental representatives will review applicants' images and other materials and select a list of artists who will be considered to be pre-qualified. When selected public art commissions become available, staff will present artists' qualifications to a stakeholder-based selection panel who will select candidates to interview or to commission for a proposal. In some cases, staff from the Office of Arts & Cultural Affairs will contact roster artists for a particular project prior to being presented to a stakeholder-based selection panel. The selected artist will be commissioned for the project on the basis of the interview or proposal and references. Artists selected for the roster-based commissions will be removed from the roster until the awarded commission is completed. The Office of Arts & Cultural Affairs reserves the right not to select any artists for the roster or for subsequent projects.
NOTIFICATION OF RESULTS
Applicants will be notified of the panel's decision by e-mail by end of October 2011. The Office of Arts & Cultural Affairs reserves the right not to select any of the applicants.
WE'RE HERE TO HELP
Please contact Ruri Yampolsky at ruri.yampolsky@seattle.gov. For assistance with the CaFE online application process, contact CaFE tech support at (888) 562-7232 or
cafe@westaf.org
, Monday-Friday, 7:30 a.m. to 4:00 p.m. Pacific Daylight Time.
Print this Page
View Legal Agreement