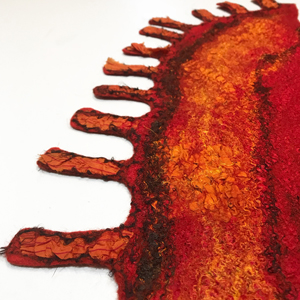 1st Annual Fiber Exhibition at Kansas City Stockyards Gallery
Kansas City Stockyards Gallery
Attention Becky Stevens
1600 Genessee St
Suite 161
Kansas City, MO 64102
Contact Email:
becky@kansascitystockyardsgallery.com
Call Type:
Exhibitions
Eligibility:
Unspecified
State:
Missouri
Event Dates:
10/16/20 - 11/13/20
Entry Deadline:
9/13/20
Application Closed
REQUIREMENTS:
Media
Images - Minimum: 5, Maximum: 10
Total Media - Minimum: 5, Maximum: 10
Entry Fee (1st Annual Fiber Exhibition at Kansas City Stockyards Gallery): $15.00

Media Fee (per sample over minimum):$5.00

CALL FOR FIBER ART
This October the Kansas City Stockyards Gallery, located at 1600 Genessee, Kansas City, MO, looks to exhibit the best of contemporary fiber art. Artists are invited to submit work that reflects a wide range of functional or non-functional works using fiber and/or fiber art techniques, and work that addresses the subject or medium of fiber. We want to showcase the full expanse of fiber art, including but not limited to embroidery, weaving, felt, sculpture, dyeing, sewing, quilts, knitting, and crochet. Fiber can be, but is not limited to, fabric, wood, wool, paper, metal, or synthetic materials. We are specifically looking for upbeat, unique, fine art submissions. Pieces must be of original design. Kits and commercial patterns are prohibited. Artists should indicate all fiber media and/or fiber techniques used in each piece. Fees are kept low to support artists, $15 entry fee for 5 entries. The Kansas City Stockyards Gallery takes a 40% commission of the price you put on your work. $100 award for Best In Show awarded at reception on 10/16, 5-9:00pm. Artists are encouraged to attend the reception which is free and open to the public. The gallery will closely monitor Covid-19 and will adhere strictly to all guidelines and restrictions imposed by the CDC and the city and state government of Kansas City, Missouri.
ELIGIBLE MEDIA
Accepting all fine art / contemporary craft art submissions that clearly employ and represent the theme of fiber and/or textile art. Eligible media include, but are not limited to: embroidery, weaving, felting, crochet, knitting, macrame, tapestry, quilting, heliographic (sun printing), unique fabric dye/printing, fabric collage, installation, sculpture, fiber / textile wall hangings or sculpture, and any mixed media 2D and 3D design where fiber / textile is incorporated. If a genre, medium or material you specialize in is not listed, please email Becky@kansascitystockyardsgallery.com to provide specifics about your work. Submissions are open to local, regional, national and international artists. The method of displaying the work must be obvious or clearly indicated and easily achieved by our staff. Any specialty hangers or forms must be included with the work.
LEGAL AGREEMENT
Gallery takes a 40% commission. Artists hold the gallery blameless for theft and damage to artwork. Gallery is not liable. Artists are encouraged to purchase insurance for their work. Art in the show must be for sale and must remain in the show until the pick up date or until it is sold. Artists give Kansas City Stockyards Gallery permission to use images for promotional purposes. Checks for artwork sold will be available during the pick up dates, or can be mailed to artists on those dates. Gallery takes a 40% commission. All artwork must be original and available for sale. Artists agree that all artwork is of their own creation. Artwork not picked up by artists or shipped artwork without a return shipping label become property of the gallery within 30 days of the pickup dates.
Artists that are shipping their work - Artists are required to put a return shipping label inside the box if they are shipping work. No packing peanuts allowed. Artwork should be professionally packed for shipping to prevent damage during transit. For example, FedEx does a great job preparing art for shipping and we've never had damaged artwork that was packed by FedEx. Gallery does not pay for shipping either way and artists who ship their work should purchase shipping insurance as we are not responsible for damage during shipping. Shipped work must arrive by 10/10/2020 or before, please allow plenty of time for shipping transit.
DATES AND IMPORTANT INFORMATION FOR ARTISTS
DEADLINE TO APPLY - September 13
JURY - September 14 & 15
SHOW NOTIFICATIONS Sent Out - September 16
ARTIST DROP OFF DATES: Friday October 9 1:00pm - 5:00pm and Saturday October 10 11:00am - 3:00pm

SHOW DATES - October 16 - November 13

RECEPTION Friday October 16, 5-9:00pm
ARTIST PICKUP DATES: Friday November 20, 1:00pm- 5:00pm and Saturday November 21, 11:00am - 3:00pm
Print this Page
View Legal Agreement