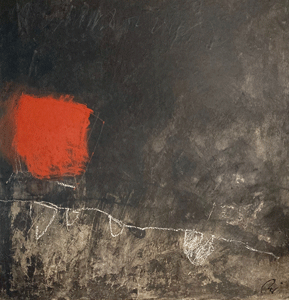 At Midnight
Art on 30th
4434 30th Street
San Diego, CA 92116
Contact Email:
arton30th@gmail.com
Call Type:
Competitions
Eligibility:
National
State:
California
Event Dates:
10/31/20 - 11/28/20
Entry Deadline:
9/15/20
Application Closed
REQUIREMENTS:
Media
Images - Minimum: 1, Maximum: 6
Total Media - Minimum: 1, Maximum: 6
Entry Fee (At Midnight): $35.00

Media Fee (per sample over minimum):$5.00

Long Description
Ashton Gallery @ Art on 30th, a contemporary art center and gallery in San Diego, California, would like to invite regional and national artists to submit original works of art for our 2020 "At Midnight" exhibition. Midnight, the magical moment when one day dies and another is born. Midnight, the electric moment when one year passes into the ages and a New Year begins its march through history. Edgar Allan Poe began his iconic poem, The Raven, with an homage to midnight: "Once upon a midnight dreary while I pondered weak and weary." How do you experience Midnight? The bewitching hour? The dark sacred night? The landscape drenched in silver moonlight? The shelter of shadows? Any art that entices us to experience midnight from your perspective is eligible. Any art that uses midnight blue, moonlit silver, ghostly gray, or time-honored, inky black is eligible. This show opens on HALLOWEEN. . .need we say more? Startle us. $1,000 awarded in prizes.

Awards & Prizes
Selected works will be published in the Ashton Gallery Full Color Exhibition Catalog. Accepted artists will have the opportunity to proof their page before it goes to print. Catalogs will be available for ordering online via Blurb, a print on demand service. A link will be provided closer to time...
Three awards and two honorable mentions will be given by the juror:
Best in Show (featured on the cover of the catalog)
First Place (will receive a double page spread in the catalog)
Juror's Choice (will receive a double page spread in the catalog)
Honorable Mention (will receive a double page spread in the catalog)
We will also be awarding $1,000 in cash prizes!
Juror: Daniel Foster, Extensive 30 plus year career in arts and museum leadership in San Diego and Southern California

About the Juror:
Daniel Foster is the Founder/Executive Director of Shumway Ranch.Org, a 640-acre historic 1932 homestead property in the Pinyon Crest community, approximately 20 minutes from Palm Desert, CA. Foster formed a new nonprofit in 2018 in partnership with the State of California/Coachella Valley Mountains Conservancy to begin offering historical, environmental, arts/cultural, youth, and community programs for the public starting in 2021.
Foster has a distinguished 30-year career in arts, nonprofit, and philanthropic leadership, executive management, organizational development, and community/collaboration building efforts in the counties of Riverside, San Bernardino, and San Diego.
Foster has been a successful Executive Director of two large nonprofit regional art museums (Riverside Art Museum and Oceanside Museum of Art); President/CEO of a $60 million public community foundation (The Community Foundation Serving Riverside & San Bernardino Counties); weekly columnist for 5 years for the Press-Enterprise; and Lead Founder of three nonprofit 501-c-3 organizations (Arts Connection/Arts Council for San Bernardino County; North County Arts Network-NCAN in San Diego; and the Funder's Alliance of the Inland Empire). Additionally, Foster also co-founded three community-based organizations: Riverside Cultural Consortium, Inland Regional Arts Forum, Oceanside Cultural Consortium.
Earlier in his career, Foster worked as a Program Coordinator for the San Diego Art Institute, San Francisco Art Institute, UC San Diego Art Department, and the Headlands Center for the Arts in Sausalito, CA. He led the re-establishment of the Artists Residency program at Joshua Tree National Park in 2007.
Foster was the Nonprofit Executive Director of the Year in Riverside County in 2008 (awarded by the Agency Executives Association) and received a $25,000 Leadership Finalist Award from the James Irvine Foundation "California Leadership Award" in 2008.
Foster is a conceptual visual artist and poet for the past 35 years, with an MFA double degree from the San Francisco Art Institute (New Genres & Sculpture) and a BS degree in Business Administration/Entrepreneurship from the University of Southern California. Additionally, Foster has studied philosophy, art, and science for three years full-time at the University of California, San Diego (Revelle College).
Foster lives in Pinyon Crest with his 9 year old son, Kenneth, since 2017.

Categories / Mediums Accepted: Acrylic, oils, watercolor, drawing, photography, assemblage, collage, encaustic, mixed media, fiber art, and 3D art that fits on an 18" x 18" pedestal. This exhibit does not accept jewelry, video, film, performance art, or installations.

Minimum size: 10" and Maximum size: 72"
Submissions must be the artist's original work.
Artists will upload only one image per entry.


D-ring hardware of any size is required for installation (can order on Amazon; no eyelets or hooks)

All entries must be for sale. If your piece sells, Ashton Gallery receives nthe industry standard of 50% commission. All sales are handled by Ashton Gallery. All artwork must remain in show until closing.
Exhibition Dates:
October 31, 2020 - November 28, 2020
Opening Reception:
October 31, 2020 (event TBD due to COVID)
Deadline for Submission:
Sunday, September 13, 2020
Completed entry information, including images of artwork, must be submitted online with CaFÉ TM before 11:59 PM PST to be considered by juror. (That's 1:59 AM EST and 11:59 PM MST)
Entry Fees
Payment of $35 is for the first entry and $5 for each additional images (1 work = $35, 2 works = $40, 3 works = $45, 4 works = $50, 5 works = $55, and 6 works = $60). Upload one image per entry, up to 6 pieces total. Entry fees do not guarantee admission into the exhibit. Entry fees cover the cost of hosting a national show.


CaFÉ TM Submission Process
All submissions for this show are handled through CaFÉ TM (callforentry.org). Artists are required to sign up and create a profile on CaFÉ TM. There is no charge for using this service. CaFÉ TM provides 960 MB for the artist profile. Artists will upload images and information directly to their profile and reference when filling out the official call for submission.
Notification
You will be notified of the juror's decision via email by end of day on Monday, September 28th.
Identification of Artwork:
All artwork must be identified on the back with the following information clearly printed (proof thoroughly as we copy and paste this information for accepted art in the catalog):
Artist Name
Title of Artwork
Media (main category, not a list of materials - i.e. drawing, photography, acrylic, etc.)
Dimensions (height x width x depth)
Price (all art is for sale)
Important Dates (Summary)
* 9/13/2020 Deadline for entry
* 9/28/2020 Notification of results
* 10/9/2020 Must be postmarked for shipping by this date
* 9/28 to 10/17 Hand-delivered work accepted during business hours
* 10/31/2020 Opening reception (times TBD due to COVID)
* 11/28/2020 Exhibition ends
* 11/28/2020 Hand-pick up during regular business hours begins
* 12/7/2020 Unsold artwork shipping begins
Visit Ashton Gallery @ Art on 30th
* arton30th.com
* Facebook: facebook.com/arton30th
* Instagram: @arton30th
Print this Page
View Legal Agreement