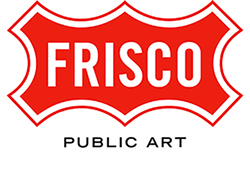 Public Works Expansion - City of Frisco, TX
Contact Email:
sross@friscotexas.gov
Call Type:
Public Art
Eligibility:
National
State:
Texas
Entry Deadline:
9/3/20
Application Closed
REQUIREMENTS:
Media
Images - Minimum: 10, Maximum: 15
Video - Minimum: 0, Maximum: 5
Total Media - Minimum: 10, Maximum: 20
Request for Qualifications
City of Frisco Public Art Program
RFQ #2007-081 Call to Artists
Public Works Expansion

Deadline: Thursday, September 3, 2020, 4:00 p.m. CDT (Application received)
Budget: $125,000.00
Apply online at www.callforentry.org

The City of Frisco Public Art Program is issuing this Request for Qualifications for a public art opportunity within the City. The City seeks qualifications from artists to be considered for the project described below. To be considered for this project, all applications must be submitted via www.callforentry.org (CaFÉ™).

Eligibility
This opportunity is open to all artists. The City of Frisco does not discriminate on the basis of race, gender, religion, age, national origin, or disability. Qualifications by City employees or their relatives, and members of the Artist Selection Committee or Public Art Board or their relatives will not be considered.

Qualifications must be submitted online by 4:00 p.m. CDT, Thursday, September 3, 2020, to www.callforentry.org. Online submissions must include:
A cover letter describing your interest in the Public Works Expansion public art project and how it relates to your past work.

Artist resume with current contact information.

Artist statement serving as a general introduction to your work and working methods.

Three references with current contact information, including name, phone, email address and project scope.

Images of Past Work – Submit no more than 15 images of past and/or existing work that are appropriate to the Public Works Expansion public art project.

The first five images should be those most relevant to this Request for Qualifications keeping in mind the $125,000.00 project budget.
Incomplete applications will NOT be considered.

Selection Process
The Artist Selection Committee may include representatives of the Public Art Board, City of Frisco staff, artists, arts professionals, and community representatives that will review qualifications for the Public Works Expansion public art project. The Committee will evaluate qualifications based on:
Demonstrated excellence of past work in conceptual, aesthetic and technical terms.

Quality of professional qualifications and relevant experience.

Stated interest and approach specific to this project.

Ability to create a work of art that meets the project goals listed below.
The City of Frisco is not required to select from these submissions, if, in their opinion, qualifications are not appropriate or if the project does not come to fruition. Finalists may be requested to develop proposals or be interviewed by the committee.
Budget
The Public Works Expansion public art budget is all-inclusive, including, but not limited to, artist fee, fabrication costs, transportation, insurance, engineering services, permit fees, site prep, installation, and/or any other related expenses. The project budget is $125,000.00.
Questions
Questions related to this RFQ should be submitted to Stephen Ross via email to
sross@friscotexas.gov
, by 4:00 p.m. CDT on Friday, August 14, 2020. Answers to all questions will be posted via addendum at friscotexas.bonfirehub.com.
The Public Works Expansion Public Art Project
The Public Works facility located at 11300 Research Rd., Frisco, TX 75033 will undergo an expansion to accommodate a growing department that oversees streets, traffic operations, water utilities, stormwater, irrigation, right of way management, and environmental and engineering services in Frisco. The artist chosen for this project will be commissioned to create an interactive and educational artwork demonstrating the work undertaken by staff to develop and maintain Frisco's infrastructure. This work zone should depict construction and/or repairs in a progressive storyline format. Informative texts and the use of real construction materials and/or decommissioned equipment are encouraged.
Public art areas to the left and right of the Research Rd. entrance have been identified for this project (see View Site Details link above). Use of one side is preferred, but both will be considered if crucial for the design and within the public art budget. The artwork should be intriguing to passing motorists and encourage them to learn more about Public Works by experiencing the artwork. Staff will also invite visitors to the installation for educational opportunities.
The current monument sign will remain, but the artist can consider additions to its surface to tie it into the installation. Tree removal and site leveling will be discussed in the design phase of the project.
The artist will be expected to visit Frisco in the design phase to review the site and meet with Public Works staff.
Public Art Goals
The public art at the
Public Works Expansion

should:
Represent the site as described above.

Be safe and hazard-free. The artist must consult with the project designers and a Texas-licensed engineer. A building permit will be required.

Be made of low-maintenance, durable materials that are resistant to vandalism. All materials must be approved by City of Frisco staff.

Be installed by November 2022.
About Public Works
The Public Works Department is responsible for the operation and maintenance of the City of Frisco infrastructure. Public Works employees are highly trained, utilize state-of-the-art equipment, and are committed to providing the highest quality service to our residents.

The City of Frisco Public Works Department is the 13th agency in the State of Texas and one of 143 agencies across North America to be awarded the American Public Works Association (APWA) Accreditation designation.

You can learn more at friscotexas.gov/publicworks

About the City of Frisco
Originating as a small railroad and farming community in 1902, Frisco is now one of the most exciting places to live, work, play and grow in the north Texas area. Located 25 miles north of Dallas, it is one of the fastest growing cities in the nation. In September 2018, Money Magazine announced that Frisco topped its list of the "Best 50 Places to Live in America."
For more information about the City of Frisco, visit www.friscotexas.gov

The City of Frisco Public Art Program
The mission of the City of Frisco Public Art Program is to promote cultural, aesthetic, and economic vitality in Frisco, Texas by integrating the work of artists into public places, civic infrastructure and development of the community. The goals of the City of Frisco Public Art Program are:
To further the development and awareness of, and interest in, the visual arts.

To integrate the design work of artists into the development of Frisco's capital infrastructure improvements.

To create an enhanced, interactive visual environment for Frisco residents.

To commemorate Frisco's rich cultural and ethnic diversity

To promote and encourage public and private art programs

To promote tourism and economic vitality in Frisco through the artistic enhancement of public spaces.

To increase attachment to place.

Engage community partners to build support for public art.
Public Works Expansion Public Art Project Timeline*
Call Released: Friday, July 31, 2020
Question submission deadline: Friday, August 14, 4:00 p.m. CDT
sross@friscotexas.gov
Submission Deadline for RFQ: Thursday, September 3, 4:00 p.m. CDT (Application received)

Finalist Notified: By Wednesday, October 7, 2020

Contract Executed by: Monday, October 12, 2020

Installation Complete deadline: November 2022
*dates are subject to change
Print this Page
View Legal Agreement