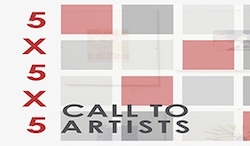 5th Annual 5x5x5 Show
River Oaks Arts Center
1330 Second St.
Alexandria, LA 71301
Contact Email:
rachael@riveroaksartscenter.com
Call Type:
Competitions
Eligibility:
National
State:
Louisiana
Entry Deadline:
10/20/20
Application Closed
REQUIREMENTS:
Media
Images - Minimum: 1, Maximum: 4
Total Media - Minimum: 1, Maximum: 4
Entry Fee (5x5x5): $15.00

The 5x5x5 Show
River Oaks' small art spectacle returns for 2020. The 5th Annual 5x5x5 features a remarkably fascinating showing of miniature works from artists across the U.S., coinciding with the gift giving season. Guest Juror for the 2020 feature is designer, artist, educator and lover of all things printed, Virginia Rougon Chavis.
Guest Juror - Virginia Rougon Chavis.
Virginia is a designer, artist, educator and lover of all things printed. Originally from Baton Rouge, Louisiana, she has been a part of the faculty at The University of Mississippi Department of Art & Art History since January 2002. She is Professor of Art, serving as Chair of the Department from 2012-2018. She earned her MFA in graphic design from Savannah College of Art & Design in Savannah, Georgia, where she honed her teaching skills in the classroom, and refined her design aesthetic as a freelancer.
Working with contemporary technology and historical letterpress equipment, Virginia's approachable works on paper push the limits between fine art and graphic design by combining text with metaphorical imagery. She gathers inspiration from routine life experiences and looks for the irony in mundane situations, which are portrayed through the use of sarcasm and play on words. Symbols such as insects, toys or machines can be found to represent relatable individuals, emotions or events. The work generally combines digital and traditional printmaking processes, and often mixed media.
In 2010, she was able to merge her love of design and typography with the handmade through letterpress printing while studying at Penland School of Crafts. She brought this knowledge back to the University of Mississippi, where she has incorporated letterpress classes into the design and art curriculum.
Virginia is active in the art community and participates in national and international exhibitions. She has been awarded several grants and served as a consultant for design education in surrounding state programs. She has also been recognized for her leadership at The University of Mississippi as an SEC-ALDP Fellow, and has held AIGA chair positions in the Memphis and New Orleans chapters. She has presented her work at the Southeastern College Art Conference and various AIGA events. One of her typography assignments was published in Ilene Strizver's, Type Rules!: The Designer's Guide to Professional Typography. She participates in professional organizations such as SGCI, CAA, SECAC and AIGA.
2D and 3D works accepted.
Open to all media
Original works only
$15 artist entry fee
Awards:
$500 Best in Show
3 Merit Awards $100 each
Honorable Mention
5x5x5 Guidelines
Image size should be no larger than 5x5 or 25 square inches.
Three dimensional work should stay with in the same size range 5"h x 5"w x 5"d - open to all media.
Original works only. No prints.
Open to all media
When/if matting, the mat should be off-white or white in color. No limitations on frame or mat size. 5x5x5 specification applies to work only, not framing or mat.
There is no color or material restrictions for framing. Framing should suite the piece and be ready to hang.
Entry artists are allowed to submit 1 - 4 (max) pieces
ALL SPECS SHOULD BE FOLLOWED IN ORDER TO BE INCLUDED.
River Oaks receives a 30% commission on works sold.
ROSAC reserves the right to photograph exhibited work/utilize digital images for reproduction in both printed and electronic materials for publicity.
Shipping:
Artists are responsible for shipping/insurance cost to/from the Art Center. Please have accepted artwork delivered by 5 pm Friday, November 6. All work must arrive w/ return shipping label. If no return label remitted, the item will remain in River Oak's Gallery Gift Shop following the featured exhibition. Gift shop inventory - 30% commission rate will still apply. Entries will be returned in the same wrapping in which they were received (no peanuts please).
Virginia Rougon Chavis Workshop, November 11 & 12
http://www.riveroaksartscenter.com.
Find us on Facebook, Instagram and Twitter
5x5x5 Show Dates
Deadline to Enter: 10/20/20
Jury Acceptance Notification: 10/28/20
Deadline for Shipping: 11/6/20
Exhibition Opening Reception: 11/13/20
Exhibition Dates: 11/13/20 - 2/6/21
Return Shipment of Unsold Works: 4/15/21
No entry payment refunds.
Print this Page
View Legal Agreement