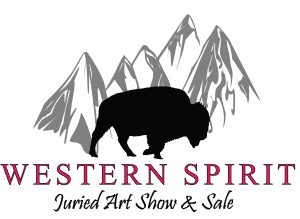 40th Annual Western Spirit Juried Art Show and Sale
Mail accepted work to (see shipping dates in prospectus):
CFD Old West Museum
Attn: Art Show Coordinator
4610 N. Carey Ave
Cheyenne, WY 82001
Contact Email:
cameron.green@oldwestmuseum.org
Call Type:
Unspecified
Eligibility:
International
State:
Wyoming
Event Dates:
3/6/21 - 4/18/21
Entry Deadline:
11/30/20
Application Closed
REQUIREMENTS:
Media
Images - Minimum: 1, Maximum: 4
Total Media - Minimum: 1, Maximum: 4
Entry Fee (41st Annual Western Spirit Juried Art Show and Sale): $20.00
Admin (Pre-Registration Seminar): $45.00
Admin (Individual Membership): $40.00
Admin (Family Membership): $60.00

Media Fee (per sample over minimum):$10.00

Full Prospectus Click Here
Statement of Purpose:
The Western Spirit Juried Art Show & Sale is the premier annual juried art show in the Rocky Mountain region for new and emerging artists who depict the American West.
Art Seminar:
This Seminar is a unique educational opportunity for artists, students, and teachers for professional development and networking opportunity. This year attendees will hear and learn from professionals within the Western art community. Tickets include breakfast, lunch, and morning speaker session. Additionally, participants will have the opportunity to attend one of three afternoon workshops for an additional cost.
Vandewark Miniature Show:
Artists juried into the show can bring two wire hang-ready miniature works of art. Artists will deliver their miniatures along with their accepted juried pieces of art. Artists must adhere to the strict size restrictions listed later in this prospectus. Artists will submit Title, Medium, Price, Number Available, and outside frame dimensions of miniature by January 10th, 2020, via email to Cameron Green at cameron.green@oldwestmuseum.org. Artists cannot make changes after the date listed above. This section of the show is highly sought after by buyers.
Awards
Best of Show $1000 ~ Best of Each Media $500 ~ People's Choice $300 ~ Best Miniature $100
Media Categories:
Acrylic, Drawing, Mixed-Media, Oil, Pastel, Photography, Print-Making, Sculpture, and Watercolor
*We do not accept Installation Art*
Calendar
November 8th, 2020

Application Closes/Entries Due

November 9th – Dec 1st, 2020

Juror Art Selection

December 7th,2020

Acceptance and Quick Draw notification via email

January 10th, 2021

Miniature Information due via email to cameron.green@oldwestmuseum.org

January 18th – 22nd, 2021

Shipped Delivery of accepted work

January 25th – 29thth, 2021

Hand-Carry Delivery of accepted work. Art Show Office Open Monday thru Friday,

9 a.m. to 4 p.m.

February 5th, 2021

All accepted artwork will be online

March 5th, 2021

Juror judging of accepted work, TBD

March 6th, 2021

Opening Day Schedule

8:30 a.m. to 3 p.m. – Art Seminar

5:00 p.m. to 6 p.m. - Members Only Preview & Buy it Now

6:00 p.m. to 9 p.m. – Opening Reception

April 18th, 2021

Show Closes

April 20th-23rd, 2021

Pick-up unsold artwork, 9 a.m. to 4p.m., Tuesday thru Friday Only

April 30th, 2021

Artwork will be shipped to buyers and artists by close of business day
Entry Process:
Artists will submit their entries through www.callforentry.org. Please select the appropriate category for each piece from the drop-down menu. Make sure all entry information is correct. You cannot make changes to title or price after submission.
Please have images sized to no smaller than 1200 pixels on the longest side and save file as a jpeg under 5 MB. Submit only one image of a 2-D or 3-D piece of work. If you are submitting multiple views of your 3-D piece, you must send as a split-screen image in a single jpeg. If you experience technical difficulty with the entry process, please visit http://www.callforentry.org/cafehelp.phtml or call 303.629.1166.
Artists invited to the Cheyenne Frontier Days™ Invitational Western Art Show and Sale will have their applications removed from Western Spirit contention.
All Entries are due by November 8, 2020.
Display Specifications:
All 2-D artwork including miniatures must be ready to hang on a wire hang system and able to lie flat against the wall. All accepted works must arrive to the Museum show ready i.e. framed, mounted, and matted. We do NOT accept saw tooth hangers or protruding eye screws. Artists must tape their wire ends. Plexiglas and Museum Glass are acceptable materials for any media under glass. The Museum curatorial and art show production team have final determination regarding the mounting/display of artwork including the right of refusal.
Sales:
All artwork, including miniatures, must be for sale. The Museum collects a 35% commission for each sale. Artists should adjust price accordingly and cannot change price after CAFÉ submission. Any artwork exhibited or commissioned work sold within 60 days of the art show close is subject to a 35% sales commission to the Museum. Artists may only sell artwork accepted for the art show on the Museum premises except for special commissioned pieces. The Museum will handle transactions for the artist with regular 35% commission. Accepted artwork must remain on exhibit until the art show closes. Once accepted for the art show, the artist cannot alter or sell the accepted piece. All artwork must be priced to sale. If the artist purposely prices their artwork to not sale, they will not be shown in the show and will be barred from all future CFD Old West Museum art shows. If the artist sells an accepted piece before delivery, the artist will forfeit their ability to enter next year's show(s).
Hand Delivery/Pick-Up of Accepted Work:
Hand-delivered artwork must arrive at the Museum Art Show Office the week of January 25th – January 29th, M-F, 9 a.m. – 4 p.m. Hand-delivered unsold artwork pick-up is April 20th – April 23rd, Tu-F, 9 a.m.- 4 p.m. Please notify the Museum via email at cameron.green@oldwestmuseum.org of any last-minute pick-up changes or to allow another representative to pick-up your work.
Shipping of Accepted Work/Return Shipping:
All shipped artwork MUST include preprinted return shipping labels with barcodes for every box delivered to the Museum. If the artist does not provide a return shipping label by Feb 21st, 2021, their work will not hang in the show, and the Museum will return their artwork C.O.D using a carrier of the Museum's choice. Plan on your work arriving the week of January 18th – January 22nd, 2021. Artists are responsible for additional shipping costs due to refused or returned artwork. The Museum strongly recommends shipping all artwork through FedEx. Artists can preprint return labels online through FedEx's website. Please send artwork to:
CFD Old West Museum
Attn: Art Show Coordinator
4610 N. Carey Ave
Cheyenne, WY 82001
Packing Artwork
No packing peanuts allowed. Artists shipping with packing peanuts will have a $50 repacking penalty. The Museum will ship artwork back with packing materials provided by the artist. Artists who do not provide adequate packing materials will pay a flat $20 fee for new packing material. Our preferred packaging for 2-D work is the Airfloat System. Visit www.airfloatsys.com and use the code CFD for a 20% discount on StrongBoxes. If you pack yourself, adequate packing means there is no movement of the box contents during shipping. One way to check for adequate packing, once you have packed your pieces pick up the box and gently shake it in all directions. If you hear the contents shift, then add more packing materials.
Size Limitations:
The Museum will return any work that exceeds size limitations at the artist's expense due to space restrictions. Please visit http://bycell.co/crfl for a short video about how to measure your artwork to fit our guidelines.
We do not accept Installation Art!
Measure all 2-D pieces, including 2-D miniatures, with frame!
2-D pieces will not exceed 47 inches horizontal or 60 inches vertical.
3-D pieces will not exceed three square feet at the base.
Suspended sculpture will not exceed the maximum dimensions 5' x 8'.
2-D miniatures will not exceed an area of 168 square inches or 14in x 14in.
3-D miniature will not exceed 18in any directions and 512 cubic inches (8in x 8in x 8in) including the base.
Jurors:
The Western Spirit Juried Art Show & Sale is an art exhibition juried by the leading art professionals in the Western Art community. Artist selection for the show occurs via digital images submitted through callforentry.org. Juror will judge artwork on Friday March 5th, 2021, for awards. The 2021 jurors are Talissa Abeyta, Anne Brown, and Jason Williams. Juror bios will be available on our website www.oldwestmuseum.org.
Originals, Multiples, & Series:
All work must be original. No photos, laser, giclée, digital reproductions will not be accepted unless entering the Photography category. All works having multiples available must be disclosed with the number available for sale at time of acceptance. Artwork must have been created within the last 2-3 years and not been previously shown in the Western Spirit Show. This policy includes miniatures.
Fees:
Fees payable online at time of entry. Submission of entry fee will constitute an agreement to the conditions set forth in this prospectus. Entry fees are non-refundable.
Museum Member Entry Discount Codes:
If you are a current member of the CFD Old West Museum or plan to purchase a membership at time of entry, please contact Cameron Green by email at cameron.green@oldwestmuesum for coupon code before submitting entries.
Museum Art Show & Sales Marketing
The CFD Old West Museum reserves the right to reproduce accepted works for Museum marketing and promotion purposes, which includes media outlets, posters, mailings, and on the CFD Old West Museum website. All accepted images will appear on the website by February 5th, 2021.
Liabilities:
All art is handled by trained art handlers. Accepted work will be insured by the Museum, while on the Museum grounds. Artists should insure their own work for shipment to and from the Museum. Artists will be notified immediately if artwork arrives at the Museum damaged.
Disqualifications:
If upon the arrival of artwork it becomes clear that the digital image file submitted was altered, the work will automatically be disqualified and shipped back to the artists at their expense. Entry fees will not be refunded. The Museum reserves the right of refusal of any work where the frame shows extensive damage, wear, spray paint, and obvious fixes with pens or markers.
All displayed work is subject to Curatorial approval.
Reasons for disqualification:
-Exceeds size limitations
-Is damaged
-Is an installation piece
-Is not the same piece as shown in digital image submission
-Is not ready to hang
Pricing Chart
| | |
| --- | --- |
| Members | Non-Members |
| Art Entry Fee Per Entry (max entries 4) - $10 | Art Entry Fee Per Entry (max entries 4) - $20 |
| Seminar Pre-Registration (Includes Breakfast and Lunch) - $35 | Seminar Pre-Registration: (Includes Breakfast and Lunch) - $45 |
| Workshop Pre-Registration - $25.00 | Workshop Pre-Registration - $35.00 |
| Seminar Registration Day of (Includes Breakfast and Lunch) - $55 | Seminar Registration Day of (Includes Breakfast and Lunch) - $55 |
| Workshop Registration Day of - $40 | Workshop Registration Day of - $40 |
| Additional Opening Reception Guests (Artists and one guest are free; max 2 extra tickets at listed price) - $25 | Additional Opening Reception Guests (Artists and one guest are free; max 2 extra tickets at listed price) - $30 |
*Student price for member and non-member Seminar pre-registration is $30 with valid student ID or school verification. Workshop pre-registration is $20 with the same rules above.
Museum Membership
| | |
| --- | --- |
| Individual – $40 | Family - $60 |
| Free admission year-round | X |
| Annual Subscription to Stageline | X |
| Quarterly recognition in Stageline | X |
| Special members only receptions | X |
| Invitations to annual Museum events, exhibits, and programs | X |
| 10% discount at CFD Museum gift shop | X |
| | Membership cards for kids ages 13-18. |
| | Discounts on Kids' Camps and Workshops |
| | Free birthday party in the Children's Gallery |
Print this Page
View Legal Agreement