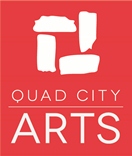 2021-22 Quad City Arts Exhibition Application
1715 Second Ave., Rock Island, IL 61201
APPLY NOW
Contact Email:
dwmetallo@quadcityarts.com
Call Type:
Exhibitions
Eligibility:
Regional
State:
Illinois
Entry Deadline:
2/1/21
Days remaining to deadline: 6
REQUIREMENTS:
Media
Images - Minimum: 6, Maximum: 12
Total Media - Minimum: 6, Maximum: 12
Entry Fee (2021-22 Quad City Arts Exhibition Application): $10.00

Quad City Arts invites artists residing within a 250-mile radius of Rock Island, IL to submit a proposal for a gallery exhibition during 2021-22. Selected artists will be paired with one or two additional artists for a 2-month long exhibition between July 2021 through August 2022 in one of our two large exhibit spaces. Cohesive bodies of work are highly desired. All media will be considered.
Quad City Arts' Rock Island Gallery occupies a 1908 department store space, with the original wood floors and a 14' high, tin ceiling. The exhibition gallery has 1500 sq. feet of space and 106 running feet of wall space. There are floor-to-ceiling north facing windows looking out to the Mississippi River. This space is ideal for large work, both 2D and 3D.
Art at the Airport Gallery is in front of the arrival/departure seating area in the Quad City International Airport, Moline. It houses 1,600 square feet of exhibition space in floor to ceiling glass cases. Numerous outlets and controlled lighting make this an ideal space for works incorporating lighting or video. It can accommodate works up to 7' tall and sculptures 4' wide. Over 2 million visitors pass through this space annually
Details:
Proposal: State the overall theme, idea, or inspiration behind your work. Indicate how many pieces you would realistically have ready if you were selected to show 7 months from now. (Both galleries are large and artists with smaller works or smaller bodies of work will be paired with complementary artists to make full use of the space.) Give the range of sizes of your pieces.
Artists may enter as an individual, as a two person show or as a group with up to 6 artists. Individuals submit 6 images to represent the body of work proposed. An additional detail image for each piece is optional. Groups: To propose a two-person or group show, submit 2-3 images for each artist and describe the theme of the exhibit or how the individuals in the group relate to each other. (There is a limit of 6 artists per group.) Fill out one entry form, with one person as the main contact/spokesperson for the group. Include the names and email addresses of all group members in the description box.
If selected, the 6 pieces you submit for jurying do not HAVE to be shown in your exhibition, but it will be expected that the work will be similar. Exhibition pieces must be recently completed and not previously shown at Quad City Arts. All exhibited work will also be featured in our online gallery: https://www.quadcityarts.com/galleries.html
The purpose of the exhibition is to not only show your work, but to further your career through sales of your work. If selected, most of the work exhibited should be for sale. 2D work must be framed for exhibition, unless gallery wrapped canvas is used; some exceptions allowed.
Entry fee: $10 Deadline: Feb. 1, 2021. Notification: Feb.26, 2021
Print this Page
View Legal Agreement