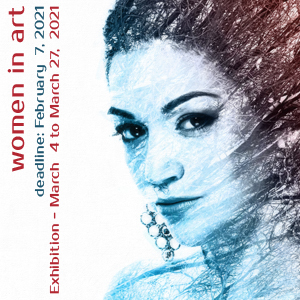 2021 Women in Art
577 S. Coast Highway, A-1
Laguna Beach, CA 92651
APPLY NOW
Contact Email:
laslagunaartgallery@gmail.com
Call Type:
Exhibitions
Eligibility:
International
State:
California
Entry Deadline:
2/7/21
Days remaining to deadline: 19
REQUIREMENTS:
Media
Images - Minimum: 1, Maximum: 20
Total Media - Minimum: 1, Maximum: 20
Entry Fee (2021 Women in Art): $31.00

Media Fee (per sample over minimum):$2.00

THEME: OPEN*
SUBMISSION DEADLINE:
February 7, 2021
ARTIST NOTIFICATION:
February 12, 2021
EXHIBITION DATES:
March 4 to March 27, 2021
ARTIST RECEPTION:
Thursday March 4, 2021
COMMISSIONS:
Artist 65% - Gallery 35%
ENTRY FEE
: The non-refundable entry fee is $35.00 for up to 3 entries.
Since ancient times, women artists have been creating alongside their male counterparts. During the last ten years we have seen an the past decade has seen a huge increase in its number of galleries and non-profit spaces popping up across the state; yet the bulk of these locations continue to promote the work of male artists, begging the inquiry of how gender equality has figured in this equation. While we are heading at such a fast rate, why are women artists being left behind?
The continued unevenness of gender representation within the arts is a topic; which up until now, was habitually ignored.
The lack of concrete necessity compares inauspiciously with the time during the 1970s, when a large quantity of art movements in Europe and North America and critiqued patriarchal command and investigated the social and political impact of identity, sexual difference and gender.
During this time, statistical data that was gathered by activists in Los Angeles revealed that over a period of ten years, there was only a single; one woman show. All other single person shows were for male artists.​
Each year Las Laguna Gallery provides an entire month dedicated to women artists.
Works can include Acrylic, Assemblage, Charcoal, Collage, Digital Art, Drawings, Fiber Art, Graphite, Oil, Pastel, Photography (Traditional and Digital), Printmaking, Sculpture, Video and Watercolor.
If you have any questions please contact us at: laslagunaartgallery@gmail.com
All artists who submit to this show will be accepted and have at least one of their submitted works posted on our website.
Print this Page
View Legal Agreement