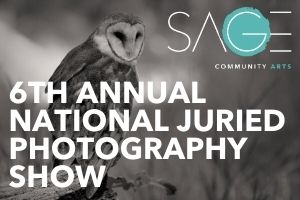 6th Annual Juried Photography Show
SAGE Community Arts
21 W. Brundage Street
Sheridan, WY 82801
Contact Email:
sageinfo@sageart.org
Call Type:
Exhibitions
Eligibility:
National
State:
Wyoming
Event Dates:
1/26/21 - 3/6/21
Entry Deadline:
12/8/20
Application Closed
REQUIREMENTS:
Media
Images - Minimum: 1, Maximum: 10
Total Media - Minimum: 1, Maximum: 10
Entry Fee (SAGE Member Entry Fee (first photo)): $15.00
Entry Fee (Non-member Entry Fee (first photo)): $25.00
Admin (Optional- SAGE 12-month Membership): $45.00

Media Fee (per sample over minimum):$5.00

IMPORTANT DATES
Tuesday, December 8th | All submissions and Entry Fees due by 11:59pm

Friday, December 18th | Artists will be notified via email if their work is selected

Saturday, January 16th | All selected work must arrive by 5:30pm

Tuesday, January 26th | Juried Show opens

Thursday, February 4th | Awards Reception, 5pm-7pm

Saturday, March 6th | Juried Show closes at 5:00 pm

Tuesday, March 9th | Unsold work available for pick-up, unsold work ships

Friday, March 12th | All unsold work must be picked up or arrangements made to ship work
JUROR: Keith Davis
Keith F. Davis is Senior Curator of Photography, Nelson-Atkins Museum of Art, and an advisor to the Hall Family Foundation, both in Kansas City, MO. In a career spanning more than forty years, Davis has curated about 100 exhibitions and has lectured widely on the history of photography in the U.S. and abroad. His awards include a Fellowship from the National Endowment for the Humanities (1986-87) for his work on the Civil War-era photographer George N. Barnard; and the 2018 AIPAD (Association of Independent Photography Art Dealers) Award for contributions to the field. He was honored to be included in James Stourton's definitive study, Great Collectors of Our Time: Art Collecting Since 1945 (Scala, 2007). He has written or contributed essays to more than fifty books and catalogues, including, most recently, The Life and Work of Sid Grossman (2016); The Photographs of Ralston Crawford (2018); Golden Prospects: Daguerreotypes of the California Gold Rush (2019); Minkkinen (2019); Ed Clark: On Assignment (2020); and Mark Klett: Seeing Time, Forty Years of Photographs (2020).
THE FINE PRINT
ELIGIBILITY
Open to all artists residing in the US. All work must be original and created within the past five years and cannot have been included in a prior SAGE Juried Photography show. Artists may re-submit photos that were not juried into a previous Juried Show at SAGE.
Printed photos cannot exceed 36 inches in width (including any framing). Accepted photos must be exhibit-ready with proper hanging mechanism included (no saw-tooth hangers or clip-on frames will be accepted).
SUBMITTING WORK
Non-Refundable Entry fee for SAGE Members: $15 (first photo entry)
Non-Refundable Entry fee for non-Members: $25 (first photo entry)
Each additional piece entered: $5 per photo (may submit up to 9 additional photos)
Visit www.artinsheridan.com/photo6 to view the homepage for this Juried Show.
ACCEPTED PHOTOS
Both stages of jurying in this show will be done blindly (the juror will judge solely based on the image of the submitted photos without knowing the identity of the artist).

Works to be included in the show will be chosen no later than Friday, December 18th.

If your work is chosen, you will be notified via email.

All work accepted into the show must be for sale as part of the exhibition.

Photographers are responsible for pricing their work, but SAGE can provide guidance on this matter if desired.

For any photo that is sold by an artist who is a member of SAGE, SAGE will retain a 35% commission of the retail price and the remaining 65% of the retail price will be remitted to the artist. For any artwork that is sold by an artist who is not a member of SAGE, SAGE will retain a 40% commission of the retail price and the remaining 60% of the retail price will be remitted to the artist

.

Do not drop off or ship any work to SAGE until you have been notified of your acceptance into the show.

You will be required to fill out and return a Loan Agreement Contract once your work has been selected in the show.

Loan Agreements can be returned via email to sageinfo@sageart.org or included with your accepted photo(s) when they are delivered to SAGE.
ART SHIPPING AND DELIVERY
If your work is selected, you must either hand-deliver or ship your pieces to arrive at SAGE by Saturday, January 16th by 5.30 pm.

Please label all photos (on the back) with your name, price, title, and contact information.

If you are shipping your work, you must include a pre-paid return shipping label (printed with your address and a barcode for the shipping carrier to scan).

Unsold work will not be returned without this label. SAGE will not accept money orders or postage stamps for return shipping costs on artwork.

Do not use packing peanuts to pack your art. Please submit your work in a sturdy box that can be reused for returning your art in the event it does not sell.
Send artwork to:
SAGE Community Arts
21 W. Brundage Street
Sheridan, WY 82801
FINAL JUDGING AND AWARDS
Voting for People's Choice will occur both in-person at SAGE and digitally using an online ballot. The juror will judge and announce the winners of the show during the Artists' Reception on Thursday, February 4th from 5pm-7pm. We encourage all selected artists to attend the reception if possible. The People's Choice Award winner will also be announced. If you are unable to attend and if you are selected as an award-winner, you will be notified on Friday, February 5th of your award and prize.
AWARDS
BEST OF SHOW - $500
FIRST PRIZE - $300
SECOND PRIZE - $200
THIRD PRIZE - $100
PEOPLE'S CHOICE - $50
LIABILITY
Photographers are requested to carry their own insurance for shipping any photos.

SAGE Community Arts cannot assume responsibility for loss and damage incurred during transport.

SAGE reserves the right to use images of all photographs included in the exhibition for marketing and promotional purposes.

All entry fees are non-refundable regardless of whether your work is juried into the exhibition or not.
Print this Page
View Legal Agreement