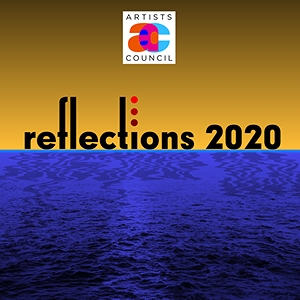 Reflections 20/20
Contact Email:
info@artistscouncil.com
Call Type:
Exhibitions
Eligibility:
International
State:
California
Entry Deadline:
1/10/21
Application Closed
REQUIREMENTS:
Media
Images - Minimum: 1, Maximum: 2
Total Media - Minimum: 1, Maximum: 2
Entry Fee (Reflections 20/20): $30.00

Prospectus - Reflections 20/20
Artists Council 360° Exhibition and Sale
February 22 – April 2, 2021
On-line at the Artists Council website: http://artistscouncil.com
The Artists Council, located in Palm Springs, California, invites you to submit your new works to its juried exhibition Reflections 20/20. The theme is wide open—yours to interpret according to your insights or vision.
Reflections 20/20 is a virtual exhibition – designed to provide viewers with the experience they have missed so much, the pleasure of seeing art on the walls. The show will be presented on the Artists Council website in a 360° gallery: artworks will be "mounted on the walls," and visitors will be able to "stroll" from room to room to enjoy the art and make their purchases.
Prizes totaling $1200 will be awarded. You must be a member of the Artists Council to submit to the exhibition (you may join at: http://artistscouncil.com). The entry fee is $30 for up to 2 entries, submitted through CaFE. Entries are due on January 10, 2021.
THE JURORS
Artworks for the exhibition and awards will be selected by juror Robert Leathers. Another juror may be added.
Robert S. Leathers is an artist who explores the relationship between the built environment and nature. Using paints, dyes, colored pencils, photo transfer, and commercial and hand-dyed fabrics, he develops his artworks with extensive stitchery. He is currently president, co-founder, and architect of Space 4 Art in San Diego – a volunteer-built space for art. Other San Diego based projects include design and construction of the Visions Art Gallery and development of a 60-acre property in Jamul, California. Previously in Ithaca, New York, he was owner and president of an architectural firm specializing in volunteer-built community projects. He has also taught drawing and design and has won numerous awards for his architectural design and fiber works. .
TO ENTER
To access the call on CaFE, follow the instructions at the end of this prospectus under "To Access the Call on CaFE."
- Entry Fee: $30 for submission of up to 2 pieces.
- Pay with a major credit or debit card via CaFE.
- Only one artwork per applicant will be accepted into the show.
- Since the IMAGES of your art are the content of this virtual show, you will need to PROVIDE A HIGH-RESOLUTION PHOTO FOLLOWING THE CaFE GUIDELINES.
PHOTOGRAPH YOUR WORK STRAIGHT ON WITH NO GLARE OR BACKGROUND
CROP YOUR IMAGE TIGHTLY; HAVE THE IMAGE OF YOUR WORK FILL THE SPACE
IF YOUR WORK IS FRAMED, DO NOT INCLUDE THE FRAME IN THE IMAGE OF YOUR WORK.
IMPORTANT DATES
- Submission deadline: Sunday, January 10, 2021, by 11:00 pm, PST.
- Notification of accepted artists: Friday, January 22.
- Exhibition opens: Monday, February 22.
- Exhibition closes: Friday, April 2.
- Delivery of sold works begins: Monday, April 5, 2021 [see "Delivery of Works Sold" below].
SUBMISSION REQUIREMENTS
You must be an Artists Council member to submit. To join or renew your membership, go to http://artistscouncil.com
Artwork must be:
- Verifiably original in concept, design, and execution.
- Submitted by the artist/maker.
- Created independently [i.e., not under direct supervision of an instructor].
- Completed within the past 3 years.
- Not previously exhibited at any Artists Council exhibition.
Size:
Maximum framed size is 60" high, 48" wide.
Three-dimensional artwork cannot exceed 150 pounds or 72" high by 48" wide by 48" deep. For this virtual exhibition, they must appear to be able to be mounted on a wall or other flat surface. Please note that only one image per work may be submitted (i.e., no multiple views).
Works that do not meet size requirements may be rejected after submission.
Other Requirements:
- Artwork is limited to 2- and 3-dimensional work.
- Although this is a virtual exhibition, artworks must be delivered to buyers ready for installation in their homes or other sites.
- Works on paper must be protected by glass or Plexiglass.
- Works on canvas or other materials must be finished on the edges.
- Two-dimensional works must be wired for hanging. No saw-tooth hangers or ceiling mounts.
- Three-dimensional works must be ready for display. As noted above, they must be able to be mounted on a wall or other flat surface.
When submitting on CaFE, you will be asked to size, price, and describe in 60 characters or less the media of your work. Please do this carefully: once a work is submitted, no changes can be made.
You will also be asked on CaFE to provide an Artists Statement of 100 words or less describing how your entry demonstrates the theme of Reflections 20/20.
No fees will be refunded after submission.
Artwork will "hang" during the entirety of the show. Artworks sold will be marked as such.
Pricing and Sales:
- Artwork must be available for sale.
- Sale price must be between $500 and $8,000. Please note: no change to the sale price will be made after submission.
- Because this is a virtual exhibition and sale, proceeds from any sale (excluding sales tax) will be split 70% artist/30% Artists Council (to support programs and operations).
- If your work sells during the exhibition, you must provide a current W-9 form.
- Sales taxes will be the responsibility of the buyer and will be paid by the buyer at the time of purchase on the AC website.
- Artists will be paid for the sale of their work within 7 days after the work has sold, the Artists Council has received the online payment from the buyer, and the buyer has confirmed receipt of the artwork.
- Payment will be by check mailed from the AC account at Wells Fargo to the artist's address as indicated on the CaFE submission. It might take 3-5 business days more for the processed check to arrive by mail.
Delivery of Sold Works:
- Buyers are responsible for picking up artwork they purchase or for any shipping and associated expenses.
- If your work is sold, we will contact you about options for delivering artwork to the buyer.
- If you and the buyer live locally, we will notify you where you can drop off your work for pickup by the buyer, at no charge to the buyer.
- If you and the buyer agree, you will also have an option to deliver your work personally to the buyer, at no charge to the buyer.
- If you and/or the buyer are not living locally, you will need to ship your work to the buyer. In this case, we will ask the buyer to send you a check to cover the shipping, after which you will ship the work. We suggest that you purchase insurance when shipping your work.
- Artwork provided at delivery must match the photo image submitted to CaFE.
QUESTIONS?
If you need help submitting, please see the Help pages on CaFE (callforentry.org). Due to COVID, you will need to send a Help ticket.
If you have membership or exhibition questions, please contact info@artistscouncil.com
For information about the Artists Council, go to our website at http://artistscouncil.com
The Artists Council is an independent non-profit arts organization dedicated to elevating artists through exhibitions, professional development, and community engagement.

To access the call on CaFE, go to http://callforentry.org: This will take you to the CaFE home page.
1. If you do not already have a CaFE account, click on "Artist Sign Up" at the top right of the page, agree to the terms and conditions, and follow the steps provided to Create your Profile. When you finish, continue with STEPS below.
2. If you already have a CaFE account, type in your username and password and hit LOGIN. Then follow the STEPS below.
STEPS:
Follow the three-stages: My Portfolio, Apply to Calls, Checkout [these will always be shown in the black bar at the top of the page]
Note: The Legal Agreement may appear in a different order depending on where you enter the process. Click Agree, which will allow you to proceed.
1. Click on My Portfolio to upload images of the works you wish to submit.
2. Click on Apply to Calls
- Type Reflections 20/20 in the Call Listings search box
- Click the "magnifying glass" icon
- When you see the Reflections 20/20 page, click Apply Now
- Agree to the Legal Agreement if it appears here
- To see the full prospectus, click on More Info
On the Forms Questions page:
- Complete your Artists Statement
- Select the images of the Work Samples you wish to submit
- Click on Save Application

Please note: if you have started the application process and return to it later, you will need to hit MY CaFE ENTRIES and scroll to the bottom of the page to "Reflections 20/20" and click MODIFY to continue the application.

3. Then you are ready to Checkout.
Note: CaFE provides on-line step-by-step instructions for applying:
- Click on CaFE Help in the black bar
- Then click the box How to Apply.
- Hit the back arrow to return to your application.
- Just remember the show is called Reflections 20/20.
If you need further help, please go to the Help pages on CaFE. You can also contact the CaFE team by submitting a Help Ticket.
Print this Page
View Legal Agreement