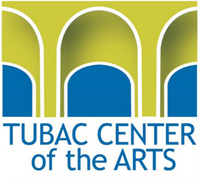 2021 Open Studio Tour
P.O Box 1911
Tubac, AZ 85646
Contact Email:
exhibitions@tubacarts.org
Call Type:
Festivals
Eligibility:
Local
State:
Arizona
Event Dates:
2/21/21 - 4/4/21
Entry Deadline:
12/15/20
Application Closed
REQUIREMENTS:
Media
Images - Minimum: 1, Maximum: 2
Total Media - Minimum: 1, Maximum: 2
Entry Fee (2021 Open Studio Tour): $125.00

Media Fee (per sample over minimum):$20.00

2021 Open Studio Tour:
Tubac Center of the Arts Open Studio Tour
An exhibition, a poster contest, and a Studio Tour for Santa Cruz Valley artists.

You are invited to apply to participate in the Tubac Center of the Arts Open Studio Tour 2021, which will take place March 12, 13, & 14, 2021 from 10:00 am-4pm. The Open Studio Tour is a marketing opportunity for serious professionals and a supportive environment to nurture and present new and emerging artists. This Tour extends from Nogales in the south to Sahuarita in the north along the I-19. Tour artists may contribute one piece to the Open Studio Tour Artists exhibition held at the art center, February 26 - April 4, 2021. Open Studio Tour artists may also submit an image for consideration for the Open Studio Tour poster art contest. Application Deadline: December 15, 2020.

Please note: Artist studios must be located between Sahuarita, Arizona and Nogales, Arizona, along the I-19 corridor. Artists are encouraged to partner with other artists if possible, to encourage more visitor traffic. Please consider any current COVID-19 recommendations when setting up your studio and welcoming visitors.
OST Artists Exhibit Image:
All Tour artists may contribute a piece to the Open Studio exhibit. The image and inventory for the Artists Exhibit is not part of the CaFE™ application. The image you enter for CaFE™ application should be the image you would like to use in the Open Studio Tour guide.

The OST Artists Exhibit is a benefit to artists participating in the studio tour. It is an optional exhibit with no additional fees. The exhibit not only entices visitors to your studio but allows the opportunity to preview and sell your work.
OST Artists Exhibit:
Artists participating in the tour will be invited to exhibit one piece of art in the Open Studio Tour exhibition February 26 to April 4, 2021. Studio Tour artists will be contacted with further details. All artwork for the exhibition must be received by February 22, 2021. Poster Image: (Optional) Apply during online CaFE™ application.
If artwork sells during the exhibit, it may be taken by the customer and new work can be made available by the artist. Tour artists will have the opportunity to replace the sold piece with like-sized artwork. Other than sales, art may not be removed from the exhibit prior to the close of the exhibition on Sunday, April 4, 2021.
OST Artists EXHIBIT: February 26 – April 4, 2021
Sales:
All work in the preview exhibit must be for sale. TCA will retain a 40% commission.
Price work accordingly.
Images:
Artists agree to release the use of images of accepted works to TCA only as a permanent record of the exhibition and only for promotional use relating to the exhibition and the art center.
Catalog Image - VERY IMPORTANT
The image you enter into CaFE will be used for the Open Studio Tour catalog. When applying to the Open Studio Tour, please use the image that you want to be included in the OST catalog.
The catalog image does not have to be the artwork submitted in the Preview Exhibit and may be an image that has already sold. It is representational of your work.

Timeline and Important Dates
November 9, 2020: Registration on CaFE™ is open.

December 15, 2020: Artists Entry deadline!
December 21, 2020: Advertisement reservation & payment deadline.
January 4, 2021: Ad files due.
Week of January 7, 2021: Proof approvals for catalog listings due
February 1, 2021: Catalogs distribution begins
Monday, February 22, 2021: Exhibit Art Due
Friday, February 26, 2021: OST Preview Exhibit Opening Reception, 5-7pm (depending on COVID)
Friday, Saturday, & Sunday - March 12, 13, & 14, 2021, 10am - 4pm
Open Studio Tour
Monday, April 5, 2021: Pick up of art from OST Artists Exhibit

Please contact TCA at 520-398-2371 or email at Exhibitions@tubacarts.org for special arrangements if you cannot meet the specified hand delivery or pickup dates.
Studio Tour & Preview Exhibit ENTRY FEES:
All fees are non-refundable
The OST participation fee is $90 for TCA artist members and $125 for TCA non-members. Entry fee includes tour participation, catalog listing and all advertising and promotions of the event, as well as participation in the OST Preview Exhibit with Opening Reception. Member discount code is Member21.
Poster Contest Entry Fee:
During the online application process with CaFE™, you may also apply to the annual poster contest. Entry fee is $20. Please indicate which image is for the poster and which is for your catalog listing.
Please see additional poster contest conditions below. All media are welcome!
Poster Contest:
The annual collectible poster for the Open Studio Tour will be sold during Tubac Festival of the Arts, at the Art Center during Open Studio Tour, and throughout the year. All Studio Tour participants will be listed on the poster if the application and materials are completed by December 15, 2020. The poster image will be determined by a jury. High quality 18" x 24" posters will be printed and made available for sale at TCA with all profits going to the nonprofit TCA. The winning poster artist will receive free entry fees for the following year OST, as well as advertising and promotion of their image in print and electronic marketing. The original work of the winning poster image must be available to be exhibited during the OST Preview Exhibit, must be for sale and is subject to the terms of the exhibit. The winning artist will provide original art to TCA for high-resolution scanning and should be present at the OST Artists Exhibit to sign posters.
The Member discount code is Member21 which is entered at checkout. You must be a current member to use the discount code. Any submissions by nonmembers taking the member discount may be disqualified from the participation process without refund. Members receive discounts on fees to all exhibitions as well as discounts in our gift shop and to special events. To renew your membership or become a new member of TCA, please register on our website at www.Tubacarts.org or call 520-398-2371.
Contact:
Please contact us by way of email Exhibitions@TubacArts.org or phone 520-398-2371 for questions or further information.
Thanks for joining us!
INVITATIONAL PASSCODE: OST2021
Member Discount Code: Member21
Print this Page
View Legal Agreement