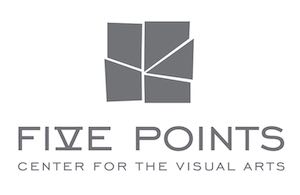 Five Points Gallery 2021 Juried Exhibition
Five Points Gallery
7 Water Street, Torrington, CT 06790
OR
Five Points Gallery
PO Box 1028, Torrington, CT 06790
fivepointsgallery.org | fivepointsarts.org
Gallery Phone: 860-618-7222
Open: Tuesday & Thursday 1-4 pm - Friday, Saturday & Sunday 1-5pm and by appointment.
Contact Email:
kgoulet@fivepointsgallery.org
Call Type:
Exhibitions
Eligibility:
International
State:
Connecticut
Entry Deadline:
5/2/21
Application Closed
REQUIREMENTS:
Media
Images - Minimum: 1, Maximum: 3
Audio - Minimum: 0, Maximum: 3
Video - Minimum: 0, Maximum: 3
Total Media - Minimum: 1, Maximum: 3
Entry Fee (Five Points Gallery 2021 Juried Exhibition): $35.00

ABOUT:
Five Points Gallery (FPG), part of the Five Points Center for the Visual Arts, is a 501c3 non-profit arts organization centrally located in the historic downtown district of Torrington, CT.
Five Points Gallery, one of Connecticut's most respected exhibition venues is accepting submissions for its 2021 Juried Exhibition. Open to all artists 18 years or older working in any style and media. All accepted works will be featured in the Five Points' main galleries and on Five Points' website. The one award will be a 2022 solo exhibition in Five Points Gallery. The Exhibition will be juried by CT artist and educator Joseph Fucigna.
Exhibition Dates: July 02 - August 13, 2021
Location: Five Points Gallery, 33 Main Street Torrington, CT 06790
Award: One solo exhibition in 2022.
Reception & Award: Friday, July 30, 2021, 6 - 8pm (In person or virtual, as the pandemic allows)
Juror: Joseph Fucigna
Joseph Fucigna is a multi-media artist whose work is rooted in process, play and the innate qualities of the materials used. Through experimentation, play and innovation he creates sculptures that are known for their power to transform materials, inventiveness and odd but suggestive subject matter.
Joseph Fucigna was born in New Rochelle, New York and grew up in Norwalk, Connecticut. He received his Bachelors of Fine Arts degree from Alfred University School of Art and Design in New York and Masters of Fine Arts degree from the School of Visual Arts in New York City. He also attended the Triangle Artist Workshop in Pine Plains, NY and worked with the renowned sculptor Sir Anthony Caro and critic Clement Greenberg. Presently, Fucigna is a full-time Professor of Art at Norwalk Community College and is the Chair of the Studio Arts Program. Fucigna has also taught in the Art Department at the State University of New York, Stony Brook. Presently, he resides and works in Weston, CT.
Fucigna has exhibited nationally including shows at the Fitchburg Art Museum in Massachusetts, Real Art Ways in Connecticut, National Weather Center Biennale in Oklahoma, the United Nations, Grounds for Sculpture in New Jersey, the Lyman Allyn Art Museum in Connecticut, the New York State Museum in Albany, NY and the Burchfield Art Center in Buffalo NY. He has had one-person exhibitions at the Fred Giampietro Gallery, Five Points Gallery, Norwalk Community College Art Gallery, Artist Space New Haven and the Bannister Gallery at Rhode Island College. Fucigna was also a recipient of an Individual Artist Grant from the Connecticut Commission on the Arts.

OPEN CALL INFORMATION & GUIDELINES:
March 01, 2021 at 12:00am - Submissions Begin on

CaFE.

May 2, 2021: 11:59 pm - Submission Deadline
May 19, 2021 - Notification of Acceptance

on CaFE.

June 25, 2021: 5:00pm - Deadline for receiving all shipped artwork
June 27, 2021: 4:00pm - Deadline for receiving all hand delivered artwork
July 02, 2021: Friday 1-5pm - Exhibition opens
July 30, 2021: Friday 6:00pm - Reception & Announce winner (zoom or in person)
August 13, 2021: Friday at 5:00pm - Exhibition ends
August 14, 2021: Saturday 10 - 3pm - Artwork pickup in person
August 25, 2021 - All shipped artwork returned to artists
ELIGIBILITY: International Juried Call
Open to all artists emerging and established, 18 years or older.
Only original artworks in any media and style that have not been previously exhibited in Five Points Gallery will be considered.
Only recent artworks should be considered for submission.
ENTRY FEE:
A $35.00 entry fee will be charged for up to three works. VISA, Discover, MasterCard or American Express will be accepted through the CaFE website.
SUBMISSIONS:
Five Points will only accept submissions through CaFE. CaFE is an online application and jury management system for calls for entry. Entries submitted via email or by direct mail will not be considered.
Visit www.callforentry.org and click on HOW to APPLY and follow the 3 – step process to submit.
GUIDELINES:
Up to three works per artist may be submitted.

A maximum of

one work per artist will be selected.
Work requiring assembly or a complex installation procedure must be accompanied by detailed written instructions with reference photos.
Artists working in new media, film, or video will be required to provide necessary exhibition equipment.
All artwork must be for sale and cannot be removed during the exhibition.
The gallery commission on sales is 50%.
All submitted works must be labeled: Artist Name, Title, Date, Artwork Medium, Dimension, Price. If an artwork is mixed media, please list all materials.
All accepted works should be accompanied by an Artist Statement and Artist Biography to be featured in an exhibition binder. (Please limit to 1 page each)
SELECTED ARTWORK:
Selected Artwork works must be delivered ready to hang/install.
Artwork that is misrepresented or unsuitable for presentation will be refused.
DELIVERY AND SHIPPED ARTWORK:
Shipped Work Deadline: Friday, June 25, 5:00PM
Hand Delivered Deadline: Sunday, June 27, 4:00PM
Deadlines for hand delivered and shipped works are firm.
Delivery of any accepted artwork will only be received during the stated days/hours.
Shipped Artwork: please provide gallery staff with any shipping/tracking information.
All shipped artwork must include a prepaid return shipping label.
All work should be labeled with the artist's name, telephone number, Email, title of work, date medium, dimension and price.
All work must be packaged in a manner that allows the materials to be re-used for return.
Any work not picked up on the stated date cannot be stored and will be disposed of as deemed appropriate by the gallery.
In the case of inadequate or nonexistent return postage, works cannot be stored and will be disposed of as deemed appropriate by the gallery.
AGREEMENT:
Five Points reserves the right to photograph an accepted artwork for publicity purposes.
Five Points reserves the right to dispose of an artwork that is not picked up or given proper return shipping coverage as deemed appropriate by the gallery.
Five Points Gallery
33 Main Street, Torrington, CT 06790
PO Box 1028, Torrington, CT 06790
fivepointsgallery.org | fivepointsarts.org
Gallery Phone: 860-618-7222
Open: Tuesday & Thursday 1-4 pm - Friday, Saturday & Sunday 1-5pm and by appointment.
Print this Page
View Legal Agreement