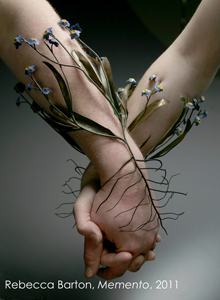 Society of North American Goldsmiths: The Body Adorned
540 Oak Street, Suite A
Eugene, OR 97401
Contact Email:
noneal@snagmetalsmith.org
Call Type:
Unspecified
Eligibility:
Unspecified
State:
Unspecified
Entry Deadline:
12/9/12
Application Closed
REQUIREMENTS:
Media
Images - Minimum: 2, Maximum: 4
Total Media - Minimum: 2, Maximum: 4
Entry Fee (Society of North American Goldsmiths: The Body Adorned): $35.00

THE BODY ADORNED…Dressed and Bedecked
A call for images of studio jewelry on the body, photographed on the maker's model of choice. This first SNAG on-line exhibition will explore "adornment as experience" on the landscape of the body.
Gail M. Brown, Juror, will be looking for:
•
New/recent, exceptional work not previously published.
• Original and self-determined work.
• A fresh, perhaps thought provoking manner of presentation.
• The wearer's "engagement" in the experience.
• 'Real' people wearing this most intimate art form, a photo album of experiences.
• Communication of both visual and then verbal information.
• A vehicle to view the body as site and landscape for studio jewelry.
• The presence and experience, display and back story: the ultimate seduction for the viewer of enticing studio jewelry on the body.
Requirements:
• Submit all application materials electronically through CaFÉ at www.callforentry.org by midnight (11:59:59 pm) Mountain Time, December 9, 2011. Only applications submitted through CaFÉ will be accepted.
- Use of the CaFÉ website is free. To enter, visit www.callforentry.org, register a username and password,
navigate to Apply to Calls, and search the list for "The Body Adorned."
- For detailed instructions on using the site, click on CaFÉ Help (www.callforentry.org/cafehelp.phtml). If
this page does not address your needs, please contact CaFÉ at cafe@westaf.org Monday through
Friday, between 8:30 am and 5 pm Mountain Time.
- Technical support is available until 5:00 pm the day of the deadline via email at cafe@westaf.org.
- Artists must submit their images via www.callforentry.org and according to CaFÉ specifications.
Instructions on how to format images can be found on the CaFE™ website under Image Preparation.
- Images must be labeled with title, material, dimensions, price/value, and year of completion.
- Entries submitted by any method other than through www.callforentry.org will NOT be accepted.
• Applicants may submit up to four images through CaFÉ, either:
- One image of a particular work and one to three more images on model/s (or on the maker, her or
him/self): a wearer/s who enhance/s an intended mood of the piece for a total of four images.
OR
- Two images of two different works, accompanied by one image each of the work/s on model/s (or on
the maker, her or him/self): a wearer/s who enhance/s an intended mood of the piece for a total
of four images.
• Application will include the following:
- A 50-100 word blurb or artist statement on the experience of making and wearing this jewelry as
intimate connection. Statement should address the narrative, identity, wearability, nature, status, scale,
tactility, presentation, weight and/or other issues, etc. This will act as a personal reference to the
unique relationship between the maker, the piece and the adorned body.
- A current, abbreviated resume (2 pages of highlights only).
- Optional – a short statement from the chosen wearer about the experience of and personal
connections to the given work.
- Optional – additional meaningful comments, if you and others are so inspired.
• High resolution images will be due upon acceptance. Images provided by the artist must be in jpeg or tiff format with a minimum 300 dpi at 4 x 6" (preferably 300 dpi at 8 x 10"). In addition to the online exhibition, a catalog of images and selected artist texts will be available for purchase through Blurb.com.
• The application fee of $35 is non-refundable. SNAG members may use their coupon code at checkout to receive their $10 discount, available on the SNAG website in the member's only section. Payments are made via CaFÉ website with Visa or MasterCard. Checks are NOT an acceptable form of payment.
About the Juror:
An independent curator and juror with more than twenty years' experience, Gail M. Brown's primary goal is to advance visibility and education about contemporary craft within the larger visual arts community. Trained as a printmaker at the Philadelphia College of Art, it was there she identified her own connection to process and media. She curates focused exhibitions which share exceptional work from a national body of mature and mid-career artists and introduce potent ideas and forms by younger makers. After 65+ exhibitions, she is best known for her ability to communicate issue-oriented and aesthetic ideas coupled with an examination of the chosen material process.
Her exhibitions have been shown all around the United States and the United Kingdom. Sites include Fuller Craft Museum, FacèréJewelry Art Gallery, Wood Turning Center, Baltimore Clayworks, Kentucky Museum of Art & Craft, University of Central England, and DESIGNyard in Dublin, as well as numerous exhibitions at the SNAG and NCECA conferences over the years.
Brown was the 2006 Commencement Speaker at the Oregon College of Art & Craft (OCAC) Portland, Oregon. She writes, juries and lectures at universities about curating and professional practices. She also serves on the boards of several not-for-profit contemporary craft organizations: the Clay Studio, the Resource Council of the Society of Arts & Crafts, and the Exhibitions Committee of the Wood Turning Center.
Timeline:
• September 9, 2011 – Call for entry opened on CaFÉ
• December 9, 2011 – Submission deadline 11:59:59 pm Mountain Time
• March 5, 2012 – Artists notified via email
• March 16, 2012 - High resolution images due
• October 5, 2012 – Website exhibition space open, coinciding with the Third Annual
American Craft Week
Questions?
• E-mail Natalie O'Neal at noneal@snagmetalsmith.org
• To become a member of SNAG and receive $10 off the entry fee,
click here
(opens a new window) or visit www.snagmetalsmith.org/JoinSubscribeRenew/Join_SNAG/.
Print this Page
View Legal Agreement