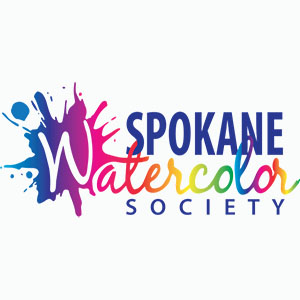 Spokane Watercolor Society 2021
Contact Email:
owcarper@gmail.com
Call Type:
Exhibitions
Eligibility:
National
State:
Washington
Event Dates:
4/2/21 - 4/25/21
Entry Deadline:
2/1/21
Application Closed
REQUIREMENTS:
Media
Images - Minimum: 1, Maximum: 2
Total Media - Minimum: 1, Maximum: 2
Entry Fee (First Entry): $45.00

Media Fee (per sample over minimum):$30.00

CONDITIONS AND RULES
1. ELIGIBILITY – Artists living in the U.S. who are 18 years or older may participate.
2. ORIGINALITY – Your entry(s) must be an original work of art, painted only by you, and not produced in a class or workshop. Photo reference material must not have been taken by anyone other than you, the entrant.
3. SUBSTITUTIONS AND WITHHOLDINGS – Artists may not substitute another work for an accepted work. Artists properly notified of acceptance may not withhold their work for any reason. Penalty may include exclusion from future SWS shows for up to two years.
4. CURRENT WORK – Entries must have been executed within the last two years and not exhibited in any previous juried SWS exhibition.
5. SUBJECT MATTER – Nude representations are not allowed. Unsuitable material will not be hung. Decisions of the juried show chairperson are final.
6. MEDIA – Entries must be water media (watercolor, gouache, acrylic, casein or ink) directly painted on natural fiber paper or paperboard. Direct painting on canvas, Aquabord or Claybord is not allowed. Collage or other media may be used, but the aqueous medium must constitute 80% or more of the work. All collage materials must be original designs executed on water media paper.
7. VISIBLE IMAGE SIZE – Minimum measurement of the shortest side is 7". Maximum measurement of the longest side is 30". The visible image area of the painting must fall in the range between 140 - 660 square inches. To determine the size of your painting in square inches multiply the length of the short side in inches by the length of the long side in inches. Then compare your result to the allowed range.
Examples:
A painting size of 30" x 30" = 900 square inches and falls OUTSIDE of the accepted range. (This painting would be too large.)
A painting size of 10" x 12" = 120 square inches and falls OUTSIDE of the accepted range. (This painting would be too small.)
A painting size of 24" x 24" = 576 square inches and falls INSIDE the accepted range.
A painting size of 9" x 30" = 270 square inches and falls INSIDE the accepted range.
A painting size of 22" x 30" = 660 square inches and falls INSIDE the accepted range.
8. SALES – Entries must be for sale and priced with intent to sell. Once entered, the price of your painting cannot be changed.
A. The artist receives 75% of the sale price with 25% going to SWS on accepted paintings sold before the exhibition opens, on paintings sold during the exhibition, and on paintings that are sold because of having been shown at the exhibition and purchased within 30 days of the exhibition's closing.
B. All paintings must hang for the duration of the exhibition.
C. Paintings will be sold through the SWS website. The total price should include sales tax as it will not be collected from the purchaser by SWS.
D. ARTISTS WILL BE RESPONSIBLE FOR FILING THEIR OWN TAX FORMS AND REPORTING SALES TAX.
E. Commissions will be subtracted by the SWS treasurer before an artist receives a check.
F. Sold paintings cannot be removed until the end of the show.
9. MATTING AND FRAMING REQUIREMENTS
A. FRAMING - Each painting must have a professional appearance and be free from damage or blemishes.
- Shiny metal frames are discouraged.
B. FRAME SIZE & WEIGHT – Maximum frame size is 34"x44". Maximum weight is 40 lbs.
C. CONVENTIONAL MATTING AND FRAMING
(1). GLASS IS NOT ALLOWED: All pieces must be matted and under Polycarbonate (i.e. Lexan) or Acrylic (i.e. Plexiglas)
(2). MAT COLOR: Mat color must be white or nearly white
(3). MAT LINERS: Thin colored liners no wider than ¼" are allowed
(4). MAT REVEAL: 2.5" minimum visible is required; maximum is 6" on full sheet sizes
D. ALTERNATIVE FINISHES – Finishes without mat and glazing are allowed. Protective sealant (i.e. wax, varnish) is required. All edges (i.e. board, paper) must be equally sealed and finished with no visible staples, nails or hardware. The piece must be considered archival.
E. HANGING WIRE – Required on all paintings. No saw tooth hangers permitted. Wire must be reasonably taut and approximately 3" below the top edge of the frame.
10. HOW TO ENTER AND PROCEDURES
A. ENTRIES – Entry form and image files are submitted online at www.callforentry.org (CaFÉ). Up to two paintings (WITH COMPLETED ENTRY FORM) per artist can be accepted for submission. They must be entered at the same time and on the same form otherwise entrant will be charged full fee for second entry. Images must be submitted with entry forms. Entries will be collected through the entry deadline, Monday, February 01, 2021.
B. ENTRY FEES – Fees for nonmembers are $45 for the first entry and $30 for the second entry. Fees for SWS members are $30 for the first painting and $20 for the second painting. Members' entry fees are reduced using coupon codes which will be published within SWS and entered on the form at the time of submission. Entry fee payments are by credit card on www.callforentry.org at the time of entry. All fees are nonrefundable.
11. CROPPING – Entry image must be cropped to the displayed painting area only (no mat or frame will be visible in the image). If needed, art stores (i.e. Spokane Art Supply) can make a professional image for a fee.
A. IMAGE MEDIA
(1). File format: JPEG or JPG only
(2). File dimensions: 1200 pixels or greater on the longest side
(3). File size: Under 5 MB
B. EDITING/RESIZING – Edited image must represent submission exactly or risk disqualification. A "Help" link is available. (NOTE: Adobe Flask must be installed on your computer to use this tool.) You can access this FREE online tool at www.pixlr.com/editor. Upload your image and use various menu options to resize, rotate, and adjust, then save the image to your computer.
12. FILE NAME – Label image with the TITLE OF YOUR PAINTING ONLY. Only letters and numbers may be used in the image file name, e.g. 7MountainsAtSundown.jpg. If your painting's title requires special characters, DO NOT INCLUDE them in the file name—they can be added on the entry form.
13. JUDGING – Acceptance into the exhibition will be done from the digital images submitted using the CaFÉ website. Final judging and assignment of awards will take place at the exhibition of the original paintings, after hanging.
14. NOTIFICATION – Only artists whose submissions are juried into the exhibition will receive notification by email on February 15, 2021. Accepted artists and painting titles will also be posted on the SWS website.
15. PUBLICITY – Artists accepted into the show will be provided with virtual postcards to be sent to supporters, friends and family to promote the show. Posters, radio and newspaper advertising, websites and social media will also be used to promote the show.
16. ARTIST BIO AND STATEMENT – Participating artists will provide a current, single-page artist biography and artist statement with headshot in PDF format —a catalog of artists with work hanging in the show, that will be displayed for the duration of the show will be constructed for virtual reference. Include private contact information ONLY if you are willing to have it on public display.
17. DELIVERY OF PAINTINGS
A. IDENTIFICATION: A label or business card with artist's name, title and price must be attached to the upper right-hand corner on the back of the painting.
B. SHIPPED PAINTINGS: Shipped paintings must be received from March 20–27, 2021. A receiving address will be provided upon acceptance into show. Return prepaid shipping labels must be included with the paintings. (NOTE: Two websites that sell packaging are uline.com and airfloatsystems.com)
C. ARTIST DELIVERED PAINTINGS: Must arrive at the MAC, March 29, 2021 between 10:00 - noon. Paintings may be delivered by someone other than the artist if the artist is not available.
D. ARTIST RETRIEVED PAINTINGS: Must be retrieved Monday, April 26, 2021 between 10:00 - noon.
E. UNCLAIMED PAINTINGS: If any artist's work is not sold or retrieved at the end of the show, the artist will be deemed to have relinquished all rights to the work and SWS will, at its discretion, retain or dispose of the work, as it deems appropriate.
18. AWARDS -- Due to COVID-19 the awards presentation system is yet to be determined. The following awards will be presented: First place $500, second place $300, and third place $200. Additional gift certificates and merchandise awards may be presented based on merit.
19. PROMOTIONAL USES -- Your entry in this event entitles SWS to reproduce accepted artwork for the online exhibition catalog and other uses, including the SWS website and social media. All images are archived.
20. LIABILITY CLAUSE -- SWS NATIONAL JURIED SHOW: The SWS and its agent, The Northwest Museum of Arts and Culture, will take every precaution to ensure the safety of the artwork. However, neither SWS nor Northwest Museum of Arts and Culture will be liable for the loss or damage to any artwork submitted to the show. Insurance is the sole responsibility of the artist.
Print this Page
View Legal Agreement