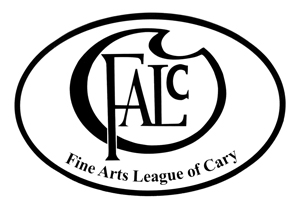 26th FALC Annual Juried Exhibition
FALC
26th Annual Juried Exhibition
P.O. Box 3361
Cary, NC 27519-3361
APPLY NOW
Contact Email:
tracycarhart.falc@gmail.com
Call Type:
Exhibitions
Eligibility:
National
State:
North Carolina
Event Dates:
4/11/21 - 6/30/21
Entry Deadline:
3/15/21
Days remaining to deadline: 19
REQUIREMENTS:
Media
Images - Minimum: 1, Maximum: 3
Total Media - Minimum: 1, Maximum: 3
Entry Fee (FALC 26th Annual Juried Exhibition): $35.00

FALC 26TH ANNUAL JURIED EXHIBITION
Prospectus
Show Chair (Contact)
Tracy Carhart (tracycarhart.falc@gmail.com)

Do to the Covid-19 pandemic, this year's Annual Juried Exhibition will be an ONLINE exhibition, running from April 11, 2021 through June 30, 2021.

Please read this prospectus and all directions carefully!
We thank you for your interest in our exhibition.

Exhibition Requirements
• Artists age 18 and over with residences in the United States are eligible for the 26th Annual Juried Exhibition. Membership in FALC is NOT required.
• Each artist may submit up to three pieces of art. However, only one piece from each artist can be accepted. Your entry fee does not guarantee acceptance into the exhibition.
• The entry fee for up to three pieces of artwork is $35.00, and is non-refundable. This can be paid online through CaFE, or a check can be sent to: 25th Annual Juried Show, Fine Arts League of Cary, P.O. Box 3361, Cary, North Carolina, 27519-3361
• Artwork selected for previous FALC exhibitions or shows is NOT eligible.
• Any medium, style, genre of 2-D artwork, including mixed-media and photography is eligible. Neither giclée prints nor art reproduced on canvas will be accepted.
• Artwork must be family-friendly and appropriate for the general public. Artwork that does not meet this standard will be rejected.​
• All artwork must be the sole work and exclusive property of the submitting artist.
• Artwork must have been created after January 1, 2019.
• All artwork must be available for purchase. Prices must remain as submitted. FALC receives a 25% commission for all sales, payable to FALC or Fine Arts League of Cary, PO Box. 3361, Cary, NC., 27519-3361.
IN ADDITION TO THESE REQUIREMENTS IT IS IMPORTANT TO FOLLOW THE PROCEDURES BELOW VERY CAREFULLY, ESPECIALLY WHERE THEY RELATE TO NAMING YOUR IMAGES FOR THIS EXHIBITION.
Host Location
The online exhibition will be hosted at Artwork Archive. All artists who submit work will be sent a link to view the exhibition.

Calendar Dates, 2021
• Online Submission: January 15, 2021 to March 15, 2021 (11:59 MST) Firm deadline!
• Notifications of results will be sent to all submitting artists by email: April 1, 2021
• Exhibition Dates: April 11, 2021 to June 30, 2021


Juror
Ryan Fox

Ryan Fox is a signature member of the American Watercolor Society as well as 6 state and regional societies- Northeast, Georgia, Illinois, Pennsylvania, Missouri, and North Carolina (NEWS, GWS, IWS, PWS, MOWS, WSNC). Ryan has won awards in The American Watercolor Society (AWS), Adirondacks National Exhibition of American Watercolors, Missouri Watercolor Society, Georgia Watercolor Society (GWS), and Watercolor Society of North Carolina juried shows. His work has been featured in Watercolor Artist Magazine, Art of Watercolour, and Splash 15, 16, 19 & 20 hardcover books published by F+W Media. His instructional DVDs are marketed by Creative Catalyst Productions. You can view more of his work online at: rfoxphoto.com or Studio 213 at Artspace in downtown Raleigh.
Awards
• FALC will award the following prizes:
1st Prize ($1000)
2nd Prize ($750)
3rd Prize ($500)
5 Honorable Mentions ($50each)

Checks and ribbons will be sent by mail within a few weeks of winners being selected.

Procedures and Details
• Submission for this exhibition is handled exclusively through CaFE. All submitted artwork must be uploaded to this site. One to three pieces of artwork can be submitted. Artists who encounter technical difficulties can request help from CaFE staff at cafe@westaf.org. Questions related to the exhibit can be sent to the show chair, Tracy Carhart via email, thcarhart.falc@gmail.com.
• The artwork images you submit via the café portfolio must be specifically named for this exhibition. Please follow this format; using your initials, number of entry, and title of piece submitted: If your name is John Edward Doe, the three entries are named JED1_title, JED2_title, and JED3_title. If you are only submitting one entry, please still title the image using a number, which in this example would be JED1_title. This is a most important first step, which is required for a fair competition.
• It is very important that artists upload only one photo for each piece of art being submitted. Thus, if the artist submits one piece, they will submit only one photo, or two photos for two pieces of art, etc. Please check that the artwork is properly oriented in the photo, that the frame or other peripheral objects are not included. Attention should also be given to keystone effect and glare, which are common issues in photographing artwork. The exhibition juror will select the participating pieces from these digital photographs; the prize winners will be also be selected from these digital photos.
• CaFE has specific requirements regarding the file sizes of the photo submitted. Follow their directions or contact their staff. In short, photos cannot exceed 5MB and the resolution must be 72dpi.
Print this Page
View Legal Agreement