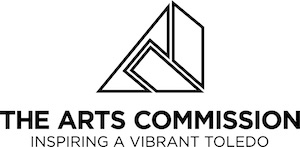 Momentum Festival 2021 Mural Project
1838 Parkwood Ave.
Suite 120
APPLY NOW
Contact Email:
jayling@theartscommission.org
Call Type:
Public Art
Eligibility:
National
State:
Ohio
Event Dates:
4/29/21 - 7/30/21
Entry Deadline:
5/29/21
Days remaining to deadline: 16
REQUIREMENTS:
Media
Images - Minimum: 5, Maximum: 5
Total Media - Minimum: 5, Maximum: 5
MOMENTUM FESTIVAL 2021 MURAL PROJECT
Funded by the City of Toledo One Percent for Art Program, ProMedica and Imagination Station
Administered by The Arts Commission of Greater Toledo
PROJECT INTENT
The Arts Commission of Greater Toledo's Art in Public Places Program is soliciting qualifications from artists who specialize in producing large-scale murals to beautify sections of Water Street and the Downtown Toledo concourse tunnel system. Art in Public Places will select up to seven artists to paint murals within the tunnels and sites on ProMedica's Downtown campus along Water Street as well as Imagination Station. This project is sponsored by a public and private partnership between the Art in Public Places Program, ProMedica Health System and Imagination Station.
SCOPE
All interested artists with significant experience in producing large-scale murals are eligible to submit an application along with examples of past work to this open call.
Selected artist(s) will be expected to execute the following tasks:
• Complete one (1) conceptual design, and once approved, submit one (1) final design
• Paint a mural at a designated location as determined by the Design review Board
SITE SPECIFICATIONS
Seven sites have been selected for the project. They include indoor and outdoor areas including ProMedica's Junction Building and Depot parking garage, two areas of the downtown concourse tunnel system and a wall outside of Imagination Station. Square footage per site ranges from 333 sq. ft. to 1178 sq. ft. Additional information will be made available once the artists are selected. Additional information will be made available once the artists are selected.
ELIGIBILITY
The project is open to all artists that are residents of the United States, age 18 and over, regardless of race, color, religion, national origin, gender, age, military status, sexual orientation, marital status, or physical or mental disability. Artist teams are eligible to apply, including teams of artists from multiple disciplines.
TIME LINE
April 29, 2021 Request for Qualifications Launched

May 29, 2021 Qualifications Deadline

June 7, 2021 Qualifications Review

June 14, 2021 Selected Artists Notified / Design Stage Begins

July 14, 2021 Proposals Due

July 30, 2021 Final Designs Due

August 9, 2021 Installation Begins (Details TBD)
The Arts Commission reserves the right to change the project timeline. Depending on the schedule of the selected artist(s) and that of The Arts Commission, the project start date will be mutually agreed upon.
HOW TO APPLY
Artists and artist teams who are interested in this project must prepare and submit the following items. All items must be submitted digitally through Cafe. No physical submissions will be accepted. Text documents must be submitted in PDF formats. No other text formats will be accepted. Proposals are not requested at this stage.
REQUIRED MATERIALS
Letter of Interest: The letter should be no more than one page and should explain the artist's interest in the project.

Resume: If submitting as a team, one resume for each team member should be submitted.

5 Digital Images: Submit 5 digital images of your professional mural work. Images must be submitted in the following format:
Format:
JPEG: Submit only "High" quality JPEGs (do not use GIFs, TIFFs, PDFs or other formats)

Image Size: Images must be at least 9.5" on the longest side saved at 72 dpi.

File Labeling: Files must be titled with a number indicating the viewing order, followed by the artist's last name. The numbers must correspond to the accompanying Image List. Use "0" in front of single digit numbers. Do not use more than 30 characters, and use only letters, numbers and underscores. example: 01_Smith.jpg
Number Order: Please note that the Design Review Board will review a limited portfolio in round one of the selection process. In this round, candidates will either move on to round two or be eliminated based on images 01, 02, and 03 of their portfolio. Candidates should organize their images accordingly and ensure that their body of work is best represented in these first 3 images.
Image List: Submit an image list corresponding to the submitted digital images. Each entry on the image list should include the following:
image number

artist's name

title of work

medium

date of work

dimensions

project budget
FINALISTS
Each artist will be paid $1000 for all expenses related to the development of the proposal including any expenses related to this phase of the process. Up to $1,000 will be made available for expenses related to site visits, including travel, lodging and food.
Artists are responsible for providing accurate contact information to The Arts Commission.
The budget for each of the seven locations range from $5,000 to $36,000, depending on the location selected.
DEADLINE
All submissions must be received by 11:59pm on Tuesday May 29, 2021
FOR FURTHER INFORMATION
For further information, please contact Jesse Heider-Ayling, Art in Public Places Coordinator of the Arts Commission of Greater Toledo at 419-254-2787, Ext. 1020 or at jayling@theartscommission.org.
Print this Page
View Legal Agreement