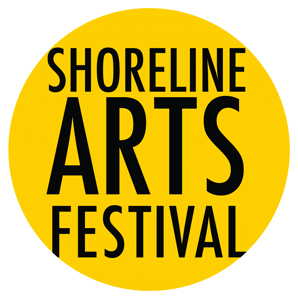 Virtual Juried Art Exhibit - 2021 Shoreline Arts Festival
APPLY NOW
Contact Email:
gallery@shorelakearts.org
Call Type:
Festivals
Eligibility:
Regional
State:
Washington
Event Dates:
6/26/21 - 6/27/21
Entry Deadline:
5/23/21
Days remaining to deadline: 10
REQUIREMENTS:
Media
Images - Minimum: 1, Maximum: 4
Total Media - Minimum: 1, Maximum: 4
Entry Fee (Virtual Juried Art Exhibit - 2021 Shoreline Arts Festival): $10.00

Media Fee (per sample over minimum):$10.00

The 2021 Juried Art Show at the Shoreline Arts Festival is virtual/online again this year. Supporting local artists is our key mission and we want to cultivate creativity and inspire our community through the arts while keeping safety in mind.
​The artwork will be featured online only starting June 7 - July 31, 2021. People's Choice Award voting will take place on the planned festival weekend of Saturday, June 26th & Sunday, June 27th.
REGISTRATION AND FEE
Non-refundable entry fee ($10 per piece this year due to online show only):
$10 for 1 artwork; $20 for 2; $30 for 3; $40 for 4
Limit 4 entries per person/per category
Only 1 image per artwork allowed
Entry fee must be paid at the time of registration
All applications must be submitted online through CaFE
See our website for more info: www.shorelineartsfestival.org
CATEGORIES
2-D Artwork (included, but not limited to paintings, drawings, prints, collage, mixed media, etc.)
3-D Artwork (included, but not limited to sculpture, glass, wood, clay, fiber, etc.)
Photography
JURIED ART SCHEDULE
SUNDAY, MAY 23
Deadline for applications
MONDAY, JUNE 7
Notification of juried selection and Juror's Choice Award winners via email & Artwork up online
SATURDAY, JUNE 26
People's Choice voting begins at 10am and runs until 5pm Sunday
SUNDAY, JUNE 27
People's Choice voting ends at 4pm
MONDAY, JUNE 28
People's Choice Award Winners will be posted on our website and artwork will remain online through July 31st
PRIZES AND AWARDS
$850 will be awarded for juried art in the following categories:
Juror's Choice Awards:
2-D/3-D Artwork 1st Place = $200
2-D/3-D Artwork 2nd Place = $100
2-D/3-D Artwork 3rd Place = $50
Juror's Choice Awards:
Photography 1st Place = $200
Photography 2nd Place = $100
Photography 3rd Place = $50
People's Choice Awards:
1st Place = $75
2nd Place = $50
3rd Place = $25
JURORS
2-D/3-D Artwork: Gale Johansen www.myswirlybrains.com/
Photography: Norman E. Riley www.normanrileyphotography.com/
REQUIREMENTS FOR ALL ARTWORK
All entries must be original and may not be copied from a published artwork or photograph
Entries must have been created within the last 3 years
Entries previously shown at the Shoreline Arts Festival are not eligible
This is a virtual/online show ONLY, work will not be displayed in a physical space
See the CaFE website for image requirements: https://www.callforentry.org/artist-help-cafe/uploading-media/
ARTISTIC GUIDELINES
Works may be in any theme/subject
Work of any medium on any surface will be accepted
SALE OF ARTWORK
A 20% commission will be collected on all sales
Artwork will be for sale online and interested buyers can contact Lisa at gallery@shorelakearts.org to purchase
Artists may or may not choose to have their artwork available for purchase during the Arts Festival
Registration forms must indicate a retail price or NFS (Not for Sale) for each entry
If the artwork sells, the artist agrees to drop it off at the ShoreLake Arts Gallery in Lake Forest Park, WA or mail the artwork to the purchaser (shipping will be paid for by the customer, not ShoreLake Arts)
ShoreLake Arts will issue commission checks to artists for any works sold by August 31, 2021
ARTWORK DROP OFF & ARTWORK PICK UP
This is a virtual/online show ONLY, work will not be displayed in a physical space
PLEASE NOTE
Artwork will not be insured by ShoreLake Arts or Shoreline Community College or any other entity – the artist must assume liability in the event of loss or damage
You agree to have images of your artwork displayed on the ShoreLake Arts website(s)
ShoreLake Arts reserves the right to exclude any works for any reason
The Youth Art Show (& school district calendar selection) application is separate - see our website for details
QUESTIONS?
Email Lisa at gallery@shorelakearts.org
Print this Page
View Legal Agreement