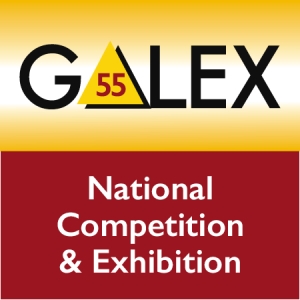 GALEX 55 National Juried Competition and Exhibition
114 E. Main Street
Galesburg, IL 61401
Contact Email:
exhibition@galesburgarts.org
Call Type:
Competitions
Eligibility:
National
State:
Illinois
Event Dates:
3/5/21 - 4/3/21
Entry Deadline:
1/24/21
Application Closed
REQUIREMENTS:
Media
Images - Minimum: 0, Maximum: 3
Video - Minimum: 0, Maximum: 3
Total Media - Minimum: 1, Maximum: 3
Entry Fee (GALEX 55 National Juried Competition and Exhibition): $25.00

GALEX is the combination of the words
Galesburg
and
Exhibit
. What began as a regional competition has grown into a national competition/exhibition celebrating its 55th year. Open to artists working in all mediums, this year's juror, Oscar Jay Gillespie, will award over $2,500 in prizes choosing over 50 works for the exhibition. DEADLINE: January 24, 2021 at 11:59pm
ELIGIBILITY
• GALEX is open to all artists residing in the United States.
• All work must have been completed within the last three years and MUST NOT have
been previously shown in Galesburg Civic Art Center galleries or gift shop.
• Art must be the original work of the artist.
• All mediums are accepted; however, work is not to exceed 100 pounds or be unstable.
• Two-dimensional work may not exceed five feet, and
must be wired and ready to hang
. Plexiglas is preferred for framed work.
• No work will be suspended from the ceiling.
• One entry (up to three pieces) per artist.
JUROR
Oscar Jay Gillespie is a Master Engraver and Professor of Art at Bradley University where he has been a member of the faculty for more than 25 years, teaching printmaking and drawing. Examples of his work may be found in more than 50 permanent collections in the United State and abroad. Since 1974, he has shown in more than 300 Solo, Juried and invitational Exhibitions. The popularity of his work and skill with the burin has made him a perennial favorite as a guest artist and lecturer.
"My career as a professor at Bradley University began with directing the Bradley National Print and Drawing Exhibition as well as my duties teaching printmaking and drawing. While our gallery director has taken over the duties of managing the show, I have been intimately involved for the entire thirty-four years of my tenure at the university. Over those years, I have had the privilege of participating in the selection and hosting of our jurors. The wonderful thing about this involvement is that there is a full and stimulating scope of visual interests in those who have come to select each show. No two jurists have come into the effort with the same curiosities or preferences. No pool of images or applicants is the same. What each selector has had in common with the others is an honest approach to putting works together with an open heart and mind. I am very inspired about having the same opportunity to select an exhibition from what I will see in the works that are submitted to this year's Galex. It will be my honor and pleasure."
AWARDS
Blick Art Materials Purchase Award
$1000
One piece is chosen each year to expand the Art Center's Permanent Collection. The artwork is not returned to the artist, $1000 is awarded regardless of the price of the piece. It is optional to be considered, please indicate eligibility on application, and in the case of a chosen piece, mark your identification form.
Lonnie Eugene Stewart Award of Excellence
$600
Merit Award
$400
Medallion Award
$300
Kent Leasure Memorial Fine Print Award
$100
Robert Reed Memorial Sculpture Award
$150
ENTRY FEE
The non-refundable entry fee is $25 per artist, or $20 for current members of the Galesburg Civic Art Center (use coupon code: MBR2020)
Renew your membership or become a new member now!
IMPORTANT DATES
January 24 ........................................ entry deadline
February 15 ............................... notifications sent
March 2 ..............................artwork due by noon
March 5 .......................exhibition opens
April 3 ......................................exhibition closes
April 6-8 .... artwork must be picked up or will be shipped back to artist
ACCEPTED DELIVERY/RETURN OF ARTWORK
Artists are responsible for the cost of ALL shipping. The Art Center prefers the use of a prepaid return shipping label sent with the piece for return shipping. All shipped works will be returned in original containers with original packing.
Accepted works may be hand-delivered or shipped to the Galesburg Civic Art Center. Attach identification (emailed with notifications) to the back of your work listing artist name and address, title of piece, medium, price and indicated "top."
If selected, instructions for shipping and picking up or returning artwork will be sent to the artist during the notification process.
Art Center hours are Tuesday – Friday 10:30-4:30 pm and Saturday 10:30-3:00 pm
Telephone: 309.342.7415, email: exhibition@galesburgarts.org
Print this Page
View Legal Agreement