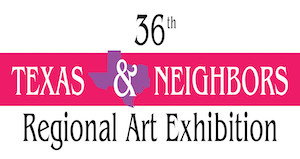 36th Texas & Neighbors Regional Art Exhibition
P.O. Box 153581
Irving, TX 75015-3581
Contact Email:
info@texasandneighbors.com
Call Type:
Exhibitions
Eligibility:
Regional
State:
Texas
Entry Deadline:
3/1/21
Application Closed
REQUIREMENTS:
Media
Images - Minimum: 1, Maximum: 3
Total Media - Minimum: 1, Maximum: 3
Entry Fee (Entry Fee: 36th Texas & Neighbors Regional Art Exhibition): $55.00
Entry Fee (Entry Fee for member of Irving Art Association (up to 3 works of art)): $45.00

The
36th 2021
Texas & Neighbors Regional Art Exhibition
is open to all artists 18 and older living in Texas, Arkansas, Louisiana, New Mexico and Oklahoma. Sponsored by the
Irving Art Association
and the
Irving Arts Center
, it will be on display at the Center May 15 - June 12, 2021. For more information see the website:
TexasAndNeighbors.com
Up to three works of art may be entered by an artist for an entry fee of $55 ($45 for IAA members). Includes seven media categories: Oil Painting, Acrylic, Water Media, Mixed Media, Drawing (Dry Media), Photography, and Sculpture.
Deadline for entry is March 1, 2021.
$10,000 in prizes!
Artists may also earn signature status by exhibiting in five shows. Juror TBA.
CALENDAR
All events will take place at the Irving Arts Center, 3333 N. MacArthur Blvd., Irving TX 75062. Visit
www.lrvingArtsCenter.com
for directions.
Entries open January 1, 2021
Deadline for entries Monday, March 1, 2021 at midnight
Notification of acceptance March 20 - 21
Shipped paintings arrive April 5 - 9
Hand deliveries Saturday, April 10, 10 am - 3 pm
Juror talk & Reception Saturday, April 10, 7 - 9 pm
Exhibit dates MAY 15 - JUNE 12, 2020
Reception & Awards Ceremony Sunday, May 16, 2 pm - 5 pm
Strike Sunday, June 13, 1 -5 pm
If the exhibit is virtual only due to pandemic restrictions, judging and award selections will be completed by April 10, 2021; awards announcements and the virtual exhibit will be posted by May 16; awards will be mailed June 1.
JUROR
tba
AWARDS
$10,000 in Prizes
Best of Show
IAC Award of Excellence
!st, 2nd, 3rd & HM awards in seven categories
The number of awards per category contingent upon number of entries per category. If a category has less than seven (7) entries, 1st Place and Honorable Mention will be the only awards presented for that category. Multiple Honorable Mention may be awarded within a single category.
TxN Signature Status
Earned by having five paintings exhibited in the Texas & Neighbors exhibit. This designation is retroactive. A medal and certificate are awarded. Artists who receive signature status have the right to add the TXN acronym to their paintings, plus a listing with a direct link to their websites on the TxN site.
ARTWORK REQUIREMENTS
Supports: canvas, panel, paper, or yupo. Two-dimensional works must classify in one of SIX CATEGORIES:
Oil painting
Acrylic
Water Media - Watercolor, casein and gouache
Mixed Media -The use of two or more mediums, collage, calligraphy, hand-pulled prints. Collage must incorporate two-dimensional, self-created elements. No relief or three-dimensional objects, including found objects or magazine clippings.
Drawing (Dry Media) - includes Pastel, Colored Pencil, Graphite, Ink, Silver, Gold, Conte Crayon, oil pastel, markers, scratchboard, etc.
Photography - Film, Digital, Digitally Manipulated
Three-dimensional works must classify in the SEVENTH CATEGORY:
7. Sculpture - Any materials, but must not exceed 18" in diameter, must not exceed 36" in height, and must comply with content restrictions.
Submitted works of art must be two-dimensional originals (first six categories), or three-dimensional (Sculpture) completed
within the last two years
without instructor supervision. Work must not be a copy of other artist's work (including reference photographs).
FRAMING / PRESENTATION
Artwork must be framed professionally or on a minimum 1" (or more in depth) wrapped canvas / cradled panel with all edges painted.
Works must be wired with screw eyes or D-rings, ready to hang, with backing. No saw tooth hangers.
Framed works with glazing larger than 16"x20" must use Plexiglas® or similar plastic glazing only. Framed works under 16"x20" may use glass.
MINIMUM 2-D ARTWORK SIZE - 12 inches in either dimension without frame. (or 144 square inches) 11x14 is acceptable.
MAXIMUM - 2-D: 50 inches framed size in either dimension. A diptych or triptych must be framed in a single frame. 3-D: unframed 18" in diameter; 36" in height.
Sculpture - must not exceed 18" in diameter, must not exceed 36" in height.
INELIGIBLE WORKS
Computer generated, offset printed, collaborative, and previously ACCEPTED work into the Texas & Neighbors Regional Art competition are ineligible.
A2-D artwork is ineligible if more than the 50 inch MAXIMUM SIZE (including frame) in either dimension or less than the 12 inch MINIMUM SIZE in either dimension--or 144 square inches (excluding frame.) (11"x14' is an acceptable size.)
Irving Art Association reserves the right to reject any works not meeting eligibility requirements, or deemed inappropriate to hang in the Irving Arts Center (including frontal nudity) even after the image has been accepted.
IMAGE FORMAT REQUIREMENTS
72 or greater DPI Digital Images in JPEG format - No smaller than 1920 pixels on the longest side. 5MB maximum image file size. (CaFE requirements.)
Images of accepted entries will become the property of IAA and lAC to be used for the catalog and other printing material, archives, web site, promotional, and educational purposes.
SUBMISSIONS DEADLINE
Completed entry form, digital JPEG images and fees must be received by midnight on March 1st, 2020.
FEES
Entry fee of $55 allows up to 3 entries per artist. Pay by credit card or PayPal through CaFe.
ALL FEES ARE NONREFUNDABLE.
Members of the Irving Art Association receive $10 off the entry fee. New members may join online at time of entry and are eligible to participate in the IAA Juried Members Exhibit held in June. See
www.irvingartassociation.org
.
SELECTION OF ENTRIES
The juror will select 75 to 85 artworks from submitted entries. Entrants will be notified of acceptance or nonacceptance by email by March 20 or 21.
CONTACTS
John Hunter
Irving Art Association Exhibits Committee
P.O. Box 153581, Irving TX 75015-3581 972-721-8063 (voice mail) or by email (preferred) at info@texasandneighbors.com
Marcie Inman
,
Director of Exhibitions & Educational Programs
Irving Arts Center
3333 N. MacArthur Blvd., Irving TX 75062 minman@cityofirving.org (972)252-7558
Print this Page
View Legal Agreement