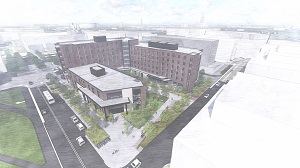 City Heights Residence Hall
Contact Email:
ruth.bruno@state.co.us
Call Type:
Public Art
Eligibility:
National
State:
Colorado
Entry Deadline:
1/11/21
Application Closed
REQUIREMENTS:
Media
Images - Minimum: 6, Maximum: 8
Total Media - Minimum: 6, Maximum: 8
Qualifications are requested from artists interested in creating custom mural or wall-mounted artworks for the City Heights Residence Hall and Learning Commons on the University of Colorado Denver's campus in downtown Denver, Colorado.

ABOUT UNIVERSITY OF COLORADO DENVER
The University of Colorado Denver (CU Denver) is a diverse teaching and learning community that creates, discovers and applies knowledge to improve the health and well-being of Colorado and the world. CU Denver is located on the edge of downtown Denver, with buildings both in the central business district and on the Auraria Higher Education Center, a 150-acre campus shared with two other institutions of higher learning: the Community College of Denver and the Metropolitan State University of Denver. For more, please visit http://www.ucdenver.edu/.

PROJECT DESCRIPTION – CITY HEIGHTS RESIDENCE HALL
The City Heights Residence Hall is a new building, slated to open in fall 2021, and will be home away from home to CU Denver first-year students looking for an affordable housing option on campus. A portion of the recreation field along Larimer Street, between 11th and 12th Streets, will be transformed into this new student housing, dining, and Learning Commons facility. This new project will provide gathering areas, dining options, and student access to academic support, as well as a variety of co-curricular success services to support all students and help them build new connections with each other, faculty, and staff.

With 555 beds available, this housing, dining, and learning complex will help combat the rising rents in Denver and place first-year students in the heart of campus, seconds away from classrooms, support services, amenities, and downtown Denver. The new residence hall sits at the intersection of significant pedestrian, bike and bus routes. It will feature two dormitory wings, one six stories and the other seven stories, and will include double and triple rooms. Along with the Learning Commons wing, it will be a highly visible and prominent addition to the CU Denver neighborhood offering a central gathering place that connects and interacts with the university and the greater Auraria campus.

Within the City Heights Residence Hall, the common spaces, gathering places, and shared amenities on the residential floors will enhance all facets of the student resident experience providing a sense of place and pride in this home away from home. The building will include a large shared lounge, small study lounges equipped with technology, active communal engagement spaces, micro-kitchens, entertainment and game rooms, laundry areas and inviting, activated corridors, small seating nooks.

The new Learning Commons wing of the City Heights Residence Hall brings the entire CU Denver community together in a prominent and easily accessible location. Designed to enhance student and faculty development, this portion of the First-Year Student Housing Project will become the new center for academic support and co-curricular life. In addition to providing more study spaces and tutoring rooms, the Learning Commons will house some of the most frequently visited offices and departments. The Learning Common will house various programs and resources, including the Learning Resources Center, The Math Lab, The Writing Center, the College of Liberal Arts and Sciences (CLAS) Learning Assistants, Peer Advocate Leaders (PALs), First-Year Experiences, New Student Orientation, Parent & Family Program, Office of Digital Education, Center for Excellence in Teaching & Learning, and the Center for Faculty Development.

BUDGET: $20,000 - $40,000
The total value will be considered in selection process and cost will be a significant factor in the selection.If selected to present a proposal, artists are encouraged to break down the cost by piece. Due to the number of desired pieces (outlined below), the residence hall pieces may be "variations on a theme" to reduce cost. For example some pieces may repeat designs but the colors vary.

The final contract amount shall be inclusive of all costs associated with the project including, but not limited to, the artist's design fee, any other consultation fees such as structural engineering, insurance, materials, fabrication, transportation and installation, including any building or site modification required, travel to and from the site, per diem expense, project documentation, contingency to cover unexpected expense and any other costs of any kind.

Semi-finalist artists will receive $1,000 as an honorarium for the creation of a design proposal.

OPPORTUNITIES FOR PUBLIC ART
CU Denver is looking for an artist to create and install custom artworks in the Learning Commons and Residence Hall lobbies (total of two) that reflect the CU Denver community and inspire students and education.
Additionally, they would like the artist to create a custom art installation at each Community Wall within the Residence Hall dorm room corridors (total of 15). These pieces should be of a similar type and format but should be unique enough to be differentiated from each other. They are meant to help define each housing community (cluster of students living near each other). Artists are encouraged to involve students, faculty, and staff in the creation of the work. Colorado-based artists and CU alumni and current faculty, staff, students are encouraged to submit.

When considering proposed materials, lobby installations shall last the life of the building (50+ years), while Residence Hall floor installations may be replaced several times during the life of the building.

Media Suggestions (no preference):
Paint in situ
Panelized paint on material of choice
Wall covering (printed vinyl or similar)
Applique (no greater than 3 inch relief)
Combination of the above or other. Open to suggestions.

Theme Suggestions (in order of preference):
Inspirational
Appropriate for the time in which we live
Bold and Inspiring
Relatable

Style Suggestions (in order of preference):
Abstract
Collage
Graphic/color field
Photographic
Open to other suggestions

NOTE: Walls at lobbies shall be primed level five drywall. Walls at housing floors shall be painted level four drywall. See drawings below for additional details. No backing or structural support is included.

APPLICATION PROCESS
All applications for this project are being accepted through the online platform, CaFÉ™ (http://www.callforentry.org). No hard copy or emailed submissions will be accepted. The applicant will be asked to submit digital images of art (see below for more information), a resume, and a brief statement of interest. There is no application fee to apply or to use the CaFÉ™ online application system. Assistance in using the CaFÉ™ system is available during regular business hours by calling 303-629-1166, 1-888-562-7232 or email cafe@westaf.org.

Digital Images. In order to be considered for this project, the applicant must electronically submit, via the CaFÉ™ system, no less than six (6) and no more than eight (8) digital images of previously completed artworks. Instructions on how to use CaFÉ™ and format images can be found at http://www.callforentry.org/image_prep.phtml

Resume: Submit a current résumé, via CaFÉ™, that outlines professional accomplishments as an artist.

Statement of Interest: A statement of interest of 250 words or less must be submitted via CaFÉ™. It should briefly outline the interest in the specific opportunity and applicable experience. Artist should note if they have any work examples in public locations in Colorado and where they are located.

ELIGIBILITY
All applicants must be residents of the United States. The artists must have the skills and experience commensurate with the responsibility of successfully completing a major public art installation. The Program is open to all artists regardless of race, color, creed, gender, gender variance, national origin, age, religion, marital status, political opinion or affiliation, or mental or physical handicap.

SELECTION PROCESS AND SCHEDULE
A selection committee made up of CU Denver staff and students will review all complete applications. A short list of semifinalists (no more than three) will be invited to prepare and present a final proposal and be paid an honorarium of $1,000. Semifinalists will be asked in include an installation schedule as part of their proposal.

Final selection(s) will be made from the semifinalists' proposals. The schedule is as follows:

Monday January 11, 2021 11:59 pm MST - Deadline for receipt of submittal via CaFÉ™ system
February 2021 – Selection Committee meets to select Semifinalists
March 2021 - Artist presentations to the Selection Committee
March 2021 – Artist selected and notified.
Access to site for installation shall not occur prior to June 6, 2021. Artwork must be completely installed by August 6, 2021.

QUESTIONS
If you require more information or clarification, please contact Ruth Bruno, Colorado Creative Industries, at 303-880-6671 or ruth.bruno@state.co.us.

ADDITIONAL SOURCES OF INFORMATION
About CU Denver
Campus Map
City Heights Residence Hall
Learning Commons

PLEASE SEE HERE FOR REFERENCE IMAGES.
Print this Page
View Legal Agreement