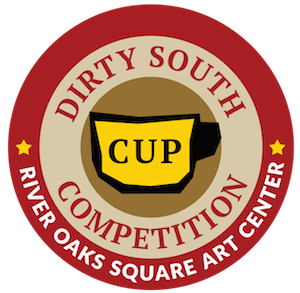 7th Annual Dirty South Cup Call and Competition
River Oaks Arts Center
1330 Second Street
Alexandria, La. 71301
APPLY NOW
Contact Email:
Rachael@riveroaksartscenter.com
Call Type:
Competitions
Eligibility:
National
State:
Louisiana
Entry Deadline:
3/6/21
Days remaining to deadline: 9
REQUIREMENTS:
Media
Images - Minimum: 1, Maximum: 4
Total Media - Minimum: 1, Maximum: 4
Entry Fee (7th Annual Dirty South Cup Call and Competition): $15.00

Give us your best mug, cup or yunomi!
River Oaks Square Arts Center is looking for a few good pieces to include in its' 7th Annual Dirty South Cup Call and Competition. We are looking for ceramic vessels (mugs, cups, yunomis) that encompass exemplary creativity, experimentation and imagination, showcasing what can be accomplished with ceramics. Up to 125 artists will be chosen for this inspiring Southern event, because we all need a good mug for our tea and coffee and if not, we always need a good conversation piece!
The 2021 Dirty South Cup Call & Competition is a national, juried exhibition. Artist will be chosen to display traditional or non-traditional ceramic vessels at River Oaks Square Arts Center, Alexandria, Louisiana.
Entry Fee: $15 per artist, up to three entries (credit cards)
Entries will be blind juried by digital images.
• Work may not be larger than 7" x 7" x 7". Mugs, Cups and yunomis accepted.
• Open to all artists working in the medium of clay, residing in the United States.
• Functional & Non-functional, traditional and non-traditional pieces accepted
• All work must be for sale. No single work may exceed $250 in value. Artists will pay a 30% commission to the Gallery on all sales.
• Artist responsible for shipping/insurance cost to/from the Gallery. All work must include a Return Shipping/label for return shipment. Weight Limit 15 lbs. River Oaks is not responsible for any damage during shipment.
• Digital entry only, JPEG format, 5MB maximum. Click here for supported image format.
• River Oaks will be utilizing the CallforEntry.org™, also known as CaFÉ™, an online application and adjudication system for exhibits and more. Go to www.CallforEntry.org to complete your application form.
• River Oaks Square Arts Center reserves the right to photograph exhibited work and use these or the artists digital images for reproduction in both printed and electronic materials for publicity.
• Entry free must be paid at the time of application submission.
Guest Juror: Dan Anderson
Dan Anderson was born in St. Paul, Minnesota on November 2, 1945. He grew up in a typical middle-class family that operated a family run corner grocery store in Hudson, Wisconsin. Dan spent the better part of his youth in the out-of-doors, many in the Boy Scouts. He earned the highest scouting award, the Eagle Scout award. Dan attended the nearby University of Wisconsin-River Falls where he received a Bachelor of Science degree in Art Education. At the time, he had every belief that he was going to be a high school art teacher. During his junior year, he traveled to Italy through the university studies abroad program. This serendipitous experience, apprenticing for Renato Bassoli (a Renaissance artist who lived and operated a studio in Milan) turned Dan's life topsy-turvy. When he returned to the United States, with a new mission, he finished his undergraduate BS degree in Art Education (1968) and immediately applied to graduate school to study with Richard DeVore at the Cranbrook Academy of Art, in Bloomfield Hills, Michigan. Dan graduated with his MFA degree from Cranbrook in 1970. He received several job offers to teach college level ceramics and began his teaching career at Southern Illinois University Edwardsville (SIUE). Located 20 miles east from St. Louis, Missouri, Dan chose SIUE because the campus was relatively new and he knew that if he worked hard, he could build the program from the ground up and leave his mark. Thirty-two years later, in 2002, he retired from university life. Over these three plus decades, Dan positioned SIUE as one of the top 10 graduate ceramic programs in the country (US News & World Report). A frequent workshop presenter, Anderson has lectured and demonstrated at over 150 venues over the past five decades, including Haystack Mountain School of Crafts, Penland School, Anderson Ranch, Peters Valley Craft Center, Watershed and Arrowmont School. A multiple grant/award recipient, he has received a NEA Artist Fellowship, twelve Illinois Arts Council grants (including six Artist Fellowships) and a Ford Foundation Grant. Major galleries represent Dan across the United States and his artwork is in numerous private and permanent collections. His "mounds" anagama wood kiln is fired at his rural Edwardsville studio, Old Poag Road Clay & Glass, twice a year. He has been wood firing for over thirty years. Dan served on the Board of Directors of the Archie Bray Foundation (ABF) in Helena, Montana for ten years and is Past-President of the Board of Directors of the Edwardsville Arts Center (EAC) in Edwardsville, Illinois. Dan is married to Caroline Bottom Anderson, also an artist. Dan & Caroline have two adult daughters, Sarah and Molly who are both married and reside with their respective families in Portland, Oregon. Dan & Caroline are the proud grandparents to Penny (11), Archer (10) and Loretta (8).
Awards:
First Prize $500
Dr. Betsy Long's Choice: $200
Juror's Choice: 4 awards, $125 each
"Exhibiting Artist" designation: In addition to the monetary award winners, the top 20 artists will be considered for spots as "exhibiting artists" in future invitational shows hosted by ROSAC.
Please complete and submit images to CaFE with credit card payment information.
• Works will be insured for 50% of the stated value from the time of delivery to the end of the exhibition
River Oaks 7th Annual Dirty South Cup Call & Competition Calendar:
•March 6th, 2021 - Deadline to enter
•March 18, 2021 - Acceptance notification
•March 26, 2021 - Delivery of work, no later than 5pm
•June 18, 2021 - Return of artwork
Calendar of Events Related to the Exhibition
Exhibition Dates: April 9 - May 22, 2021
•April 9, 2021 5-8 p.m. Opening Reception/Award Announcement/Juror Remarks
Dan Anderson Ceramic Workshop

Dan Anderson Ceramic Workshop
"So you want to create a Drinking Vessel."
All levels (beginning to advanced)
Learn to make drinking cups, mugs and tumblers. This hands-on workshop will help you in your quest to improve your skills creating hand-held drinking vessels. If you are already adept at making pots on the potters wheel - this will be a benefit. However, if you are not versed on using the "wheel," there will be alternate methods to enable participants to make cups using hand-building techniques. Several demonstrations will take place during the 2-day workshop. Again, both hand-built and wheel-thrown cups will be demonstrated and created. Various surface treatments like paddling cups with wooden paddles, and faceting cups with various cut-off wires will be demonstrated. It is the goal of the workshop for each participant to complete up to 6 cups, depending on scale and the amount of time/detail that is spent on each cup. The workshop is not intended for those wishing to make large numbers of pieces.
•Thursday, April 8 & Friday, April 9.
•10 a.m. - 4 p.m. (Mid-day Break for lunch)
•$95 per person (Two day class)
•Class is Limited - FCFSB
•Must Pre-Register
•To register, call 318.473.2670
River Oaks Arts Center
River Oaks Square is a contemporary visual arts and fine crafts center made up of resident artists working with a variety of media. In 1979, the Bolton Family donated their family home to the City of Alexandria in an agreement it would be used solely for the arts. The Bolton Home became the catalyst for the establishment of River Oaks Square Arts Center. Circa 1899, the house is exemplary of Queen Anne Revival Architect in Louisiana and is listed on the National Registry of Historic Places. After renovations to the Home, River Oaks opened its' doors in 1984 to meet the needs of the community which it serves.

In 1999, a 15,000 square foot Studio Annex building opened its doors to meet the changing, additional needs of the Center. Both buildings occupy a one block square lot in Downtown Alexandria's Cultural Arts District and are connected by a unique columned walkway. The Studio Annex Building houses 25 studios, 3 galleries, an on-site Arts Academy, a full scale ceramics studio comparable to most university systems, and rental space. The 8,000 square foot Bolton Home houses administrative offices, 7 studios and a gallery gift shop, featuring works of art from over 200 artists. For over 30 years, it has been River Oaks Square Arts Center's (ROSAC) mission to promote contemporary visual art and fine crafts, to stimulate interest in, exhibition of, education of and appreciation for regional, resident, and local artists and their work. Currently, there are over 40 artists in residence (occupying studio space); an on-site arts academy provides continuous classes for adults and youth; presentation of twenty four exhibits are featured annually; outreach events are conducted; collaborative efforts are ongoing with special needs organizations; and unique projects for youth stimulate knowledge and appreciation of fine arts and crafts.
Print this Page
View Legal Agreement