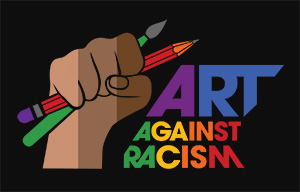 Art Against Racism: Memorial.Monument.Movement Virtual Exhibition
Contact Email:
admin@artagainstracism.org
Call Type:
Exhibitions
Eligibility:
International
State:
New Jersey
Entry Deadline:
2/28/21
Application Closed
REQUIREMENTS:
Media
Images - Minimum: 0, Maximum: 10
Video - Minimum: 0, Maximum: 6
Total Media - Minimum: 1, Maximum: 16
Art Against Racism seeks submissions from individual artists and community groups in the United States and around the world for Memorial.Monument.Movement, an online exhibition of Black Lives Matter-inspired art made after the murders of George Floyd, Breonna Taylor and too many other people of color by law enforcement.
Submissions may include short videos and/or photos in jpeg format. The exhibition is open to documentation of individual and collaborative work including murals, spontaneous memorials, posters, sculpture, quilts, crafts, temporary replacements for toppled statues, animation, digital projects, fine-art photography documenting resistance to injustice and inequality, spoken word, music, and other sound-based art,
In addition to the above, we are especially interested in images, from artists and others, of BLM-inspired public art murals created all over the world in the last two years.

SUBMISSION OF PHOTOGRAPHS

IMAGE FORMAT: JPG, JPEG, JPEG 2000
IMAGE SIZE; Under 5MB
NUMBER OF IMAGES: 10
SUBMISSION VIA CAFE
Artists may submit photographs and/or video of their work.
1, Artists who are submitting still photos are also invited to submit a short (up to 3 minutes) video-recorded statement about their art and inspiration as it relates to art against racism.
2. Artists may elect to submit their work in video form only. Submit up to three videotapes, each no longer than three minutes. Collectively, the short videos should provide views of the art work and a statement by the artist about anti-racism as inspiration for the work.
(Multiple videos may be edited into a single video about the artists and their work by our videography team)
FORMAT: MP4
ALTERNATIVE SUBMISSION METHOD via CINEBODY:
Artists may submit their work by smart phone (either I-phone or Android) via www.Cinebody.com (a free app) instead of through CaFE.
IMAGE FORMAT: ALL SHOTS MUST BE HORIZONTAL/LANDSCAPE ORIENTATION
Required: Title shot with name of artist(s), title of work, date of work, city, state, country.
UP TO THREE MORE SHOTS MAY BE SUBMITTED, EACH NO LONGER THAN THREE MINUTES. Shots may include: views of the art work and a statement by the artist about anti-racism as inspiration for the work.
Full instructions and a video on how to use Cinebody can be found on our website at Memorial.Monument.Movement Call for Art.
YOUR SUBMISSION. OUR MISSION:
Your submissions will document the power of this moment and serve as a permanent living archive on our website of the power of the creative spirit during this period. To get an idea of what we are looking for, check out our exhibition videos and online galleries at Art Against Racism Galleries.
Art Against Racism's mission is to harness the transformative power of the arts to educate and engage communities around the need to eradicate racism and create an anti-racist society. Through this project we strive to preserve and spread the social justice energy and messages of the current moment, We also look to elevate creatives doing anti-racist work and build an international community of artmakers, supporters and activists promoting positive social change.
DEADLINE TO SUBMIT: February 28, 2021
ENTRY FEE: None. While we intend to display as many images as possible, there is no guarantee that your submission will be exhibited. We will notify all applicants whether their work will be exhibited by April 15, 2021.
EXHIBITION DATES: The show is currently open until October 2021. It will be permanently archived on-line thereafter.
ORGANIZING COMMITTEE: Judith Brodsky, Kimberly Camp. Ilene Dube, Cynthia Groya, Mary Hamill, Isabel Nazario, Rhinold Ponder, Nancy Shell and Andre Veloux
Print this Page
View Legal Agreement