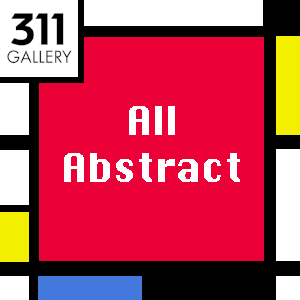 All Abstract
311 W Martin St.
Contact Email:
hello@311artgallery.com
Call Type:
Exhibitions
Eligibility:
National
State:
North Carolina
Entry Deadline:
2/3/21
Application Closed
REQUIREMENTS:
Media
Images - Minimum: 1, Maximum: 8
Total Media - Minimum: 1, Maximum: 8
Entry Fee (Application Fee): $25.00

All Abstract - Call for Art
Location: 311 Gallery; 311 W Martin St. Raleigh, NC
Deadline to enter: 11:59pm Feb. 3, 2021
Exhibit run: March 5 - 26, 2021
Opening Reception: March 5
All Abstract is just what it sounds like, a visual art exhibit comprised entirely of abstract works! This will be a physical visual art exhibit located in Downtown Raleigh, North Carolina. All United States artists are eligible.
PLEASE NOTE: Please read this call entirely before applying and email us with any questions you may have at exhibit@311artgallery.com. By applying for this exhibit, you agree to the terms detailed within this call.
EXHIBITION DETAILS:
This exhibition is for abstract works of art only, both 2D and 3D. Works must be for sale and should not exceed 60 inches in any dimension. Works of all mediums (painting, photography, printmaking, mixed media, sculpture, etc.) will be considered. Our definition of abstract is loose, and we will be considering all non-representational works. If you're on the edge and not sure if your work is applicable, feel free to email us. Works will be accepted on a piece-by-piece basis, meaning if you apply with more than one piece, we may accept some of your work and not others due to space limitations. The exhibition will be held at 311 Gallery in Downtown Raleigh, North Carolina during the month of March, 2021.
This is not a digital exhibition, if your work is accepted, it will need to be shipped/hand delivered to the gallery.
- Entries must be received by 11:59pm Wednesday Feb. 3, 2021
- Entries must not exceed 60 inches in any dimension to be exhibited.
- Entries must be for sale.

- Up to 4 entries per artist.
- Juried with JPEGs, one per work.
- Up to 4 works may be entered per artist. Works will accepted on a piece-by-piece basis due to space limitations. This means some work may be accepted from an artist while others are not.
- All mediums will be considered so long as they are for sale.
- Commission rate is 60% artist, 40% Gallery.
- Open to all artists in the United States
- If accepted, 2D artworks must hang by wire. 3D works must be able to stand with no or minimal assistance, or come with necessary display items i.e. hangars, hooks, stands, etc. The gallery has pedestals.
- If accepted, artists will be notified of delivery dates and information approximately 2-3 days after the call ends. There is a quick turn around between the call ending and getting work to the gallery, and we will work as quickly as possible to get back to you. Thank you for your patience.
- If works are accepted, artists will be notified of drop-off/mail-in dates. Works should sent to be received by the Gallery no later than Feb. 27th, 2021 at 4pm. See further in this call for shipping/delivery information.
ENTRY FEE: $25. All entry fees are non-refundable and go toward making 311 a sustainable, family-owned small business. These fees cover various costs including but not limited to: staff labor, marketing, print materials and more.
Fee is $25 regardless of how many works are submitted, not a price per piece.
ENTRY GUIDELINES:
To submit images of your work, please review these instructions:
Still images should be sent as jpegs should be at least 1000px at their widest dimension, up to 2000px, and are not to exceed 4MB per image. Images should be cropped to only show the artwork and nothing else, and with proper lighting. A huge part of the jurying process is how well your photos are presented.
For 2D Work (exhibit): Artists may submit one JPEG per entry. Maximum of 4 entries per artist.

For 3D Work (exhibit): 3D artists may submit TWO JPEGS (one full shot and one detail/additional perspective) per entry.
No video or audio works are eligible for submission.
ELIGIBILITY:
All Abstract is open to any living artist in the United States. Entries must be either hand delivered to the gallery or mailed in a returnable container. Expected drop-off/mail-in dates are below, but you will be notified upon acceptance of solidified dates:
Thursday, Feb 25 from 12-4pm

Friday, Feb 26 12-4pm

Saturday, Feb 27 12-4pm
ACCESSIBILITY:
At 311 we strive to make our space completely accessible,and this includes the submission process. We encourage anyone to enter our open call exhibitions. If you need any additional information or accommodations in order to enter this exhibition please email us at hello@311artgallery.com.
SHIPPING ARTWORK
Ship artwork using a sturdy, reusable packing materials clearly labeled with your name and telephone number. Do not include return postage in case the artwork sells during the run of the exhibition. Following the exhibition each artist who shipped their work should generate a FedEx/UPS label or USPS postage and email it to exhibit@311artgallery.com so the piece may be returned. Do not use styrofoam packing peanuts.
If you live within driving distance of the gallery, we encourage you to deliver your work by hand. If accepted, artists will be notified of solidified delivery dates and information after the call has been closed.
SHIP TO:
311 Gallery
ATTN: Kenneth Proseus
311 W. Martin Street
Raleigh, NC 27601
SALES
311 Gallery will retain a commission of 40% for all work sold during the exhibit. Commission checks will be cut and mailed approximately 30 days after the time of sale.
LIABILITY
All entries will be handled with the utmost care while in our possession. As a policy, works are kept in their packaging until they are hung to ensure minimal contact and opportunities for damage. 311 Gallery has a blanket insurance policy for works while they are on the premise, but we are not liable for damages that are out of our control.
311 Gallery is not liable for artwork during transportation to or from the gallery. As such, we highly recommend you insure your artwork to and from the gallery, as we cannot assure safe transport to or from the gallery without damages. 311 Gallery reserves the right to refuse coverage to artwork with inherent vices, high values or that is deemed unstable. By entering into this show, the artist agrees to abide by all rules and regulations as set by exhibition guidelines.
311 Gallery will take all due care in the handling of entries but cannot accept any financial liability for loss or damage of any works not picked up within the work return period. If an artist fails to pick up work or provide a return shipping label during the work return period, after 30 days, the gallery shall have the right at its discretion to dispose of the work as they see fit. Artists not wishing to pay for return shipping may request the work to be destroyed or allow the gallery to sell the work to support the organization's mission.
Questions? Email Us! exhibit@311artgallery.com
Print this Page
View Legal Agreement