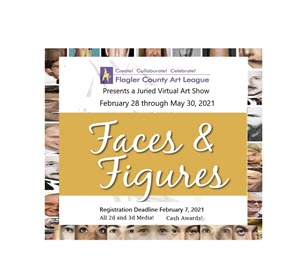 Faces & Figures - A Juried Virtual Gallery Show
Flagler County Art League
160 Cypress Point Parkway Suite 208A
Palm Coast, FL 32164
Contact Email:
galleryfcal@gmail.com
Call Type:
Exhibitions
Eligibility:
National
State:
Florida
Event Dates:
2/28/21 - 5/30/21
Entry Deadline:
2/7/21
Application Closed
REQUIREMENTS:
Media
Images - Minimum: 1, Maximum: 4
Total Media - Minimum: 1, Maximum: 4
Entry Fee (Faces & Figures - A Juried Virtual Gallery Show): $20.00

Media Fee (per sample over minimum):$20.00

FACES & FIGURES - A JURIED VIRTUAL SHOW
The Flagler County Art League (FCAL), a non-profit art association located in Palm Coast, Florida, invites you to submit up to four entries to our Faces & Figures juried virtual exhibition.

Say something visually unique about faces & figures! Not just about human anatomy, but also about the essence of being human. What does it mean to have "a human experience?" How do our abilities and limitations bind us together as humans? How is that experience reflected in our faces? Our figures? What does it look like to be imperfect, flawed humans?
We are looking for work about people of all ages, sizes, genders, and colors. The young, the old and everyone in between. Bodies resting. Working. Playing. Struggling. Relaxed faces, excited faces! Angry faces. Show us expressions of human emotion — how does pain manifest itself on the human face? How about joy or fear? How are our emotions translated to our bodies in motion? How does our environment impact us physically? What does that look like?

If your style is to focus on one thing, then give us ONE thing! One body part. Hands, eyes, or feet! Long fingers, big ears. You are limited only by your own imagination and unique interpretation of what it means to be human!
All sale proceeds will go directly to the Artist. FCAL is waiving any commission percentage for this virtual show!
ABOUT THE FLAGLER COUNTY ART LEAGUE
The Flagler County Art League (FCAL) is a 501c3 non-profit, Florida organization based in Palm Coast, Flagler County, Florida. Founded in 1978, it serves Flagler County and surrounding communities as a center for the visual arts. Membership consists of just under 300 art lovers and supporters, collectors and, of course, artists! We offer artists the opportunity to display and sell their work for the benefit and enrichment of the greater community at large. FCAL continues to offer virtual gallery shows and classes during the Covid-19 pandemic, with some limited, live shows planned for the gallery (with social distancing and other safety protocols in place) in 2021.
Palm Coast, Florida is situated between historic St. Augustine and Daytona Beach, FL. It's a destination along scenic A1A, a quaint seaside 2-lane highway rolling up northeast Florida's diverse and beautiful coastline. It offers a perfect mix of diverse activities, including golf courses, lush nature preserves and coquina beaches! Tee-off on a Jack Nicklaus-designed golf course or boat in the Intracoastal Waterway. Explore local and state parks, formal gardens and nearby estuaries. Do you love to watch the seabirds? Come see the rare and endangered birds along Florida's Great Birding Trail. Watch the dolphins frolic in the wake of passing boats and manatee herds in the waterways during spring and summer. Palm Coast has one of the most productive ecosystems on the planet. It's an inspiring place for nature lovers and artists!

Registration Guidelines - Prospectus:
Registrations are not accepted after February 7, 2020.

The non-refundable entry fee must be received with registration. Limit 4 entries per artist per show. Fee=$20 per piece.

Information on the registration form cannot be changed after deadline except for the selling price status.

To contact FCAL Gallery Director, email

galleryfcal@gmail.com
PERMISSIONS:
The entrant gives permission to FCAL to: (i) use images of the artist and his, her or their artwork for promotional purposes; and (ii) retain his, her or their contact information for future marketing and informational purposes. FCAL never shares entrant's contact information with any other entity.

If an entrant is under 18 years old, parent or guardian permission must be provided, except for designated student shows.

It is the responsibility of the artist to make sure appropriate permissions are obtained for use of an image on their entry.

If anyone other than the entrant will handle purchase inquiries, the entrant must notify FCAL with contact information for that designated person.
SHOW GUIDELINES:
Shows are open to all artists and photographers regardless of geographic location.

FCAL reserves the right to refuse any submission not following established parameters and guidelines for a show or considered to be inappropriate for all viewing audiences.

Entries must not have been entered in any previous FCAL judged show.

Entries must be original work created and conceived by the artist, untouched by instructors and not created in a class or workshop. No mass–produced work.

Entries must be

produced within 3 years of the show date.

Monetary awards are given to the Best of Show, 1st, 2nd, & 3rd Place of Show. Certificates are awarded to additional winners.
DIGITAL IMAGE REQUIREMENTS:
Digital images must be cropped to the edges of the artwork image. Remove the mat, frame, and background objects leaving only the art image.

For best results, the dimension of the longest side of the image should be 1500 to 2500 pixels. Lower pixel counts may be submitted, but if the quality is not good, the image could be rejected by FCAL.

The final file size must not exceed 5.0 MB.

The file name should represent the artist name and title with a .jpg file extension. (ArtistLastName_FirstName_Title.jpg)

Save the image as a standard JPEG or JPG file type.
IMPORTANT DATES (dates are firm):
Registration, including images, deadline is

February 7, 2021.
Acceptance notice communicated on or before February 17, 2021.

Show Award Winners will be notified on or before

February 28, 2021.
PHYSICAL ARTWORK AVAILABILTY FOR SALES:
The virtual gallery will display digital images only. The original physical art or photography entry remains in possession of the artist and will not be located at the FCAL facility.

All entries displayed as being for sale must be kept readily available by the entrant.

If a piece is sold or the entrant no longer wishes to sell an entry, the entrant must notify FCAL so the status of that piece can be changed to SOLD or NFS (Not for Sale).

If anyone other than the entrant will handle inquiries about the image, the entrant must notify FCAL with contact information for the designated person.
SALE OF ENTRIES:
FCAL will notify the entrant or their designated person when purchase inquiries are made.

It is the responsibility of the entrant or the designated person to

complete sale transactions, including collecting the funds and making delivery or shipping arrangements with the buyer.

It is the responsibility of the entrant or their designated person to notify FCAL about the sale transaction so the status of the entry will be changed to SOLD.
CONTACT FOR ADDITIONAL INFORMATION: FCAL Gallery Director by email: galleryfcal@gmail.com
Print this Page
View Legal Agreement