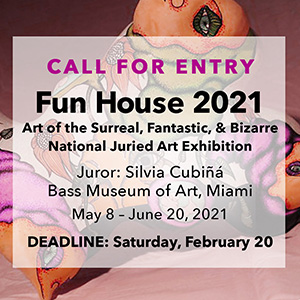 Fun House 2021: Art of the Surreal, Fantastic, & Bizarre
Contact Email:
info@barrettartcenter.org
Call Type:
Exhibitions
Eligibility:
International
State:
New York
Entry Deadline:
2/20/21
Application Closed
REQUIREMENTS:
Media
Images - Minimum: 0, Maximum: 15
Video - Minimum: 0, Maximum: 3
Total Media - Minimum: 3, Maximum: 15
Entry Fee (Fun House 2021: Art of the Surreal, Fantastic, & Bizarre): $35.00

Media Fee (per sample over minimum):$5.00

Fun House 2021: Art of the Surreal, Fantastic, and Bizarre
Juror: Silvia Cubiñá, Executive Director and Chief Curator, Bass Museum of Art, Miami
Deadline: Feb 20, 2021
May 8 – June 19, 2021
$500 Juror's Prize, $250 Second Prize, $125 Honorable Mention
Fun House reimagines Barrett Art Center's gallery spaces as the site for all that a Fun House offers: the marvelous, disorienting, seductive, disquieting, and surreal. We invite artistic approaches to these concepts across a variety of media: painting, photography, sculpture, wearable art, digital art, textiles, ceramics, installation, and video.
Selected artwork will be presented in our atypical venue: the intimate galleries of BAC's 1840s Greek Revival townhouse. Our former domestic spaces remodeled as galleries create a visually-compelling setting for contemporary and cutting-edge work.
Artists will be notified approximately three (3) weeks after the deadline in an email about the selection status of their entries.
Submitting Entries:
BAC Members: $30 for the first three images plus $5 for each additional image up to 15.
Non-members: $35 for the first three images plus $5 for each additional image up to 15.
Members, please email info@barrettartcenter.org or call us at 845-471-2550 for coupon code. To become a member, visit, www.barrettartcenter.org/membership
Artwork specifications: Maximum dimensions for artwork height is 85" width 120"; all artwork must arrive in packing that fits through a standard door frame. Please contact us at info@barrettartcenter.org for consideration if your work exceeds these dimensions – we may be able to accommodate your work. There is no minimum size. Barrett Art Center galleries can accommodate a range of artwork sizes and media, and we are pleased to work with invited artists to ensure effective installation and presentation of their artwork. Site plan available on request.
Artists are responsible for transportation/delivery to and from Barrett Art Center.
About the Juror:
Silvia Cubiñá is the Executive Director and Chief Curator of the Bass Museum of Art in Miami, Florida.
About Barrett Art Center:
Barrett Art Center works with curators from around the globe to bring exemplary contemporary art from international artists to its exhibitions in the Hudson Valley. Our reputation for high-quality exhibitions and programs attracts thousands of art enthusiasts from the northeast corridor to our gallery annually.
Always free and open to the public — so there are no financial barriers to access — BAC's arts programming engages with its inner-city community. Barrett Art Center is an open, inclusive, and equitable place where all feel welcome.
Marketing strategies employed for exhibitions include:
Press releases submitted to more than print and electronic media outlets in the Hudson Valley with consistent local newspaper coverage; Online: bi-weekly e-newsletter; website (www.barrettartcenter.org); Facebook; Instagram. The e-newsletter has over 3,500 subscribers. Exhibition artwork is posted in an online exhibition during the show and archived on the site after the show closes. Social media and e-newsletters emphasize "action links" to drive traffic to the Barrett website and connect viewers to relevant artist contact information in the online gallery for each exhibition.
Print this Page
View Legal Agreement